Analysis
Fantasy Baseball Waiver Wire: MJ Melendez Playing Everyday in KC
Here are the top players on the waiver wire that fantasy owners should be targeting this week.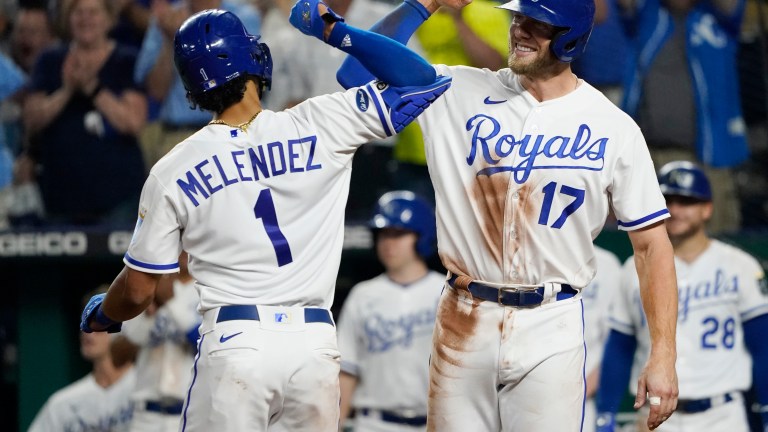 We have reached the point in the season where slumps and injuries lead to non-stop roster tinkering. Wavier wires are active and trade proposals are flying as you scramble to keep up or extend your lead in the standings.
Sometimes, all you need is a quick fix. A fill in for an IL stint. A new hot hand as your old one cooled off. If this is the case, we have you covered.
Catcher: MJ Melendez (8.3% ESPN)
Opponents: @ Arizona, @ Minnesota, @ Cleveland, vs. Houston
A Just Baseball Top 100 prospect, Melendez is filling in behind the plate for injured Salvador Perez. Now that Melendez is receiving everyday at-bats, he has started to settle in, collecting hits in five of the last six games.
Melendez has taken over the five hole in the order, typically behind Hunter Dozier who's slashing .303/.361/.439 in May. Bobby Witt Jr. is in the three hole and heating up as well giving Melendez more opportunities with runners in scoring position.
The Royals will miss Madison Bumgarner in Arizona, which could have been a rest day against a tough lefty. Minnesota and Cleveland lack a south paw in the rotation (at the moment) giving Melendez the best opportunity to gain at-bats.
The strikeout numbers are concerning, but the 77 percentile max exit velocity combined with everyday at-bats could turn into a bigger role for Melendez even after Perez is back. You could find a fill-in, and possibly a longer term option.
First Base: Josh Naylor (43.2% ESPN)
Opponents: @ Houston, @ Detroit, vs. Kansas City, @ Baltimore
Naylor was crushing the ball before landing on the Covid list. He was just activated and well worth picking up and seeing if he finds the pre-Covid form. Slashing .347/.377/.611 on the season with a .316/.350/.526 against lefties, it is going to be hard for Manager Terry Francona to sit the slugger. Hell, just look at the Savant page. The added outfield eligibility makes it even more of a buy.
Detroit, Kansas City, and Baltimore are all match ups I love. Plenty of questions on each of their pitching staffs. Most deep leagues already have Naylor scooped up, but if not, jump on it.
Second Base: Santiago Espinal (19.7% ESPN)
Opponents: @ St. Louis, @ LA Angels, Chicago White Sox, Minnesota
I went back and forth with Espinal or Cardinal Rookie Nolan Gorman. If you lean Gorman, and he's still available, you will not hear any arguments from me. Gorman has a tough schedule ahead and I am worried about his hot start slowing down.
Espinal has be an underrated player for Toronto all season. In May, he's slashing .333/.379/.433 with six doubles. While he will not add many home runs to your roster, betting on his hit tool could pay off. You don't often find a 125 wRC+, on a 15 game hitting streak, second basemen on the wire. Scoop him up until you get a more permanent fix.
Shortstop: Josh Rojas (24.6% ESPN)
Opponents: Kansas City, Los Angeles Dodgers, Atlanta, @ Pittsburgh
This might be cheating. Rojas has not appeared at short this year, but his eligibility on ESPN includes short, second, third, and outfield. If you decide to load up on pitchers and carry one bench bat, Rojas can be your guy.
Rojas started the year on the injured list but has been hot since returning, slashing .283/.382/.478 on the season. He's already swiped three bags and has hit three home runs (in one game). While he's not hitting the ball hard, he'll draw walks, not strike out, and maybe get you a steal or two while playing anywhere on your roster.
The matchup's have below average teams on the front and back, with two great teams in the middle. I'd still play Rojas, as the first three-game series is at home where his career home splits of .263/.349/.394 are significantly higher than his road splits.
Third base: Hunter Dozier (16% ESPN)
Opponents: @ Arizona, @ Minnesota, @ Cleveland, vs Houston
Hunter Dozier has not exactly lived up to his contract in Kansas City, but so far this season he's been a sneaky good hitter putting up a 121 wRC+. His strike out percentage is the lowest of his career and his barrel percentage (11.9%) is the highest.
Another player with great roster flexibility, eligible at first, third, outfield, and DH. Dozier is slashing .271/.300/.469 against righties this season with four home runs. The improved splits against righties has led to much less time on the bench, making him a good option for the upcoming schedule.
Outfield: Darin Ruf (4.9% ESPN)
Opponents: Mets, @ Cincinnati, @ Philladelphia, @ Miami
Darin Ruf is more than just a platoon bat. He has twice as many at-bats against righties than lefties. Of course, he mashes lefties to the tune of .282/.370/.564 with three home runs.
The 35-year-old is walking at a 14.9% clip and striking out only 22% of the time. He has some pop and faces an injured Mets staff and underwhelming Cincinnati rotation before matchups against solid NL East rotations.
I'd go ahead and scoop up Ruf, who's slashing .347/.476/.592 in May and ride the hot hand.
Others:
Yonathan Daza (2.1% ESPN)- Deep leagues might see Daza scooped up soon. While he is not going to add power to your lineup, he's going to add average. His hitting streak is in the double digits and he is slashing .357/.413/.429 in May.
Alek Thomas (23.3% ESPN)- I assume most deep leagues will not have Thomas availalbe. 10 or 12 team leagues need to hop on the top prospect. Thomas has shown he can hit big league pitching and is due for a bump up the order, resulting in more at-bats.
Pitcher: Nick Pivetta (30.0% ESPN)
Opponents: @ Chicago White Sox, Baltimore
Pivetta has been on an absolute tear. In May, his ERA is down to 1.71 surrendering only five runs in 26.1 innings. Pivetta's last outing was a complete game shut out and I am going to ride the hot hand.
His next start is Tuesday against the White Sox. Last outing against the White Sox, Pivetta went six allowing no runs, kick-starting his hot streak. He will then get Baltimore, who sits at the bottom of the standings.