Feature
Just Baseball Highlight Reel: Gleyber Torres Comes Up Clutch For the Yankees
All of the highlights you need to see from Monday's MLB action.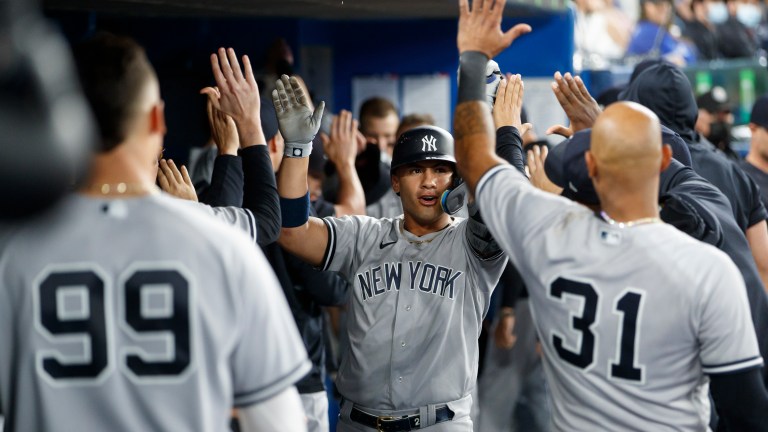 It was a quiet Monday with just eight games on tap and just eight total home runs. Still as always, there were some great performances across the league. Gleyber Torres leads us off, followed by Jazz Chisholm Jr. being fun and nearly beating his old team.
Yankees 3, Blue Jays 2
The Gleyber Torres show rolled into Toronto, as did the entire Yankees roster!
After must speculation. about their vaccination status, New York got it figured out and can bring their entire squad to their division rival all year. The game went scoreless for the first three innings, until Torres put the Yankees ahead with a two-run home run.
There has been plenty of discourse about Torres's role in New York, but the tide may slowly be turning. He has five hits in his last three games and two homers in his last four.
Both starters were solid, each allowing two runs in nine combined innings of work. The Jays tied it up right after the Torres homer, answering with two of their own in the fourth. The game went scoreless until the ninth, when Torres came through with the go-ahead single. Chad Green struck out two in the ninth, to secure a 3-2 victory by Gleyber Torres over the Jays.
If it were not for an incredible catch that you will see later, this may have been the play of the night. I have always held that Giancarlo Stanton is a better defender than he gets credit for and he showed that tonight. Check out this incredible catch up against the wall to rob Matt Chapman of extra bases.
Diamondbacks 5, Marlins 4
This was nearly a snooze fest until Jazz Chisholm Jr. happened. Before that, the D-Backs became the first team to get to Pablo López this season. Entering the game leading the league in ERA, López got touched up by David Peralta in the first inning for a two-run bomb.
Arizona added two more off López in the fifth and chased him before he could finish the inning. His ERA rocketed all the way up to 1.61 as he allowed four runs on six hits and two walks in 4 2/3, though he did strike out seven.
On the other end, Zac Gallen was tremendous for a solid six innings against his former team. He had his ERA down to 0.42, until he hit two-straight batters and was chased from the game. This is when the guy Gallen was traded for, Jazz Chisholm Jr., began to show his star power. With the bases loaded, the Marlins second baseman roped a double into right that scored two runs and gave Miami life.
The two runs were charged to Gallen, taking his ERA on the year up to 1.27. Meanwhile, Jazz was not done. Standing on second, he watched Jesús Aguilar ground a ball deep in the hole between short and third. Not even thinking twice, Chisholm Jr. took off and just kept running. With two outs he had nothing to lose, and Aguilar beat the long throw to first. I will let you watch what happened next because you should be watching Jazz as much as you can if you love baseball.
Just like that the lead was down to one, but the Marlins could not finish off the comeback. Arizona pitched around Jazz in the ninth and he represented the winning run on first base, but Jon Berti popped out to end the game. This game just showed that the Chisholm Jr.-Gallen exchange was one of those that works out for both sides.
Cardinals 1, Royals 0
This is another one of those weird one-off makeup games we will see throughout the year due to the lockout. Steven Matz delivered six much-needed shutout innings, as he tries to reverse his early struggles. Paul Goldschmidt delivered the Cardinals only run as just the second batter of the game for St Louis, launching his second home run of the year.
Bobby Witt Jr. extended his hitting streak to 10 games by beating out a routine grounder to short, flashing his elite speed. The two teams combined for just nine hits as both of these offenses continue to struggle.
St. Louis will take a win, but they really need the bats to get going. They could have had another run, but Michael A. Taylor made one of the most amazing home run robberies you will ever see to steal it away. The two teams now head to Kansas City for a two-game set.
White Sox 3, Angels 0
Dylan Cease is cementing himself as a Cy Young candidate in the American League. He dropped his ERA to 2.48 with seven scoreless today, while racking up 11 strikeouts. It is the 10th time in his young career that Cease has picked up 10-or-more strikeouts in a single start. He struck out Mike Trout three times along the way and had everything working.
The Sox scored two in the first and did not need any more, although they got one in the sixth. They had just two extra base hits, as their offense is beginning to show signs of life.
Liam Hendriks has converted five-of-six save opportunities this season, but he has not looked like himself. That was until today when he absolutely dominated the Angels in the ninth inning, striking out all three batters he faced, including Trout's fourth to end the game. The Sox as a staff allowed just two hits and struck out 16 in a dominant pitching performance that forced a split in a four-game series.
Twins 2, Orioles 1
This one was pretty simple. The Twins took a 1-0 lead in the fifth, then Rougned Odor responded in the Baltimore half with a triple. The new dimensions at Camden Yards definitely worked in his favor here.
The Twins answered right back, getting a runner in scoring position for Carlos Correa. Their big offseason acquisition has not quite been himself just yet in the Twin Cities, but he came through with the game-winning hit tonight.
His RBI single gave the Twins a 2-1 lead in the sixth and neither team scored again. They combined for 11 hits and just two went for extra bases. Both starters, Chris Paddack and Tyler Wells, went at least five and allowed just four hits and one run. Jhoan Duran picked up the first save of his career.
Braves 5, Mets 2
In the same way Gleyber beat the Jays, Travis d'Arnaud basically beat his old team for the Braves tonight. The Mets took a 2-0 lead after three, but Austin Riley cut it in half with his seventh home run of the year. Then d'Arnaud tied it with a double on an impressive piece of hitting.
The Braves later took the lead on a sac-fly to make it 3-2. Both Max Fried and Chris Bassit were sharp, combining for 14 strikeouts in 13 innings.
However, it was Fried who was just a little bit better and limited the Mets to just the two runs. Bassit lasted longer, and struck out eight compared to Fried's six. To punctuate it, d'Arnaud burned his former club again with a two-run double to provide some insurance and deliver the victory.
Astros 3, Mariners 0
It has been a rough go of it to start 2022 for Marco Gonzales. He allowed eight more hits and three runs tonight, upping his ERA to 4.05. He also struck out just two Astros and allowed two walks in six hard innings of work. Yordan Álvarez delivered the first of two long balls to put Houston ahead in the fourth.
Then it was rookie sensation and Carlos Correa replacement, Jeremy Peña, who capped it off. He hit a two-run bomb to the train tracks to put the Astros up 3-0 and that was all the scoring in this one.
Jake Odorizzi worked 6 2/3 shutout innings, allowing four hits and no walks, a much-needed solid performance from him.
Rays 6, Athletics 1
This one got started early as Yandy Díaz led off with a home run to stay hot. After two more hits Monday, he has seven hits in his last four games and is hitting .306 on the season.
The A's tied things up in the second, but the Rays then proceeded to pile it on by scoring two in each of the next two innings. They scored six on 11 hits off of Daulton Jefferies in just five innings.
Drew Rasmussen pitched five solid, allowing just one hit and one run. Tampa Bay pitching allowed just two hits all night, and their bats mustered up no hits against the Oakland bullpen. It did not matter because they were out to a lead, thanks in part to two more hits from Wander Franco. He is just so good at the whole baseball thing, racking up two more hits Monday and upping his average to .322 on the season.
Back to a full slate of games tomorrow, with all 30 teams in action beginning at 3:10 when the Braves and Mets face off at Citi Field.