Feature
Just Baseball Highlight Reel: Cincinnati Reds Stay Hot
All of the highlights you have to see from Friday's MLB action.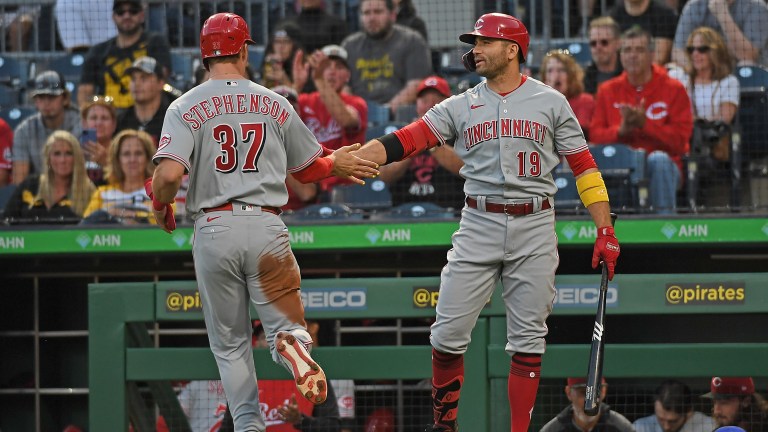 Reds 8, Pirates 2
The Reds have somehow won five of their last seven, taking game one of their series in Pittsburgh. Tyler Mahle went six innings giving up five hits, two runs, and striking out eight.
A Ben Gamel home run made it 1-0 Pirates before back-to-back doubles from Tyler Naquin and Kyle Farmer tied the game.
The Reds offense was consistent tonight, lead by two home runs off the bat of Mike Moustakas. Moose is now slashing .317/.417/.512 over the past two weeks.
Brandon Drury capped the night off with his team-leading seventh home run of the year.
Brewers 2, Marlins 1
Miami was the place to be Friday night as Corbin Burns faced off against Pablo Lopez, each pitching a gem. Burns and Lopez each went seven allowing one run while Pablo struck out 11. His biggest mistake came to the first batter when Kolten Wong took him deep.
Jesus Aguilar tied the game with a home run of his own, making it 1-1.
Milwaukee had ducks on the pond when the Marlins threw ball four, walking in the winning run.
Astros 6, Nations 1
The Astros jumped all over Josiah Gray early in this one, scoring five in the first and another in the third.
Jose Altuve went dead center on the first pitch. Michael Brantley doubled to center and was knocked in by Yordan Alvarez before Yuli Guerriel put a cherry on top with his first homer of the season.
After the big first inning, Alvarez added his 11th homer of the season in the third.
While the offense slowed down, the pitching held their own. Framber Valdez threw another productive outing going 7.2 innings of one-run ball. That makes it 11 wins in a row for Houston, who have a favorable schedule the rest of the month. Just how far can the streak go?
Tigers 4, Orioles 2
Offseason addition Eduardo Rodriguez has now put together back-to-back great outings. Friday he went 6.2 innings of no-run ball, lowering his ERA to 3.72. It wasn't perfect, but trending in the right direction.
Miguel Cabrera gifted the fans a vintage Miggy night with a double to give the Tigers a 1-0 lead and a home run to extend it to 2-0.
Willi Castro added some offense with a big two-out RBI triple
Jacob Barnes and his 0.75 ERA entered the game in the eighth and left before recording an out, giving up two hits and two runs on the first two pitches he threw. Trey Mancini and Anthony Santander went back-to-back.
Gregory Soto was brought in to close out the game for the Tigers. While he throws 100 and has nasty stuff, he's a coin flip and was pulled in favor of Will Vest who earned his first save.
Mariners 2, Mets 1
Just about everything has gone the Mets way this season. We all probably thought Max Scherzer on the mound against the struggling Seattle offense would be a win. Scherzer went seven and allowed only three hits, but the offense could not pick him up.
A Jesse Winker single tied the game until the eighth inning when Just Baseball's favorite first basemen delivered in the clutch.
A much-needed win against a great team for the Mariners, who can take any momentum they can get.
Rays 5, Blue Jays 2
A rare less than perfect start from Kevin Gausman lead to a Toronto loss. Dennis Rasmussen toed the rubber and put in 5.2 innings of three-hit ball allowing a single run.
All of the runs in this game were scored on singles besides the last, which was a Brandon Lowe triple. So, let's show off the Rays defense.
Toronto has a lineup built to put up runs. So far, they have had plenty of less than inspiring games. Let's see if their bats heat up as the weather does.
Padres 11, Braves 6
If you like offense, this game is for you. A combined 17 runs on 28 hits, each of the four Braves pitchers allowed two or more runs.
Atlanta's young catcher William Contreras homered for the fourth time this season. Three of his four hits this season have left the yard.
These two teams battled back and fourth and Atlanta took their first lead on a Dansby Swanson home run making it 6-4.
The Padres shortstop Ha-Seong Kim stole the lead back and the Padres cruised from there.
Red Sox 7, Rangers 1
A slow start to this one, the Red Sox jumped out to a 1-0 lead in the seventh and exploded with four in the sixth. Two more in the seventh before a wild pitch gave the Rangers their lone run.
Starter Nick Pivetta earned his first win of the season, going seven allowing only three hits. Make that back-to-back solid outings for the Boston starter.
Up one in the sixth, Alex Verdugo delivered on the 2-2 count.
Let's show some appreciation for a sno-cone catch.
Twins 12, Guardians 8
Don't you love it when a game starts with a Byron Buxton home run?
Jorge Polanco added a long ball before Austin Hedges went deep to tie it up. From there, the Twins pushed it to 11-2, highlighted by the rookie Royce Lewis' first career home run, which just happened to be a Grand Slam.
The Guardians did not give up, battling back with a couple home runs and an Amed Rosario triple.
Andres Gimenez did his job, like he has all season slashing .333/.345/.543, but in the end it was not enough. This Twins team is looking better than expected.
Yankees 10, White Sox 4
Today was a bad day to be Vince Velaquez, who was punished through five innings allowing seven runs. The Yankees used two pitchers with Michael King piggy-backing off Gerrit Cole, who allowed three runs in 6.1 innings.
Yankee fans were treated to a Bronx Bombers show tonight as New York got home runs from Giancarlo Stanton (109.3 mph), Aaron Judge (103.8 mph) , Joey Gallo, and Josh Donaldson (102.5 mph).
The White Sox did not have a highlight reel kind of night, but Tim Anderson is a walking highlight.
Giants 8, Cardinals 2
Logan Webb was one of the bigger break outs from last year, but hasn't pitched to the same level in 2022. Today, he got it done with less than perfect stuff going six innings, giving up one run and three hits.
Giants outfielder Mike Yastremski broke the 1-1 tie in the third on a deep drive where Harrison Bader nearly made a spectacular catch.
The Giants extended the lead with a couple of singles and an Evan Longoria double before Curt Casli gave away his first souvenir of the season.
The Cardinals move to 17-15, still good for second place in the NL Central.
Royals 14, Rockies 10
Ok, everyone take a few deep breathes. This might take a minute, the game was at Coors so you know the runs would be coming and this one was crazy.
The game started with an Andrew Benintendi home run: 2-0
Jose Iglesias and Sam Hilalrd singles plus a Yonathan Diaz sacrifice fly gave Colorado their first lead: 3-2.
Salvador Perez double, Hunter Dozier single and a Bobby Witt triple flipped the lead in favor of Kansas City: 6-3.
The Royals add two more runs before the Rockies start the comeback. Ryan McMahon single, Wild pitch, and Brendan Rodgers double. 8-7 Royals.
In the seventh, the Royals tried putting it away scoring four runs making it 12-7. Brendan Rodgers home run and a Sam Hillard long ball made it closer, but the Royals prevail.
Diamondbacks 4, Cubs 3
The Diamondbacks broke out their amazing Serpientes uniforms and pulled off the W. The Cubs took the initial lead off a IIdemaro Vargas triple and Rafael Ortega sacrifice fly.
The D-Backs tied it up scoring three in the third off a Ketel Marte double, Christian Walker single, and Pavin Smith double.
The difference in the game came in the fourth inning when Drew Smyly let one get away and the Diamondbacks scored on the wild pitch.
Arizona's bullpen went 3.1 innings of one-hit ball as Mark Melancon earned his seventh save of the season. The Diamondbacks just keep rolling. Jump on the bandwagon.
Angels 2, Athletics 0
The Angels had a rookie throw a no-hitter this week. Friday night, they had a rookie go six innings of one-hit ball. Remember the days when the Angels always seemed to need pitching?
The offense was uneventful. A Brandon Marsh single and Andrew Velazquez home run gave the Angels enough to win in Oakland.
Phillies 12, Dodgers 10, F10
You know how they say basketball is a game of runs? Well, this was a game of runs.
In the second the Dodgers strung together a run of hits consisting of a Chris Taylor home run, Mookie Betts double, Max Muncy single, and Justin Turner double making it 5-2 Dodgers.
The Phillies tied it after a Bryson Stott single and Kyle Schwarber home run. Bryce Harper then gave Philly the lead with an RBI double before hitting his next one a little bit further.
Bottom of the ninth, one on one out, Justin Turner steps up and with one swing of the bat, he ties it up at 9.
In extras, Nick Castellanos finally delivered a victory to the Phillies, hitting a two-run RBI double.
Another day of baseball in the books. Saturday's games start at 2:15 in St. Louis and finish with a 10:10 start in LA.