Analysis
Can the Reds Overcome Their Southpaw Woes?
If the Reds are going to continue to make noise into October, they need to hit lefties.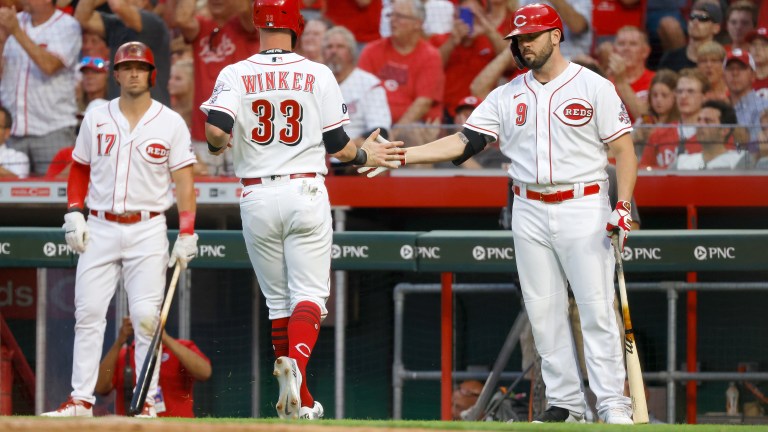 The Cincinnati Reds are playing important baseball in September. Read that again, the Cincinnati Reds are playing important baseball in September. Joey Votto has experienced a resurgence few saw coming, a group of young rookies are playing like seasoned veterans, and Wade Miley has thrown a no hitter. Sitting at 71 wins the morning of September 1st, this team is likely going to surpass most preseason win projections. The Reds are exciting and fun… unless there's a southpaw on the mound.
Kwang Hyun Kim, Brett Anderson, Drew Smyly, Matt Moore, Jesus Luzardo, and Jon Lester all have two things in common, and stellar numbers is not one of them. In fact, Kim is the lone pitcher with an ERA+ over 100. What these pitchers have in common is they are all southpaws and they saw success against the Reds. Lefties are holding the Reds to a .225/.306/.372 line and an 86 wRC+, which is shocking considering the team is fourth in baseball in overall OPS. The Reds simply have too many players who are platoon candidates by the numbers, including All-Star Jesse Winker (.176/.229/.269 vs LHP) and fan favorite Joey Votto (.207/.301/.353). Moustakas, Suarez, and Naquin have all been a mess against left handed pitchers. Luckily, the Reds have faced the second fewest lefties all year trailing only the Cardinals. With 28 games left, the Reds need to turn the corner against southpaws. Here's what could be ahead:
Detroit: Tyler Alexander and Matt Boyd (scheduled starters)
Alexander has been a bullpen guy most of his career and pitches to contact. He handles lefties well, but his stuff won't keep hitters up at night. Boyd is a veteran and the better of the two. He's dealt with some injuries this season but has a solid track record. The two have combined to allow 6 XBH in 140 at bats against lefties and don't usually work deep into games. If the Reds can chase them in the fifth, Gregory Soto is the only true treat out of the bullpen.
Chicago Cubs (2 games) : Justin Steele (scheduled starter)
The Cubs are bad, and Justin Steele has struggled since slotting into the rotation. In his 3 starts, he's pitched 12.2 innings and given up 9 earned runs, inning an outing against the Reds where he wasn't sharp. Even if the Reds struggle against Steele, the pitching should carry them.
Cardinals (3 games): Jon Lester (scheduled starter) Kwang Hyun Kim and J.A. Happ
Everyone knew the Cardinals needed rotation help, but acquiring J.A. Happ and Jon Lester just seemed strange. The two veterans haven't pitched particularly well in 2021, but Lester already threw one gem against the Reds this season. Happ faced the Reds with the Twins and struggled to find the zone and limit hard contact. The Cardinals are quietly gaining ground and with the series in St Louis, this has potential to be nightmare fuel for Reds fans. Luckily, the Cardinals have a brutal schedule ahead while the Reds is favorable. A repeat Lester performance isn't likely, and Kim has been a mixed bag against the Reds. Lester and Happ rarely reach the 90 pitch mark, work the count and chase the starters early.
Pittsburgh Pirates (9 games): Steven Brault and Dillion Peters
Facing the Pirates 9 times might lead to October baseball in Cincinnati. The Pirates struggle in most aspects of the game and likely will be playing primarily prospects. Dillion Peters and Steven Brault are not household names, and both have struggled at the MLB level. Neither seem like long term starters and neither should cause the Reds headaches. Take care of the Pirates in mid September and roll that momentum into the Dodgers series.
Los Angeles Dodgers (3 games): Clayton Kershaw (if healthy) and Julio Urias
You might be looking at an NL Wildcard preview. The Dodgers have arguably the best roster in baseball and these too lefties are a big part of the team's success. A quick glance at their Baseball Savant page will show almost every percentile bubble as Red as Cincinnati's jerseys. Kershaw and Urias have taken care of lefties this season and I don't see that changing. Kershaw's current timeline lines up close to the Reds series, but it's not 100% certain he'll be ready. In May, Kershaw faced Cincinnati and pitched a beauty while Urias allowed 3 earned runs in 5 innings in the same series. Although the Reds won that series, I wouldn't bet the same would happen in September.
Washington Nations (4 Games): Patrick Corbin and Sean Nolin
Corbin is a name people will recognize, but he hasn't been the pitcher he once was. 28 earned runs over the past 32 innings, Corbin and his big contract are looking bad. If you're asking "who's Sean Nolin" than we are in the same boat. I'm not sure if he will be around when this series happens, but he's back in the league for the first time since 2015. It's a small sample size but Nolin has struggled. Another series the Reds could capitalize on.
Chicago White Sox (2 games): Dallas Keuchel and Carlos Rodon
Keuchel has been trending in the wrong direction and it looks like father time has caught up to him. Lefties are hitting a healthy .289/.341/.456 and the last couple of months have been ugly. Rodon has been excellent this season and is a big reason for the White Sox success. His K% sits at 35% while he's struck out 32 lefties in 90 at bats. Reds could capitalize on facing Keuchel but if they draw Rodon, good night.
The Reds have a problem and not much opportunity to find a solution. Getting creative with the lineup might be their only hope. Picking up Asdrubal Cabrera, who hits LHP well, helps but you cannot be relying on an aging bench caliber player to flip the script. Tyler Stephenson has played well enough to be slotted in the 2 hole against lefties to strengthen the top of the order. Stephenson plus India one-two could really help get runners on base in front of Castellanos. Hopefully Farmer, Cabrera, and maybe Senzel can come back and be at least slightly above average. If it comes down to Dodgers Reds in the wildcard game and Kershaw is on the mound be ready for a #RedsTwitter meltdown.