Analysis
MLB Picks Today, Best Bets, Odds, Predictions for April 23, 2022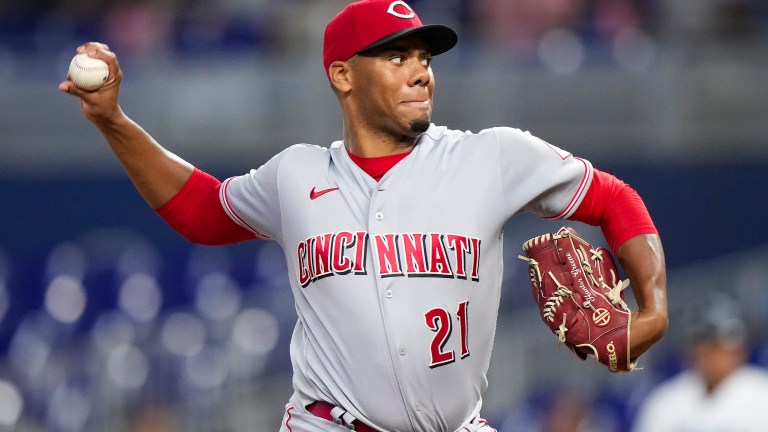 Another positive day! We cashed in our third straight profitable day after a 2-1 Saturday. Our only loss, the Mariners' first five, was blown up by a rough Luis Castillo outing. We haven't seen that at all this year, so I call that an outlier. Mikolas pitched relatively well through five innings before giving up the lead in the sixth; go figure.
I've been researching games all morning, going back and forth between multiple plays. I feel that if I added more plays to my card, it would be reaching. I have plenty of leans but not enough of an edge to make them actionable. I would never give you a play I wasn't extremely confident in. Just because we have been winning doesn't mean I overextend myself when the value isn't there. So today will be relatively light, as I'm sticking to just one play.
I'm using BetMGM lines only this year. Here's a link to get started with a risk-free $1000 bet. You can also use code "JBFANS" if you're betting on MLB. Wager $10 on any MLB game and receive $100 instantly.
All prop entries will be on PrizePicks: Here's a link to get a 100% deposit match.
2023 Straight Plays Record: 38-28 (+7.28 U)
2023 PrizePicks Entries: 3-9 (-1.3 U)
I will track both records separately so you can track how I'm doing on game picks and PrizePick entries!
Cincinnati Reds vs. Pittsburgh Pirates @ 1:35 PM EST
Pitching Matchup: Hunter Greene vs. Vince Velasquez
I would not want to be a hitter at PNC Park today. It's one of three parks today with game-time temperatures under 45 degrees. We have slight wind blowing out to left field, but Ballparkpal's weather model calls for a 33% decrease in home runs compared to the average.
Hunter Greene is back on the mound for the Reds after taking a ball off the leg in the third innings against the Rays. He was cruising before the injury, but luckily the X-rays came back negative. His arm actually be more rested after only throwing 47 pitches on April 17. He already faced the Pirates this season at a much easier park to hit, giving up three runs in 3.1 innings. The damage came from Oneil Cruz, who is still on the IL for the Pirates.
Greene has sparkling numbers against the Pirates' current roster in his career. Through 50 PA, he's rocking a 42% K rate, a .261 xwOBA, a .162 xBA, and a .184 xSLG. You don't see those low numbers through 50 PA often, so the quality of contact against him is clearly weak. Weak contact in a stadium already playing towards it is a recipe for strong success.
Not to mention, Hunter Greene's stuff is truly some of the best in baseball at the moment. His 131 Stuff+ ranks fourth in all of baseball after Jacob deGrom, Shohei Ohtani, and his teammate, Graham Ashcraft. He has the second-best Location+ of those four names as well. His 3.59 xERA tells me his 4.24 ERA is inflated, as does his 2.53 FIP. The Pirates' better split is against left-handed starters, so Greene is not a good matchup for them. Expect Greene to dominate against the 14th-ranked team against righties, according to wRC+.
On the flip side, we have journeyman pitcher Vince Velasquez, who, believe it or not, is pitching well right now. His 4.52 xERA isn't great, ranking in the 43rd percentile. That said, many will look at him and expect him to be one of the worst pitchers in baseball; it simply isn't true. His 98 Stuff+ ranks second behind Mitch Keller and has the same Pitching+ as Roansy Contreras. Both his fastball and slider grade out as above-average offerings, and he throws those two pitches 86% of the time.
He also faced the Reds and allowed three earned runs in 4.2 innings in Great American Ballpark, a much easier park to hit. It wasn't the best start, but he does have solid numbers against the Reds over 37 PA. He's rocking a .287 xwOBA, a .225 xBA, and a .360 xSLG.
This Reds lineup with a .594 OPS on the road and a .722 OPS at home. They are baseball's second-worst road offense, and their worst split is against right-handed pitching. The Reds rank 26th in wRC+ against righties at 82, 18% below the league average. I expect both pitchers to be locked in a pitcher's duel.
I love both starters today, but I also like how both bullpens are lined up. Each team will have its quality relievers ready to go in the final game of a four-game set. The Pirates especially will have everyone, as they have an off-day on Monday. No Reds reliever outside of Alex Young threw more than 15 pitches yesterday, and that's coming after a game where they saw production from lower-leverage arms.
Also, Bryan Reynolds was just placed on the bereavement list, and Tyler Stephenson isn't in the lineup for the Reds. Both are signs of good news for the pitchers.
Runs should be hard to come by today throughout the game. I think the first five under is a solid play, but I prefer the full game if one of these starters doesn't bring their best stuff. Much more confident this game doesn't go over 8.5 than I am over 4 or 4.5.
The Pick: Reds vs. Pirates Under 8.5 (-110) 1.1 U to win 1 U (Play to 8 at plus money)