Just Baseball Highlight Reel: Pirates Walk-Off Padres in Extra Innings
All of the highlights you need to see from Saturday's MLB action.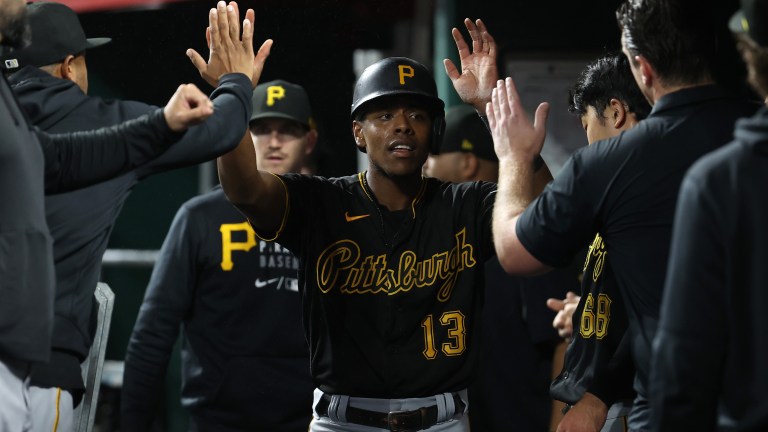 Offense shined on Friday night, with 161 runs crossing the plate. Pitching, however, was king on Saturday. Fourteen teams were held to two or fewer runs. Saturday included two walk offs, the "George Springer Game", along with one of the better individual defensive performances we have seen this year from Jake Marisnick.
Story of the Day: A Walk-Off in Pittsburgh (Pirates 7, Padres 6)
An absolutely amazing game. Five lead changes and two ties ending with a play at the plate where the umpire initially called the runner out and later overturned the ruling resulting in a Pirates win.
Many Machado and Eric Hosmer each went yard, but it was Michael Chavis' home run in the eighth that tied it up and sent it to extras.
The Pirates likely drop this game if not for their unsung hero, Jake Marisnick, who robbed Padres hitters of extra bases TWICE while the game was tied.
Diamondbacks 2, Cardinals 0
A true pitchers dual opened the slate Saturday. Both teams trotted out a sub-2.00 ERA starter, as Merrill Kelly went seven innings and gave up only two hits, while Miles Mikolas pitched seven plus but look the loss.
A game with few mistakes, the Cardinals made the biggest one by leaving Mikolas in to start the eighth. Ketel Marte broke the 0-0 tie with his first home run of the season; a huge relief for Marte, who is off to a freezing cold start.
Nick Ahmed followed suit, adding a home run of his own.
Ian Kennedy earned the save, and he can thank Jordan Luplow for the help.
Blue Jays 2, Astros 1
George Springer didn't waste any time starting the scoring against his former team, connecting on his 46th career leadoff home run, that just snuck over the wall.
In the third, Springer decided to make this one a no-doubter, sending the ball 424 feet to make it George Springer 2, Astros 0.
Jose Berriros was cruising through three innings when Yordan Alverez extended his hit streak to seven games with a long ball of his own, making it a one run game.
Jordan Romano shut the door, giving the Blue Jays their eighth one-run win of the season.
Giants 9, Nationals 3
After putting up 14 runs yesterday, it was the Nationals defense showing up early, preventing an early Giants lead.
An Alcides Escobar RBI triple in third followed by a César Hernández RBI double put Washington up 2-0.
With the bases load, Brandon Crawford did what he does best.
The Giants loaded the bases, and Washington was a second too slow turning the double play allowing the Giants to gain a 3-2 lead. A single scored another. A slash shot extended the lead to 5-3, and the Giants never looked back.
White Sox 4, Angels 0
Tim Anderson is well on his way to the all-time leader for leadoff home runs in a White Sox uniform, adding one to the list on the first pitch of the game.
After having terrible luck throughout April, Luis Robert finally gave the fans something to cheer, about extending the lead to 4-0.
Who would have thought Vince Velasquez would shut down the Angels offense? Velasquez struck out six and surrendered four hits before rain paused the game in the sixth.
Guardians 3, Athletics 1
Friday night saw a 9-8 game between these two, but it was a different story Saturday. Each starter allowed only one run in a mostly dull game.
In the fifth, Shane Bieber left a ball over the plate, and Sheldon Neuse took advantage.
The Guardians legged out a would-be double play in the ninth, giving them another chance with a runner on third. Richie Palacios drove a ball over Christian Pache, giving the Guardians a 3-1 lead.
Twins 9, Rays 1
Shane McClanahan was great, but Kyle Garlick was better. McClanahan struck out 11 in five innings with two mistakes, both home runs to Garlick.
Chris Archer was no slouch himself. Archer walked three while being effective enough for four innings against his former team. The Twins bullpen was superb, going four innings of one-hit ball to close it out.
Max Kepler left the yard for the fourth time this week, ballooning the lead to 8-1.
The first place Twins move to 12-9 and hold a three game lead in the AL Central.
Marlins 3, Mariners 1
Dylan Moore was the only Mariner to get to Jesús Luzardo, homering in the third inning for his first of the season.
Luzardo continues to build on his fantastic season, tossing six innings of one-run ball.
Brian Anderson doubled to lead off the fifth and Bryan De La Cruz beat the drawn-in infield to tie it 1-1. De La Cruz later scored on a Jon Berti single to give the Fish a lead.
Robbie Ray walked the bases loaded and the Marlins took a 3-1 lead.
It's time for all of us to be talking about the Marlins.
Orioles 2, Red Sox 1
The Orioles offense looked dead for much of the night. Nathan Eovaldi took a no-no into the sixth, but Cedric Mullins promptly broke it up with a double. Eovaldi's final line was seven innings of three hit ball with eight strikeouts.
The Red Sox 1-0 lead held until the eighth inning, when Anthony Santander tied it with an RBI single.
The O's walked it off due to a throwing error. A tough game for the Red Sox.
Rangers 3, Braves 1
Corey Seager had the Texas fans on their feet early in this one.
Dane Dunning put together a great outing, going over seven innings, allowing just three hits, and striking out seven.
The Rangers extended their lead to 3-1 when Zach Reks delivered his first MLB hit and RBI. The lead held, and the Rangers ended their four game skid.
Phillies 4, Mets 1
We did not see another no-no, but the Phillies offense took a while to get going.
In the fifth inning, Kyle Gibson had the ball sail on him while throwing to second, allowing Brandon Nimmo to reach third and later score.
Desperately needing a run, the Phillies got stuck in a pickle between third and home, eliminating their best chance until the seventh inning.
Down 1-0, Kyle Schwarber got a hold of one and put the Phillies up 2-1.
Rhys Hoskins added a home run in the eighth to extend the lead, and the Mets dropped a late inning game to the third-place Phillies.
Yankees 3, Royals 0
The Yankees win again. Somehow, the New York Yankees, a 15-6 first place team, seems a bit under the radar? I guess the Mets are catching more headlines than usual.
Regardless, the Yankees manufacture three runs on a fielder's choice and two sacrifice flies. Gerrit Cole went six, striking out six. Aroldis Chapman records his fifth save and Rizzo's nine-game hitting streak comes to an end.
Brewers 9, Cubs 1
The Brewers have been criticized for their lack of star power in the lineup. That did not matter last night, as seven of their nine starters recorded a hit. The lineup also struck out 15 times, which seems impossible when putting up nine runs.
Yan Gomes was responsible for the lone Eric Lauer mistake, taking him deep in the second inning. Lauer's final line was seven innings of five hit ball, striking out 11. Strong outing for a guy not in their "big three".
A Rowdy Tellez home run made it 6-1 before a Christina Yelich bomb made it 8-1.
Hunter Renfroe added his third home run in two games for good measure.
Rockies 4, Reds 3
Tyler Naquin hammered the first pitch of the game and left the yard. A rare Reds lead.
Reds starter, Connor Overton, pitched well, allowing only three hits in just over five innings. Art Warren entered the game and quickly saw it slip away. A Charlie Blackmon double scored two, followed by a Ryan McMahon triple knocking in Blackmon.
The Reds added a late inning home run, but could not complete the comeback, leaving them with three wins in the month of April.
Tigers 5, Dodgers 1
The Tigers go into Los Angeles and beat Clayton Kershaw and the Dodgers. The Dodgers struck first with a Mookie Betts home run, putting the Dodgers up 1-0.
Javier Baez responded with an RBI double to tie the game. Later in the seventh, Baez doubles again to push the Tigers ahead 2-1.
Austin Meadows came up clutch, sealing the victory for the Tigers.
Games start Sunday at 1:05 p.m. EST.