Analysis
MLB Best Bets Today: Predictions, Odds for Royals vs. Twins, Astros vs. Mariners, Pirates vs. Padres for May 27, 2022.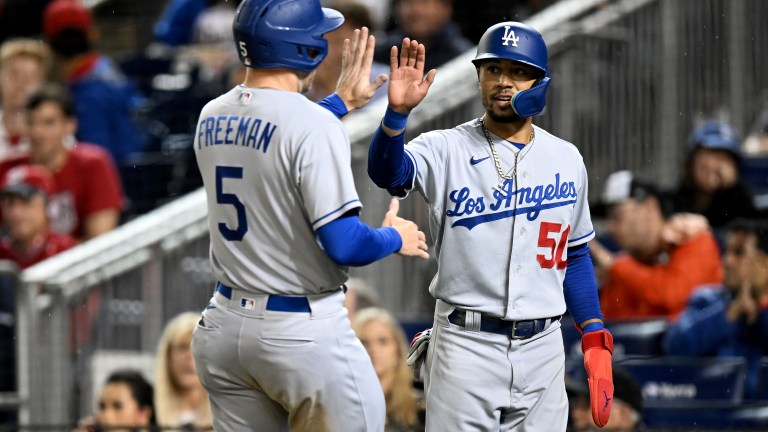 We had a weird day yesterday.
We lost epically on the under in Cubs vs. Reds. There was a possibility the Cubs would score five, and they did. I did not expect the REDS TO PUT UP TWENTY RUNS. It happens, I guess. That's just a head-scratcher.
We did win on the under in A's vs. Mariners, as Frankie Montas shoved for eleven strikeouts in seven shutout innings. The Rangers won the game late, as the A's bullpen came in to blow it. The game ended 4-1, and we hit under glory.
I gave out the Royals ML at +153 on Twitter, which was beautiful. The Royals were down 2-0 for most of the game and won 3-2 late in the game.
I have three more picks today; let's roll.
2022 MLB Regular Season Record: 76-60 (56%) +10.91 units
Subscribe to my New Gambling/Fantasy Baseball Podcast: Not Gambling Advice.
Kansas City Royals @ Minnesota Twins: 8:10 PM EST
Brad Keller: (LHP, Royals) [1-4, 3.20 ERA, 1.03 WHIP, 50.2 IP, 29 K, 12 BB]
Bailey Ober: (RHP, Twins) [1-1, 2.55 ERA, 1.14 WHIP, 24.2 IP, 20 K, 6 BB]
We head to Minnesota for game two of a four-game series between division foes. We took the Royals money line yesterday at +153, and they were held scoreless through seven innings, before tacking on three in the eighth to take the victory and give us the win.
Today, I'm switching to the Twins, but will be taking them through the first five innings for the better value. I think this starting pitching matchup is lopsided in favor of the Twins, and the Twins have the better offense against right-handed pitching.
Brad Keller toes the rubber for Kansas City today, and he's in for some major regression. While his 3.17 xERA would tell us otherwise, his 3.96 FIP and 4.16 xFIP alert us that it's coming. Keller has done a fine job limiting hard contact, but he doesn't have swing and miss stuff. He's in the 10th percentile in K% and 11th percentile in whiff rate. Contact-oriented pitchers don't often do well in Minnesota.
Keller faced the Twins in his last start, throwing seven innings while allowing four earned runs. That was at home, where he's pitched better in his career. He'll get the Twins on the road today when they just faced him. That's a recipe for disaster.
While the Twins are better against lefties, they rank 14th in Team OPS vs. right-handed pitchers while the Royals sit at 23rd. The Twins have the clear overall offense advantage, putting up a 111 wRC+ as a team versus a 91 wRC+ for the Royals.
Through 103 PA against the Twins' current roster, Keller holds a .273 opponent batting average, a .364 xwOBA, and a .468 xSLG. The bottom of the lineup crushes Keller, it's the top of the lineup in Buxton and Correa who haven't had much success. That changes today.
Bailey Ober gets the ball for Minnesota, who's been very solid through 20 innings so far. This is his second start returning from a groin injury, and his last start was against the Royals.
In that start, he threw five innings while only allowing one run and recorded 13 swings and misses. In a smaller sample than Keller, he's been fantastic against the Royals' current roster.
Through 35 PA, Ober posted a .265 batting average against, a .250 xwOBA, and a .345 xSLG. What that tells me is the Royals have been able to get some hits across, but not for any power.
Seeing how the Twins blew it yesterday, I'd prefer to take this bet through the first five innings. It's the best value in my eyes, and the major edge is in this starting pitching matchup.
This will be a 1.5-unit play for me. Normally, every bet is to win one unit. Not today, I love this pick.
The Pick: Minnesota Twins First 5 Innings -0.5 (-120)
_____________
Houston Astros @ Seattle Mariners: 9:40 PM EST
Justin Verlander: (RHP Houston) [6-1, 1.22 ERA, 0.72 WHIP, 51.2 IP 49 K, 9 BB]
Chris Flexen: (RHP, Seattle): [1-6, 4.98 ERA, 1.43 WHIP, 43.1 IP, 31 K, 15 BB]
The Astros make the trip to Seattle to begin a three-game series this weekend. Game one features an incredibly lopsided pitched matchup: Justin Verlander versus the regressing Chris Flexen.
Verlander has continued to defy Father Time and the recovery period from Tommy John in his 2022 campaign. He has a solid line against these current Mariners hitters with a .263 wOBA, a .188 batting average against, and a .399 xSLG in 69 plate appearances.
Justin Verlander is at the top of his game. He's still sitting in the mid-high 90s with his fastball. His fastball and slider command is on point, and the 16th best team in OPS against righties shouldn't give him much trouble. He's the AL CY Young front-runner at the moment.
Verlander has also dominated the Mariners this season. He has gone 11 innings in two starts culminating in a 1.23 ERA en route to two Astros victories.
Flexen, on the other hand, has a .319 wOBA, a .275 batting average against, a .603 xSLG, and a futile 13.1% K rate in 99 plate appearances against the Astros. They will be looking to exploit Flexen's tendency to concede the long ball (nine home runs allowed on the season).
Flexen is due for major regression. His 4.98 ERA is bad, but his 6.19 xERA tells us he's been lucky. He's allowing an incredible amount of hard contact as his fastball command has been spotty at best. He's throwing slower than last year and he's walking 2.6% more batters.
The Astros have the fourth-best Team OPS against righties this year, coupled with success against him in the past. Flexen should get pummeled today as this is already his third time facing them this season.
As for the offenses, Houston has been red hot the entire month of May while the Mariners have struggled to get runs across the plate. Jose Altuve comes into this game on fire; he's hitting .357 with three home runs in his last ten games.
The Astros also have been hitting better on the road this season, averaging 4.7 runs per game. I think they jump on Flexen early, and Verlander will quiet the Mariner's bats en route to a first five -0.5 cover.
The Pick: Houston Astros First 5 Innings -0.5 (-125)
____________
Pittsburgh Pirates @ San Diego Padres: 9:40 PM EST
Jose Quintana: (LHP, Pirates) [1-2, 2.43 ERA, 1.18 WHIP, 40.2 IP, 34 K, 15 BB]
Sean Manaea: (LHP, Padres) [2-3, 4.04 ERA, 1.12 WHIP, 49 IP, 55 K, 16 BB]
We head to San Diego for the first game of a three-game set. The Pirates just took two of three from the Rockies, while the Padres lost two of three to the Brewers. The Padres are the far superior team with home-field advantage and the better starting pitcher.
Jose Quintana takes the ball for the Pirates today, who's been very good through 40 innings so far. This is however the same Jose Quintana that has posted an ERA over four in every season since 2017.
Is this the same Jose Quintana? The production says no, but his 4.50 xERA tells us it's coming eventually. Not only that, he's actually throwing slower than last year, and started throwing his changeup more. Quintana has been especially effective against lefties this year, but right-handed bats can get to him.
The Padres lineup is full of right-handed bats, ranking 9th in Team OPS against left-handed pitching.
Not only has he been worse on the road this season, but he's coming off a rough start against a Cardinals team that also crushes lefties. When you look at his game log, he's pitched well against teams that don't hit lefties well. He pitched well against the Reds, Dodgers, Tigers, and Brewers, who all struggle against lefties.
The Cardinals, Cubs, and Nationals all can hit lefties, and he struggled against them all.
Sean Manaea will get the ball for the Padres, who is better than his 4.04 ERA would indicate. His 3.57 xERA tells us that, but so does his prior history as a solid left-handed arm.
Manaea is especially effective against left-handed bats, and the Pirates lineup is full of them. The only right-handed bat we should be worried about is KeBryan Hayes, but the hot bats for the Pirates are all lefties. Jack Suwinski, Ben Gamel, Dan Vogelbach, Cal Mitchell, Josh Vanmeter, all lefties, and all perform worse against left-handed pitchers.
I think the Padres get to Quintana early, and Manaea shuts down the ninth-worst team against left-handed pitching in terms of OPS this year.
I'll isolate this matchup and take the Padres through the first five innings.
The Pick: San Diego Padres First 5 Innings -0.5 (-120)
________________
I've written up a quick guide with critical terms and helpful tips.