Analysis
How Much Longer Can the Braves Stick With Kenley Jansen?
After a brutal blown save on Sunday, it may be time for the Braves to consider their options at closer and move Kenley Jansen out of the role.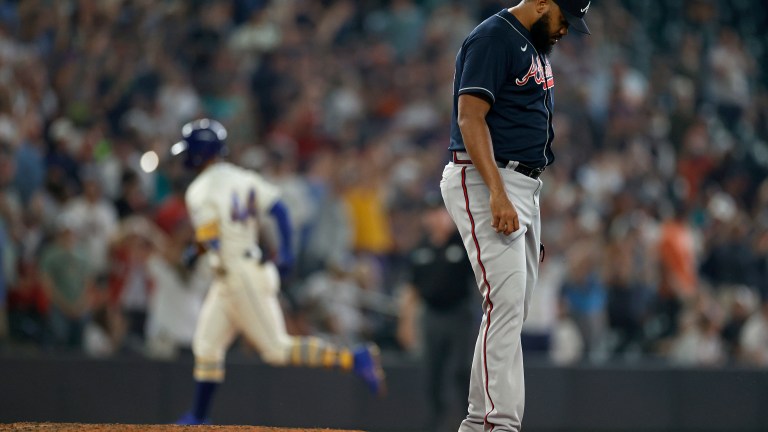 The Atlanta Braves have a Kenley Jansen problem. The 34-year-old is finally showing his age and at the worst time for the Braves, as he is costing them games in a tight playoff race.
None more concerning then on Sunday, when the Braves completed what looked like a remarkable comeback, only to have it foiled by their closer a half-inning later. Atlanta was trailing 6-1 entering the eighth inning, as they tried to claw back in their rubber match game against the Seattle Mariners.
Michael Harris II got them a bit closer in the eighth, hitting a solo home run to cut the deficit to four. Then in the ninth inning, it was Harris again who played hero, blasting a three-run shot that put the Braves within one.
Still down to their final out, the Braves needed some more magic to put themselves on top and they got it from the bat of Robbie Grossman. After Eddie Rosario singled to put a runner on base, Grossman unloaded on a pitch and put it in the seats to give the Braves an improbable lead.
Going from being on the brink, to potentially stealing one had to be an elating feeling inside that dugout. Only to have it wiped away almost instantaneously once Kenley Jansen stepped on the mound.
With one out in the bottom of the ninth, Julio Rodriguez made it known that the Mariners have a Rookie of the Year on their team as well, blasting his 25th homer of the season to tie the game.
Ty France entered the game as a pinch hitter, but popped out on the second pitch he saw, putting the Braves one out away from at least sending the game to extras. Eugenio Suarez had other ideas though, as he crushed a 93 MPH sinker to walk it off for the Mariners.
Let's not take anything away from J-Rod and Suarez, as they have combined to hit 55 home runs this season. The Mariners are a really good team and they absolutely deserve credit for taking that game back from the Braves.
With that said, Kenley Jansen has been bad since the calendar turned to August and it is starting to impact the Braves chances of winning the NL East. Going from a half-game deficit in the standings to a game and a half is massive at this stage of the season. Which begs a very important question.
When Will Jansen Lose His Closing Duties?
The overall numbers don't paint a pretty picture for Kenley Jansen, but they only get worse when you look at the breakdown of how he has performed since the trade deadline.
Over his last 15 appearances, Jansen is pitching to a 5.27 ERA and has blown three of his 12 save opportunities. He has yielded runs in a third of those outings and is walking 5.27 batters per nine. If these numbers weren't alarming enough, the success of a few other relievers makes it even more clear that a change could be in order.
At the deadline, the Braves bought the ultimate Jansen insurance when they traded for then-Angels closer Raisel Iglesias. Fresh off signing a four-year, $58 million contract in the offseason, Iglesias was not having the best season in Anaheim.
The 32-year-old, was pitching to a 4.04 ERA, with three blown saves in 19 chances. The Braves took a shot on Iglesias, who was still striking out over 12 batters per nine. Since coming to Atlanta, the hard-throwing righty has reclaimed his status as one of the best relievers in the game.
Iglesias has pitched to a 0.57 ERA as a Brave and has yet to allow a home run. Left-handed reliever A.J. Minter has actually pitched to an identical ERA over that span, and is striking out nearly 16 batters per nine (15.94 K/9).
With a few other options in place, particularly one who is used to the job in Iglesias, it really is puzzling to see that manager Brian Snitker is so steadfast on keeping Jansen in the closer role.
While Snitker is right that Jansen is leading the league in saves, he fails to mention that he is also leading the league in save opportunities.
The Braves have about three weeks of baseball left to play before they square off against the New York Mets at the end of this month in a series that could very well decide this division. If the Braves want to be best-positioned to overtake the Mets in the NL East, it might behoove them to make a switch when it comes to their bullpen roles moving forward.