Feature
How Keith Hernandez Changed The 1980s Mets
The greatest trade in Mets history resulted in the best era of baseball this franchise has ever seen. Today they will honor Keith Hernandez by retiring his No. 17.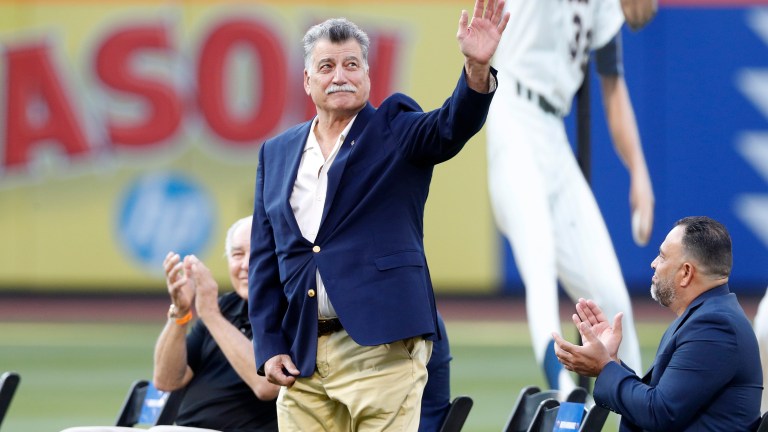 He's not only one of the best players in Mets history. He's also one of the most significant. Keith Hernandez will have No. 17 retired on Saturday, and deservedly so.
While much of his popularity comes from his current role as irreverent broadcaster and some also know him for Seinfeld, the foundation for Hernandez's four-decade relationship with the Mets was his role in turning around a franchise in despair. It's an impact that goes well beyond his clutch hitting and collection of Gold Glove Awards.
He is forever linked with most successful period for the Mets. But there was a time when he wanted nothing to do with them.
That was June 1983, when New York acquired the former MVP and batting champion from the defending champion St. Louis Cardinals.
He knew what everyone else did: the Mets were baseball's black hole. When Hernandez got word he'd be leaving the Cards for a moribund franchise mired in the cellar, the drastic change caused Hernandez to evaluate his future.
"The Mets deserved and received no respect," Hernandez said. "And here I was, coming over from the world champions to a team with four last-place finishes in six years, and the other two next-to-last. Banished. Shipped to the Siberia of baseball."
General manager Frank Cashen had tirelessly worked to restore respectability in the Mets organization. He'd cultivated promising prospects that reached—or were approaching—the big-league level. But no amount of veteran leadership would come immediately from the farm system. At the '83 trade deadline—six years to the date when the franchise began to fall apart after parting with Tom Seaver—Cashen pulled a coup that accelerated their rebuild.
Hernandez and St. Louis manager Whitey Herzog, a former Mets director of player development, were at odds—primarily due to Whitey's perception of Keith's lackadaisical play and alleged cocaine use.
The Cardinals first baseman was plopped in New York's lap—and all the Mets had to give up was a declining relief pitcher and another arm which would make seven more big-league starts and win once. In short, it was grand larceny.
The Mets were elated to be getting a player of Hernandez's caliber. And even after playing out the remainder of the '83 season, the feeling still wasn't mutual.
As Hernandez headed into free agency, staying in New York was far from a certainty. He batted .306 over 95 games, maintained his streak of Gold Gloves, and quickly cemented himself as a team leader. But another last-place finish did little to quell Hernandez's skepticism.
Cashen's persuasion strategy centered on the promise in the minors. Rusty Stuab spoke from experience about the benefits of playing and living in the Big Apple. Even his dad, who followed his son's career closely (to a fault sometimes) suggested he put his stock in the Mets.
Keith was sold. The greatest trade in Mets history was about to reap its benefits.
"Whitey thought he was going to bury my ass in New York when he traded me here," Hernandez said. "He had no idea what the minor-league system was like. He thought he was going to stick me here to suffer for two years. Didn't happen. There was such a wealth of talent."
The Mets of the mid and late 1980s were not short on star power. Dwight Gooden, Darryl Strawberry, and Gary Carter were vital to their success. But they all revolved around Keith Hernandez: the leader of that group and the reason why those teams were perennial winners and, eventually, 1986 World Series champions.
That talent needed guidance to grow and Keith was the perfect pilot. He was intense, sometimes brooding, and possessed a sheer force of personality in the clubhouse. A keen awareness of his surroundings established confidence in his teammates, often conferencing with pitchers on the mound or lending advice to hitters in the dugout. From this confidence eventually came respect from opponents and a winning attitude that hadn't been felt in Queens for almost a decade.
During his first five full seasons, Hernandez participated in more victories and gained more MVP support than any other player in the National League. Said former Mets broadcaster Tim McCarver: "I've never seen a man 'in the game' as much as Keith Hernandez."
He was a meticulous hitter who dissected at-bats the way he pored over a New York Times crossword puzzle in the clubhouse. His diligence didn't go without reward. Keith had the highest batting average among Mets hitters with at least 3,000 at-bats, posted an OPS+ of 129, and drove in 83 runs or more each year from 1984 to 1987.
But what distinguished him as a first basemen was the way he expanded the capabilities of a position rarely noted for exemplary defense. Keith charged toward the plate on potential bunts, which directly affected the way opposing teams utilized that strategy. He displayed range rarely seen before and turned infielder's bad throws into outs. Hernandez won the Gold Glove Award in each of his first six seasons in New York, extending his streak to 11—a record that hasn't been matched.
His intangibles could also be measured—specifically in how well the Mets improved in 1984. The attitude adjustment Keith fostered took effect that season. As the runner-up for NL MVP, he batted .311, hit 15 homers, 31 doubles, and drove in 94, often using his cerebral knowledge of the strike zone to generate a key hit at will. The Mets kept pace with the division-winning Chicago Cubs into September. They finished with 90 victories—22 more than they had the previous year.
Before Hernandez, the Mets thought they could win. Now, they knew it.
Keith couldn't do it alone, though. His guidance wouldn't mean much if more experienced talent wasn't in place. Enter Carter, similar in leadership quality, yet a 180-turn in outward emotion. With the two veterans at the forefront, New York improved to 98 wins and found itself in an even tighter pennant race in 1985. But it was by no means a joyride for Hernandez.
While he posted stats comparable to 1984—leading the team in runs, walks, hits, doubles, and batting average—and became one of a handful of Mets to hit for the cycle, doing so in a zany 19-inning contest that began on the night of Independence Day, the comfort Keith felt on the field was negated by personal troubles.
Days after returning to action following testimony in the Pittsburgh Drug Trials, where he admitted to his cocaine use, Hernandez delivered a ninth-inning single to beat the Cards on September 12 and briefly put the Mets in first place—a lead they wouldn't hold, but would serve as motivation for the dominance to come in '86.
After departing the Mets in 1989 and retiring in 1990, Hernandez parlayed an intuitive baseball knowledge and acerbic wit into a successful broadcasting career which has only bolstered his popularity—if his legendary Seinfeld cameo didn't do it already. Keith Hernandez is an icon in many ways, but a Mets legend certainly.
No. 17 is to be forever in team lore. Maybe the Baseball Hall of Fame isn't far behind.