Analysis
JB Hall of Fame Cases: Keith Hernandez
Now that his jersey will be retired by the Mets next season, should Cooperstown be the next stop for the greatest defensive first baseman of all-time?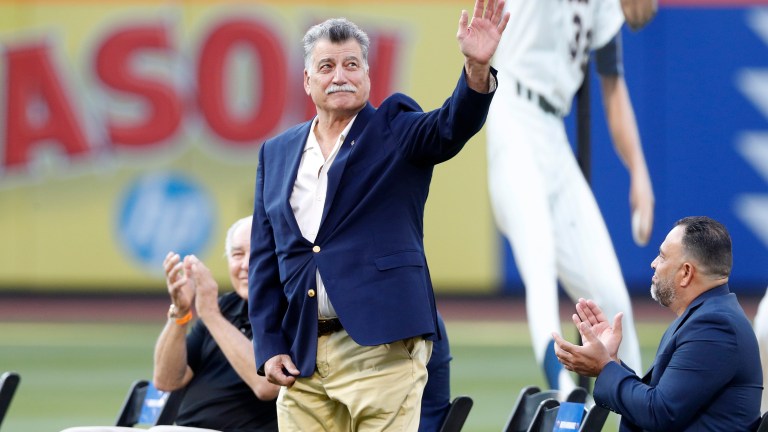 There are four players in MLB history who have won 10 Gold Gloves, one MVP and a batting title. Willie Mays was the first to do it, winning both the MVP and the batting title in 1954, before winning his 10th of 12 Gold Gloves in 1966.
Roberto Clemente was next to accomplish the feat, winning four batting titles across his career, along with the 1966 NL MVP. Clemente won 12 Gold Gloves in a row from 1961 through 1972.
Those two outfielders' special club was joined most recently by Ichiro Suzuki, who put together a Hall of Fame career that began with a hardware-collecting 2001 season, in which the then-27-year-old won the Rookie of the Year and the Most Valuable Player awards. He also took home a Gold Glove, a Silver Slugger and won his first of two batting titles.
Mays and Clemente were both first ballot Hall of Famers and Suzuki is a shoe-in to get inducted as soon as he is eligible in 2025. Yet there is one player in MLB history who has accomplished the same rare feat as these other iconic players, but has been excluded from the game's ultimate club in the Hall of Fame.
Widely regarded as the best defensive first baseman in MLB history, Keith Hernandez won 11 Gold Gloves across his career with the St. Louis Cardinals and the New York Mets, winning a World Series with both clubs.
Hernandez won the NL Batting title in 1979 when he hit .344/.417/.513, while leading the league with 48 doubles and 116 runs scored. Hernandez was named the Co-MVP alongside Willie Stargell that year.
Despite some of the incredible company Hernandez keeps in the record books, the 68-year-old is over a decade removed from even being on the Hall of Fame ballot, as he fell off after nine years when he failed to get 5% of the vote back in 2009.
Over the last few years, Hernandez is just finally starting to get his due from his former teams, as the St. Louis Cardinals finally inducted him into their Hall of Fame last year and it was just announced that the Mets will be retiring his No. 17 this season.
While this is an incredible honor for Hernandez and one that is long overdue, people have begun to take a second look at his career numbers and have realized that this is not the only recognition that is long overdue.
In Just Baseball's newest podcast, Big Hall Talk, which is a show hosted by Ethan Budowksi that is devoted to baseball's Hall of Fame, Just Baseball founder Aram Leighton joined the show and discussed the Hall of Fame candidacy of Hernandez.
As Aram mentions on the episode around the 32:00 mark, when it comes to players who have won 10 Gold Gloves, Hernandez has a case for the Hall of Fame as compelling as a few of the others that are currently on the ballot in Andruw Jones and Omar Vizquel.
With the Veteran's Committee still presenting a path to Cooperstown for Hernandez, here is the case for why this former five-time All-Star first baseman belongs in the Hall of Fame.
Best Defensive First Baseman in MLB History
When it comes to Keith Hernandez's career, he is always going to be remembered for his glove before he will be remembered for his bat and rightfully so. Outside of maybe Brooks Robinson at third base or Ozzie Smith at shortstop, there has never been a bigger talent discrepancy at a position than Hernandez compared to every other first baseman that played the position in his era.
If Hernandez were right-handed, he might've been a shortstop, if not an absolute monster defending the hot corner. Unlike most first basemen, Hernandez had a cannon of an arm, making him deadly when it came to being the relay man, particularly in his years with the Mets where everything flowed through Mex.
Hernandez was one of the most fundamentally-sound players the game has ever seen and all of that preparation made him fearless on the diamond, particularly when defending bunts.
Bunting against Hernandez was foolish for teams during his heyday in the 1970s and 1980s, providing his teams with a unique advantage. Along with his brilliance on charging bunts, Hernandez was great around the bag and had incredible range for his position. Hernandez was known for playing way off the bag, allowing other infielders to move to their right as well.
From 1978 through 1988, Hernandez won the NL Gold Glove in 11 consecutive seasons. Brooks Robinson (13x), Ozzie Smith (13x) and Roberto Clemente (12x) are the only position players in MLB history who have longer Gold Glove streaks dominating a position than Hernandez.
There have been 15 players in MLB history to reach double-digit Gold Gloves: Greg Maddux (18x), Jim Kaat (16x), Robinson (15x), Ivan Rodriguez (13x), Smith (13x), Clemente (12x), Omar Vizquel (11x), Hernandez (11x), Mays (11x), Suzuki (10x), Andruw Jones (10x), Ken Griffey Jr. (10x), Roberto Alomar (10x), Mike Schmidt (10x) and Johnny Bench (10x).
Vizquel, Jones and Hernandez are the only three members of the double-digit Gold Glove club that have not been inducted into Cooperstown.
An Underrated Hitter
When it comes to his Hall of Fame case, we all know where Hernandez has came up short, it's his bat. Despite providing defensive impact that would rival any of the glove-first inductions to the Hall, Hernandez is hurt by the fact that he played a premium offensive position.
There is this expectation that a Hall of Fame first baseman should have 400+ home runs and 1500+ RBIs, but Hernandez was not that type of player. Hernandez only won two Silver Sluggers in his career, accumulating just 162 home runs and 1,071 RBIs.
Hernandez's Offensive Wins Above Replacement of 46.3 is lower than all but seven of the 25 first basemen who have previously been inducted into the Hall of Fame. Still, Hernandez has accomplished a few rare offensive feats that boost his case, especially when paired with the otherworldly defense that was already outlined.
In 1979, Hernandez put together his first All-Star season as he entered his prime. That season, Hernandez hit .344/.417/.513, with 70 extra-base hits, 105 RBI and a 156 wRC+. The then-25-year-old led the league with 48 doubles, 116 runs scored and his .344 batting average led the league as well.
Following the season, Hernandez won his first Silver Slugger and was named the NL Co-MVP, sharing the award with Willie Stargell. While skeptics would argue this was just an aberration of a season for Hernandez, the following year he hit .321/.408/.494, once again leading the league in runs scored (111) and also in on-base percentage.
With the New York Mets, Hernandez had two top-five MVP finishes in his first three seasons with the club, ending the 1984 campaign as the runner-up for the award.
All told, Hernandez hit .296/.384/.436, with a 131 wRC+ across his 17-year MLB career. Compare his wRC+ to Ozzie Smith and his career 90 wRC+, and it is fair to wonder why his "offensive shortcomings" have been enough to keep him out of Cooperstown.
A Championship-Winning Player
One underrated aspect that Hernandez brought to the field was his incredible leadership qualities. While Hall of Famer Gary Carter received a lot of credit for the success of the 1986 Mets as a leader, the latest 30 for 30 on that championship team really illuminated Hernandez's role in building that team into a winner.
Hernandez spent the first 10 years of his career with the St. Louis Cardinals, where he was part of the 1982 team that won the World Series. The following season, Hernandez was cast aside due to a rift with manager Whitey Herzog and was traded to the New York Mets midseason.
When he arrived, the Mets were already well on their way to their seventh losing season in a row. Hernandez was not enough to solve the team's problems overnight, but when he decided to stay with the up-and-coming club, he became an on-field leader and the team was built in his image.
Hernandez brought toughness and a winning culture to a Mets team that was chock-full of talented young prospects who would debut in his first few years with the club, such as consecutive Rookie of the Year winners Darryl Stawberry and Doc Gooden, and talented future All-Stars like Lenny Dykstra, Kevin Mitchell and Ron Darling, amongst others.
The Mets went from being the laughingstock of the National League to winning 90 games in 1984. New York eclipsed 90 wins in each of Hernandez's first five seasons with the Mets, ultimately accumulating a 488-320 record during that span.
The 1986 Mets are one of the most iconic teams in MLB history, winning a franchise-record 108 games en route to the franchise's second World Series title. Hernandez was the best player on that team, leading the pack with a 5.5 bWAR.
Earlier I alluded to the fact that Hernandez belongs to a club of just four players who have won a batting title, an MVP and 10 Gold Gloves in their MLB career. If we include his two World Series rings, Roberto Clemente is the only other player in MLB history to reach all four of those feats.
Final HOF Case for Hernandez
Back in December, the Veteran's Committee inducted six new members of the Hall of Fame, as Buck O'Neil, Gil Hodges, Minnie Minoso, Tony Oliva, Jim Kaat and Bud Fowler were all inducted. Hernandez's career 60.3 bWAR is higher than any of those players.
The fact that the consensus greatest defensive first baseman in MLB history is not in the Hall of Fame is a travesty in of itself, but when you pair his Gold Glove prowess with being an above-average three-hole hitter for the better part of the decade, Hernandez's exclusion from Cooperstown is one that the Veteran's Committee must re-consider.
JAWS (Jaffe Wins Above Replacement Score) is a system created by Jay Jaffe that evaluates a player's worthiness for enshrinement in the National Baseball Hall of Fame by comparing him to the Hall of Famers at his position. When it comes to that system, Hernandez's JAWS score of 50.8 is better than a dozen Hall of Famers at his position.
Hernandez does not need to be inducted into Cooperstown to validate his greatness. The New York Mets have just done that by making Hernandez the fourth player in franchise history to have his jersey retired and the second position player along with Hall of Famer Mike Piazza.
Still, the more you look at his career in it's entirety, between the personal and team success he enjoyed, Hernandez deserves to be immortalized in Cooperstown. And as he said himself yesterday, hopefully he can receive that honor soon, while he is still alive and well to enjoy it.
If you want to hear more on why Keith Hernandez belongs in the Hall of Fame, check out the latest episode of my podcast, Locked On Mets.