Analysis
Have The New York Mets Created The Best Infield in Baseball?
Carlos Correa, Francisco Lindor, Jeff McNeil and Pete Alonso combine to form an infield full of All-Stars, who should take MLB by storm in 2023.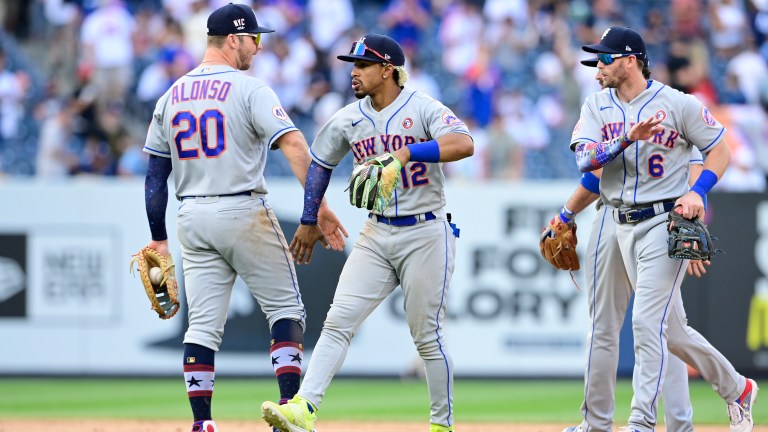 Last season, the New York Mets featured one of the best infields in baseball. Pete Alonso and Jeff McNeil were both All-Stars, with Alonso blasting 40 home runs, while leading MLB with 131 RBIs. McNeil hit .326, edging out Freddie Freeman in a late push to win his first batting title.
Then there's Francisco Lindor.
After a disappointing first year in Queens, Lindor took the field in 2022 to prove doubters wrong in the first year of the 10-year, $341 million contract extension he signed the year prior. The 29-year-old responded with the first 100-RBI season of his career, posting a 6.8 fWAR across 161 games played. That marked the highest fWAR among all MLB shortstop.
Entering 2023, New York's infield was shaping up to once again be one of the best in the game, with the three star players returning and the potential ascension of top 100 prospect Brett Baty set to complete the group. Baty is an unproven commodity though. And if there is one thing we have learned about Steve Cohen this offseason, he doesn't want to leave anything to chance.
Enter Carlos Correa on a 12-year, $315 million contract.
With Correa in place, the Mets have created an infield with four players who could conceivably start in the All-Star game next year. Putting the Mets in line to become a juggernaut that has one clear goal in mind. Winning the World Series.
This Group Can Pick It
Obviously when we are looking at team building, offense is generally the first thing that comes to mind, as putting runs on the board is really the most important thing. While this core certainly packs a prominent offensive punch, what they can do defensively is honestly just as tentalizing.
With Carlos Correa and Francisco Lindor, the Mets have two Platinum Glove-winning shortstops playing next to each other on the same side of the infield.
In 2016, Lindor became the first Puerto Rican-born shortstop to win a Gold Glove Award. He was also awarded with the Platinum Glove Award as the league's best overall defender. Five years later, Correa would join Lindor, winning both the Gold and Platinum Glove for his play at shortstop with the Houston Astros in 2021.
Since their debut in 2015, Lindor leads all fielders in baseball with 115 Outs Above Average, pacing all shortstops by over 30 OAA. Correa on the other hand, trails only Andrelton Simmons during that span in Defensive Runs Saved by a shortstop, with 70 DRS, the fifth-best mark among all defenders.
We know that both of these guys can play an elite defensive shortstop, but Correa is going to have to make the shift over to playing third base. While there is sure to be a bit of an adjustment there, Correa certainly has all the tools to make the change, with arguably the strongest arm in the game.
Some of the best third baseman in baseball are former shortstops, with Manny Machado being the prime example. Correa has some tough competition when it comes to winning a Gold Glove in the National League, with Machado and the 10-time reigning third base winner Nolan Arenado.
Still, Correa has all the tools to give them a run for their money, especially since we have seen his abilities at third base on full display back in 2017, when Correa starred alongside Lindor in the World Baseball Classic for Puerto Rico.
With the elimination of the shift, infield defense is more at a premium than it has ever been and having both Lindor and Correa in the same infield is an incredible luxury.
Even further, Jeff McNeil is an exceptional second baseman. The "Flying Squirrel" posted 8 OAA at second base last season, which was tied with Tommy Edman for the top mark among all National League second baseman.
When the Mets decide to shift McNeil over to the outfield, where he is also a strong defender, they have Luis Guillorme, who is one of the best backup utility infielders in the game with his glove.
Regardless of the combination the Mets put out there on a given day, they are always set to have three elite defensive infielders on the field with Pete Alonso at all times. While Alonso graded out as a below average first baseman in 2022, he has made great strides since his rookie season with the glove to no longer be hinderance defensively.
Packing a Great Offensive Punch
We have waited long enough. It is time to take offense and boy do the Mets have a lot of it coming out of their infield.
Alonso may be the weak point of this group defensively, but he certainly does not come up short at all when it comes to his stick. Since his debut in 2019, nobody has hit more home runs than Pete Alonso. Yes, that is including Aaron Judge, who just blasted 62 in 2022.
Alonso broke Judge's rookie home run record when he hit 53 pumps in 2019, then went on to hit 16 in 60 games in 2020, 37 in 2021 and then 40 in 2022. Altogether that makes for his MLB-best 146 home runs across the first 530 game of his big league career.
There might not be any hitter in baseball that more embodies the characteristics of your traditional cleanup hitter than Alonso, as he just posted a season where he led the league with 131 RBIs. Batting in front of Alonso last season was Francisco Lindor, who drove in 107 runs, the third-most in the NL.
As previously mentioned, McNeil is the reigning batting champ, leading all NL hitters with his .326 average. McNeil posted a 143 wRC+, the 12th-best mark in baseball. Alonso had an identical wRC+ to McNeil. Throw in the 140 wRC+ that Carlos Correa had in Minnesota and the Mets infield now features three of the top-20 hitters in baseball from last season based on Weight Runs Created+.
Correa is the new addition to this lineup, joining a group that will feature these three hitters, as well as one of the better leadoff hitters in baseball in Brandon Nimmo to form a formidable first five. One look at the 2022 stats of these hitters shows just how potent the Mets lineup could be in 2023.
| | | | | | | |
| --- | --- | --- | --- | --- | --- | --- |
| 2022 Stats | Slash Line | HR | RBI | K% | BB% | wRC+ |
| Brandon Nimmo | .274/.367/.433 | 16 | 64 | 17.2 | 10.5 | 134 |
| Francisco Lindor | .270/.339/.449 | 26 | 107 | 18.8 | 8.4 | 127 |
| Carlos Correa | .291/.366/.467 | 22 | 64 | 20.5 | 10.3 | 140 |
| Pete Alonso | .271/.352/.518 | 40 | 131 | 18.7 | 9.8 | 143 |
| Jeff McNeil | .326/.382/.454 | 9 | 62 | 10.4 | 6.8 | 143 |
The Mets will supplement this core with veterans Starling Marte, Mark Canha, Eduardo Escobar and Daniel Vogelbach, while they are also expected to receive contributions from top 100 prospects Francisco Alvarez, Brett Baty and Mark Vientos.
If the Mets Don't Have the Best Infield, Then Who Does?
It may be a bit early to say the Mets have the best infield in baseball, as they still have to actually play together to really prove it. On paper though, few teams can match the two-way talent of the Mets.
Throughout both leagues you have teams with unproven commodities, who could ascend this season if a young player can breakout in a big way. The Rangers have two great infielders up the middle in Corey Seager and Marcus Semien.
At first base, the Rangers have Nathaniel Lowe, who hit 27 home runs and posted a .850 OPS in 2022. If top 100 prospect Josh Jung can solidify himself this year, the Rangers could enter the conversation.
In the NL East, the Braves and Phillies each have very promising infield talent, but again, need some young players to perform. In Atlanta, that means Vaughn Grissom in his first season replacing Dansby Swanson. If Grissom is great, he could complete a great infield with Austin Riley, Matt Olson and Ozzie Albies in place.
For the Phillies, Bryson Stott shifts to second base with the addition of Trea Turner, where his defense should be excellent but the bat is still a question mark. Playing on the other side of Turner is Alec Bohm, who has made great strides with the glove and has shown flashes with the bat, but still has to put it all together.
Rhys Hoskins can slug with the best of them, but he is also one of worst defensive first baseman in baseball. If we include the catcher position as part of the infield, the Phillies could separate themselves from the pack with J.T. Realmuto (same could be said for the Braves with Sean Murphy).
Speaking of teams with a great catching situation, the Toronto Blue Jays have a surplus with Alejando Kirk, Danny Jansen and top prospect Gabriel Moreno. Vlad Guerrero Jr. and Bo Bichette are one of the best young tandems in baseball, while Santiago Espinal, Matt Chapman and Whit Merrifield round out a great infield. Only issue, is Bichette's defense at shortstop, which is nowhere near either of Lindor or Correa.
The Guardians added Josh Bell to an infield that includes Andres Gimenez and Jose Ramirez, but Amed Rosario leaves something to be desired. All of this brings us to three teams who are at least in the conversation with the Mets for having the best infield in baseball.
San Diego Padres
Similar to the Mets, the Padres have signed a free agent shortstop to a contract that spans more than a decade this offseason. Xander Bogaerts is joining an infield that already features an MVP candidate in Manny Machado, giving the Padres a left side of the infield that rivals that of Correa and Lindor and might even pack a better offensive punch.
Bogaerts does leave something to be desired defensively, especially now that there will be no more shifting to aide his defensive metrics. He's surrounded by elite defenders though, with Machado being exceptional at third base and Ha-Seong Kim now taking his great glove from short over to second. The move of Kim one spot to the right does the same for Jake Cronenworth, who will now be an everyday first baseman for the first time.
While Kim and Cronenworth bring so much defensively, they aren't quite on the same level offensively as the Mets infielders, posting a 105 and 109 wRC+ respectively.
St. Louis Cardinals
No infield was more valuable than the St. Louis Cardinals in 2022.
The Cardinals not only have the reigning MVP, Paul Goldschmidt, they also have the second runner-up in Nolan Arenado. Tommy Edman is Gold Glove-winning second baseman, who proved this year that he could play that same caliber defense at shortstop. Edman posted a 5.6 fWAR, while both Goldschmidt and Arenado finished with an fWAR over 7.0.
Combine all three, you get exactly 20 wins above replacement.
After a fantastic rookie campaign, Brendan Donovan is the real x-factor for the Cardinals. The soon-to-be 26-year-old hit .281/.394/.379, with a 129 wRC+. Donovan's inexperience and Edman's offense probably keeps the Cardinals behind the Mets when it comes to who is better on paper, but they absolutely could produce well enough that they remain the best infield in baseball next year.
Houston Astros
This is the infield that really gives the Mets a run for their money. With the addition of Jose Abreu, the Astros have upgraded the one weak point to their infield from last season. Yet even with Yuli Gurriel they won the World Series.
Alex Bregman had a great bounce back season in 2022, posting a 5.5 fWAR and a 136 wRC+. Jose Altuve didn't have the best playoffs, but that does not take away from how awesome he was in the regular season, hitting .300/.387/.533, with a 164 wRC+.
If we did this exercise last year, the main conversation would be about the loss of Correa and if Jeremy Peña could fill that void at shortstop. There is no way we could have predicted just how good the rookie would become.
In the regular season, Peña was just slightly better than a league average hitter, with his .289 on-base percentage and 102 wRC+. Still, he hit 22 home runs and won the Gold Glove at shortstop. Then came October, where Peña ascended to new heights on the biggest stage.
The 25-year-old hit .345/.367/.638, with four home runs across 13 postseason games, winning both the ALCS MVP and the World Series MVP.
Add in a former league MVP in Abreu, who just hit .304/.378/.446, with a 138 wRC+ and you have arguably the best infield in all of baseball. In personal ranking now, I'd have Astros, Mets, Cardinals and Padres ranked in that order heading into next season.
Things can always change though once baseball games begin to be played and new stars arise across Major League Baseball.