Analysis
George Kirby's Game Has Vaulted to the Next Level in 2023
As terrific as he was in his rookie season, Mariners starter George Kirby somehow looks even better in his sophomore campaign.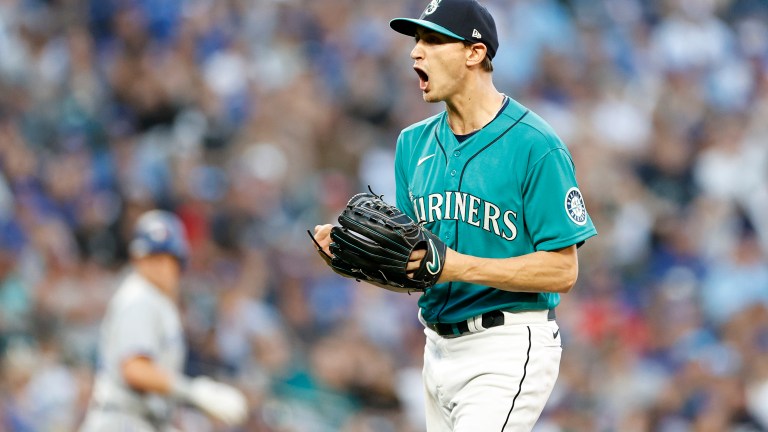 When George Kirby completed the dazzling second half of his 2022 season, capped off by throwing a miraculous seven scoreless frames against the soon-to-be world champion Houston Astros in the ALDS, one thing was clear for him: things had just begun.
Kirby put up a 3.02 ERA and a 1.88 FIP after the All-Star break last year, along with a minuscule 0.14 HR/9, all coming together for a 3.0-WAR rookie campaign. His six-pitch mix and unprecedented command didn't take long to begin causing headaches for his opponents.
2023 has been more of the same narrative.
Kirby allowed four earned runs across 4.1 innings at home to the Angels in his inaugural start, which included Shohei Ohtani taking him deep. Since then, he hasn't looked back.
He ranks top ten in baseball in both ERA (2.45) and WHIP (1.01), while also putting together a 2.56 FIP and a 2.97 xERA.
Kirby has gone six or more innings in each of his last seven starts. He has allowed three runs or fewer in each of those, and two runs or fewer in six of the seven outings. His most impressive start to date was seven shutout innings with a season-high nine strikeouts against the first-place Texas Rangers, resulting in a Mariners win.
So, how does he continue to do it?
It all stops and starts with his impeccable strike-throwing ability (96th percentile walk rate in 2022, 99th percentile in 2023 per Baseball Savant). Kirby has walked just four batters all season and has only hit an additional pair. This is one of many traits that intrigued the Mariners when they drafted him 20th overall out of Elon in 2019, when he walked just six hitters over 88.1 innings during his final collegiate season.
Kirby's fastball has been far and away his best pitch in his young career. While it does not have breathtaking spin rates (averages 2220 RPMs), it is very firm in velocity. It sits in the mid-to-high 90s with the ability to touch triple digits (averages out to 95.1 MPH). Not to mention, he locates the heater as well as anyone, no matter which part of the strike zone it is in.
After posting a Run Value of -18 on his fastball as rookie, it already sits at -8 so far in his sophomore season (per Baseball Savant). Opponents are hitting just .208 against it with a wOBA of .237.
Where Kirby would often run into a little bit of trouble as a rookie was his inability to consistently execute a go-to secondary pitch, despite possessing half a dozen offerings in his repertoire. That is no longer the story. He has made significant strides with both his curveball (-5 RV) and sinker (-2 RV), with the hook proving to be especially dirty.
For perspective, the improvement in the expected stats on his curve between last season and this season is drastic. In 2022, the xBA on Kirby's curveball was .319 with an xSLG of .509 and a .375 xwOBA (+1 RV). Flash ahead to now, the Uncle Charlie has a .165 xBA, a .190 xSLG and a .152 xwOBA.
Talk about a game-changer.
Perhaps the largest leap Kirby has made from year one to year two is the way he's slashed his hard-hit balls allowed. He has given up just two home runs in 51.1 innings thus far, totaling to a HR/PA of just under 1%. That is down from where it was a season ago, despite still sitting at 2.4% in 2022.
After ranking in the 22nd percentile in Barrel% just a season ago, the right-hander has trampolined Ferris Bueller style all the way up to the 89th percentile now. His average exit velocity has scaled from the 22nd percentile to the 77th percentile. His HardHit% has shifted from the 44th percentile to the 79th percentile. And his xERA has climbed from the 71st percentile to the 83rd percentile.
And if all of that isn't enough? He appears just about ready to unveil yet another new pitch: the splitter. An offering that he began to tinker with in the offseason, Kirby has ditched his cutter and will replace it with the minted splitter.
Kirby is rounding himself into a borderline No. 1 starter. While Luis Castillo is the unquestioned ace of the Mariners, that doesn't mean Kirby lacks top-of-the-rotation qualities. He is building up a gaudy resume, and his hype train doesn't seem to be halting anytime soon. It is why Seattle's rotation is among the best in baseball, complemented by Logan Gilbert and Bryce Miller as well.
It would not be far-fetched to suggest Kirby will get an All-Star nod in his home ballpark this July. And if he keeps up anything close to the pace that he has been on over his last seven starts, he may start to find his name lassoed into the AL Cy Young discussion as well.
Stats updated as of Saturday, May 20.