Analysis
George Kirby's Looking Like the Future Ace of the Mariners
Over the past few months George Kirby has been one of the best pitchers in baseball, flashing the ace potential that made him a top prospect.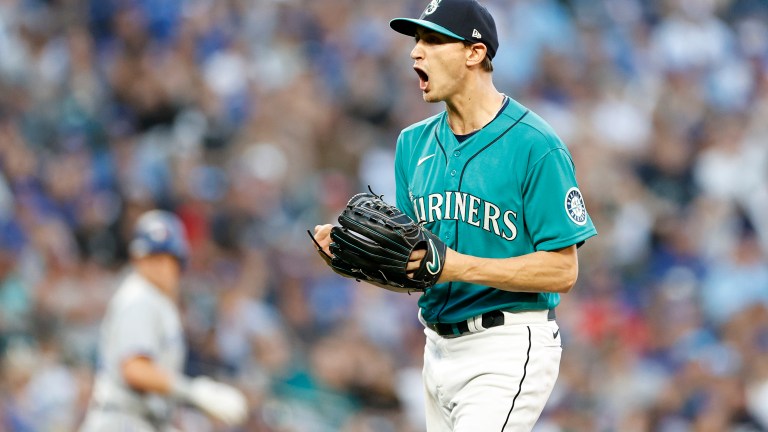 When a pitcher ascends to the top prospect status of someone like George Kirby, a lot of titles are thrown around to illustrate their ceiling. The main one, is saying that a prospect is a future ace, but only so many pitchers actually reach that ceiling.
Now 21 starts into his big league career, hype is turning into reality with Kirby, who has been pitching like an ace since the calendar turned to July. Over nearly a three-month span, Kirby has pitched like a top-10 pitcher in baseball and is proving that the future of the Mariners rotation has arrived a bit early.
Kirby's Fast Ascent to Ace-hood
The Seattle Mariners have been searching for a true ace since the heyday of Felix Hernandez and now when we look at their rotation, they basically have three.
First, they have the ace they signed this offseason, reigning AL Cy Young Robbie Ray, who inked a five-year, $115 million contract to fill that void. Ray has been solid but has not entirely lived up to expectations. His strikeout numbers are a tick down, walks are a tick up and his ERA is up as well.
At the trade deadline, the Mariners acquired Cincinnati Reds ace Luis Castillo to be the 1A to Ray's 1B. Castillo has been more than solid in his first eight starts, pitching to a sparking 2.37 ERA with 60 strikeouts in 49 1/3 innings pitched.
Let's also not forget about Logan Gilbert, who has taken an incredible leap in his sophomore season, going from a 4.68 ERA last year, to a 3.19 ERA this season.
Still, if we look at the numbers since July, George Kirby has been the best pitcher on this Mariners staff and one of the best pitchers in all of baseball.
Over his last 11 starts, Kirby is pitching to a 1.99 ERA with 66 strikeouts in 58 2/3 innings pitched. His 2.8 fWAR is tied with Zac Gallen and Aaron Nola for the third-best mark during that span, trailing only Max Scherzer (2.9) and fellow rookie Spencer Strider (3.3).
Among pitchers with at least 50 innings pitched since July, here is where Kirby ranks:
1.99 ERA – Tied for 6th
1.38 FIP – 1st
2.87 xFIP – 11th
1.07 BB/9 – 2nd
10.13 K/9 – 19th
48.7 GB% – 19th
0.00 HR/9 – 1st
In Kirby's last start in June, he gave up four home runs and seven earned runs in four innings pitched against the Baltimore Orioles. Since then, he has yet to allow another longball.
Where Kirby really separates himself from the other starting pitchers is his ability to throw strikes without getting hit hard. Back on August 24th, Kirby actually set an MLB record by throwing 24 consecutive strikes in his start against the Washington Nationals. He went seven innings in that game, allowing just one run on nine hits, with nine strikeouts.
By living in the strike zone, Kirby is bound to give up more hits and he has even dealt with some bad luck, as his .344 BABIP against ranks 10th among starters since July. Yet he has stranded most of those runners with a LOB% of 78.5%, which is better than every starter ahead of him in that top-10, outside of Kevin Gausman.
Kirby is able to pitch so effectively with runners on base because of the pinpoint command he has with his fastball. With a run value of -15, Kirby's four-seam fastball is the 10th most valuable in the sport and he has thrown it less than everyone ahead of him on the leaderboard except for reliever Yimi Garcia.
Featuring a deep pitch mix that includes six different offerings, Kirby will only continue to improve with more experience at the big league level.
What Game Will Kirby Start in the Playoffs?
The Seattle Mariners are currently five games up on the Baltimore Orioles in the AL Wild Card race, with 20 games left to play. Barring a late-season collapse, the Mariners will likely be one of the three Wild Card teams in the American League. This sets them up for a do-or-die three-game set in the Wild Card round for their first taste of playoff action in 20 years.
Luis Castillo is pretty much a sure-bet to be the Mariners Game 1 starter in the playoffs, but there can be a real debate about who should start Game 2. Depending on matchups, an argument could really be made for Robbie Ray, George Kirby or even Logan Gilbert.
Based on pedigree alone, Ray would be the presumed starter, but if the Mariners were to make their decision based on recent performance, Kirby should be the guy.
Since July, Kirby has not taken a loss, winning five of his 11 starts. The team has gone 9-2 in games started by Kirby, which is just a game better than the 8-3 record they have posted when Ray is on the mound. Record does not tell the whole story though.
Kirby's 1.99 ERA in those starts is a full run better than Ray's 3.28 ERA and he has not allowed more than three earned runs in any of those starts. Ray meanwhile has allowed four earned runs twice and six earned runs once, with the Mariners dropping all three of those contests.
Ray is the veteran, but his postseason experience is limited to just three appearances, in which he has pitched to a 5.59 ERA. Of Ray's three postseason appearances, two have come in long relief. In his lone start in 2017, the left-hander walked four and allowed four runs to score.
If the Mariners really want to put their best foot forward, they would start Kirby after Castillo in the Wild Card round, but bare minimum, expect the rookie to take the ball in one of the games (if necessary) or in Game 1 of the ALDS if Seattle sweeps the first series.
With one more year of control on Castillo and four more on Ray, Kirby will not have to shoulder the burden of leading the Mariners rotation himself beyond this season. Still, if things continue to go as they are trending, we could be looking at the first long-term homegrown ace the Mariners have had since King Felix himself.