Fantasy Baseball: Yay, Nay, or Just Okay (July 27th)
Three injured pitchers and how you should handle them in fantasy!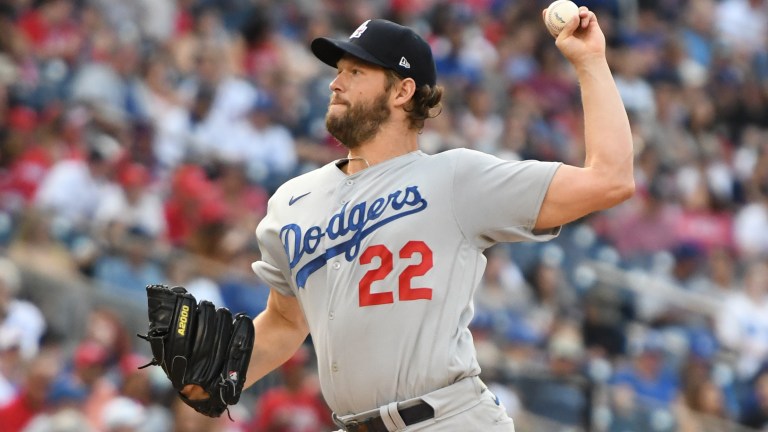 This week, we'll be looking at three players currently on the shelf due to injury. Is it finally time to give them up, or do you hold for the home stretch? To clarify for this one, I'm basing it on one-year leagues. Obviously if you're in a dynasty these injuries should play way less of a factor in the overall long-game. Also note that the rest of season projections are a cumulative average of the four titans (ZiPS, Steamer, FGDC, and THE BAT).
YAY: Clayton Kershaw – Dodgers
ROS projections: 3.21 ERA, 1.07 WHIP, 10.17 K/9
Besides his rookie season in 2008, Kershaw's worst ERA to finish a season was 3.03. He's pretty trustworthy, and him overcoming injuries during the course of the season isn't new – he hasn't pitched 180 innings since 2015.
Looking at the in-depth numbers, his LOB%, BABIP, GB%, xERA (3.17), FIP (2.98), and xFIP (2.91) all look good. He even has his best K-BB% since 2016. He's in the 83rd percentile or better in xwOBA, xERA, K%, BB%, whiff %, chase rate and fastball spin.
Above the other two on this week's ledger too, Kershaw should have the most chances at wins being on the Dodgers over middling teams like the Cardinals and Indians right now. He shouldn't be gone that much longer after going out with an elbow injury in early July. A return in early August could still net him a good amount of starts, including during your fantasy team's stretch run.
NAY: Jack Flaherty – Cardinals
ROS projections: 3.46 ERA, 1.13 WHIP, 10.57 K/9
Flaherty has one of the oddest profiles. His WHIP suggests a strong ERA – which it is. However, his xERA (4.75) and FIP (3.75) suggest regression. He's got a strong K/9 and his LOB% is around league average, so maybe he's not due for that regression. His BABIP is pretty low (.239) despite getting hit relatively hard and not avoiding barrels, so maybe he is? Just look at his Baseball Savant page! and tell me you're not confused by the 8-1 mark with a 2.90 ERA and 1.03 WHIP.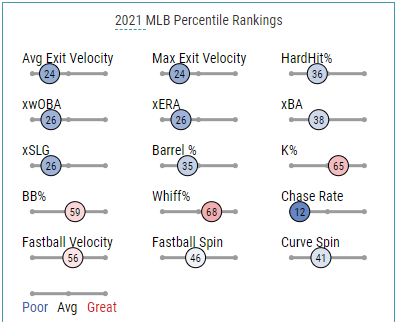 Certainly having a solid defense and pitching park behind him help, but it doesn't account for everything. It's odd too because his 2018 and 2019 seasons were filled with red on Savant, but his 2020 and now 2021 have been lacking on some regard on the in-depth numbers.
The oblique injury has kept him out for some time. He could return by mid to late August, meaning you're probably getting around the same timeline if not less appearances than Kershaw and Bieber. You're probably getting a much decreased chance at the same record (Cardinals have struggled compared to hot start) and overall most of the numbers seem to expect some regression from Flaherty.
JUST OKAY: Shane Bieber – Guardians
ROS projections: 3.39 ERA, 1.11 WHIP, 11.39 K/9
Don't worry about the recent transfer to the 60-day IL – that's just a procedural thing. It shouldn't impact the timing of Bieber returning around the same time as these others in August. To this point, Bieber hasn't lived up to his 2020 season, but how could he to a year where he went 8-1 with a 1.63 ERA and 14.20 K/9?
His HR/FB ratio is right in line with normal, his LOB% is only a few points higher than his career, and his ground ball rate is about usual. Sure, his walk rate is a tad higher and xERA (3.75) is worse than his current ERA (3.28) thanks to bad exit velocity numbers against (32nd percentile in average exit velocity and 16th in hard hit rate).
Still, he's striking people out at a high rate (93rd percentile in K%, 97th in whiff rate, and 88th in chase rate). His FIP (3.09) and xFIP (2.87) like what he's done. As mentioned above, he is a bit prone to getting hit hard at times, but even his .337 BABIP against seems too high.
By looking at the numbers he just looks a lot closer to his 2019 version. But guess what, that's still really good! He went 15-8 with a 3.28 ERA and a 10.88 K/9. Obviously we don't know how any of these guys recover from the injury and what lasting affects it will have. Was Bieber's injury related to him not continuing off of last year as much? Will it still linger? If not and he lowers his walk rate in his return, he should experience plenty of success, but doesn't seem as sure of a thing as Kershaw.