Analysis
Fantasy Baseball: Yay, Nay, or Just Okay (August 3rd)
Anthony Rizzo is primed for a Bronx breakout.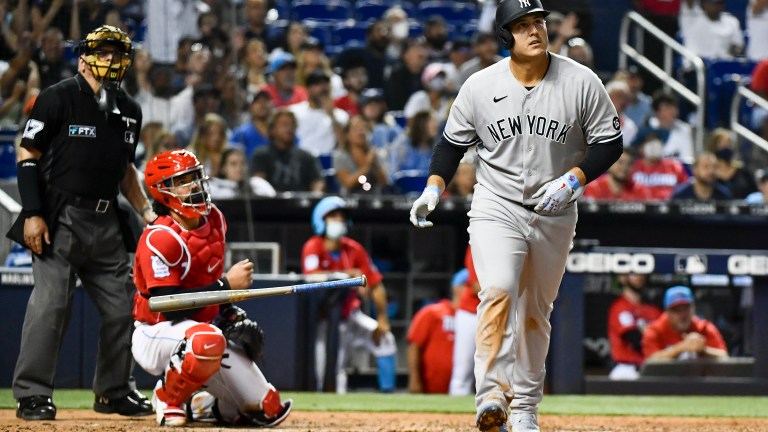 This week, we'll be looking at the three big Cubs hitters who were dished at the trade deadline. They all hit home runs in their first games with their new teams, but who is set up to have the best fantasy success for the rest of the year between Anthony Rizzo, Kris Bryant, and Javier Baez?
*ROS projections based on a combination of ZiPS, Steamer, FDGC, THE BAT (and THE BAT X).*
YAY: Anthony Rizzo – 1B – NY Yankees
ROS projections: .262/.368/.492, 11 HR, 31 RBI, 30 R, 2 SB
Rizzo has really good projections the rest of the way, and seems to be fulfilling it at the moment on his current hot streak. Over the past month his OPS is over .900 with a near .400 OBP. Getting traded to the Yankees with a porch in right field is only the cherry on top.
Peaking into Rizzo's advanced numbers, he's in the top 20% of the MLB in average exit velocity, max exit velocity, xwOBA, xBA, K%, and outs above average. Having lineup protection around him too doesn't hurt that he's hitting fastballs at a near .300 rate with a .490 slug.
Does playing time drop a tad when Luke Voit returns from the IL, especially with different handedness between the two? It's definitely possible, and it might be the difference between a few at-bats every week. Still, the fit is fantastic and by all accounts he seems to be in store for quite the finish to the year.
NAY: Javier Baez – SS – NY Mets
ROS projections: .240/.282/.455, 12 HR, 32 RBI, 29 R, 5 SB
This can't really be backed up by data, but there is a part of me that thinks Baez – a player known for riding high on emotional play – could thrive from just being on a winning team contending for a playoff spot with buzz in the ballpark.
Overall though, I'd rather lean on numbers. Despite hitting rockets, Baez inability to walk and lay off pitches out of the zone make him a big-time slump candidate. In fact, this is the worst K-rate of his career at 36% (1st percentile in the MLB), leading to his xBA sitting at .222 (compared to the .246 mark he's posted).
Honestly, this isn't even about his fit compared to where Bryant and Rizzo ended up – he's just not as good as the other two anymore. Hold if you need power, but otherwise – especially in a dynasty league – try to sell now.
JUST OKAY: Kris Bryant – 1B/3B/OF – SF Giants
ROS projections: .258/.353/.460, 9 HR, 27 RBI, 32 R, 2 SB
I could see Bryant actually totaling more than just the projected two steals the rest of the way – though the Cubs rank higher than the Giants in steals/game, if you can run the Giants will let you theft bags. I mean, Brandon Crawford has eight steals. The big question is if Bryant can shake off the slump he's been in. Certainly hits in each of his first two Giants' games provide hope.
Having a bunch of position eligibility is nice too, and the lowest wRC+ rest-of-season projection for him is at 119 (with the highest at 130) – now, that's not a fantasy stat, but it shows his value overall. He's got a solid Baseball Savant page, but it doesn't jump off the page like Rizzo either.
In a dynasty league, I'm taking Bryant over Rizzo, but as far as the rest of the year give me the guy playing in Yankee Stadium (despite Dusty Baker's comments about Oracle Park being a 'homerdome') who's on fire right now.