List
Fantasy Baseball: Yay, Nay, or Just Okay (July 6th)
How should you manage some of MLB's biggest trade candidates in fantasy?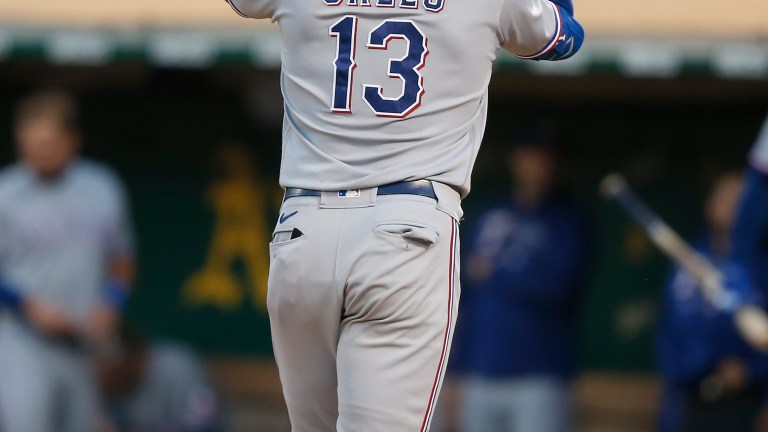 This week, we'll be looking at three players who find themselves on the real-life trading block: Joey Gallo, Nelson Cruz, and Kyle Gibson. We know how their big league teams may handle them, but what does a real-life trade mean for the fantasy value of each of these players?
YAY: Joey Gallo – OF – Texas Rangers
Gallo started the year with a lack of power, but higher contact rates. He's absolutely on fire at the moment too, with an OPS over 1.200 in the last 30 days. He's hitting .325 in the last two weeks. Now, the power is surging, and while the average isn't a boon, anything above .220 or so given the other production Gallo offers is more than enough for him.
Gallo is absolutely smashing baseballs this year. Here are his Baseball Savant page rankings in percentiles: 90th in average exit velocity, 95th in max exit velocity, 90th in xwOBA, 86th in xSLG, and 97th in Barrel rate.
Sure, he strikes out and whiffs a lot, but he also walks so much (99th percentile in walk and 89th in chase rate), that if you're in an OBP league, it'll help provide a nice floor during any slumps along with a higher ceiling. This has also been a key indicator for Gallo's success season-to-season; his three top years since 2017 by wRC+ all correlate to his three highest walk rates. It allows him to stay off breaking stuff, and deal with more heaters, which he's hitting .273 against this year.
Beyond his strong performance thus far, getting traded should only help his value. He might not have the same opportunity to snag a handful of steals, but Globe Life Field suppresses home runs as well as any stadium in baseball. Imagine what Gallo would do at Yankee Stadium's right field porch, Fenway Park in Boston or Citizen Bank's Park in Philadelphia.
NAY: Kyle Gibson – SP – Texas Rangers
Everything just mentioned about the home run suppression in Globe Life Field is working against Gibson if he's indeed traded. Accompanying his 1.98 ERA is a 0.7 HR/9 rate. For his career he's at 1.05, and over the last three years he's at a 1.30 average.
He's not an overpowering pitcher, doesn't strike out a ton and doesn't suppress hard contact. He doesn't walk too many, but he's not elite there either, and in fact is closer to league average. Currently he's leaving almost 87% of runners on base – his previous career high is 75.5% in 2018. His 3.41 FIP suggests a bit of regression, as does his .243 BABIP (next best season was .285, with every other season at .313 or higher).
It's a shame, because Gibson has been fantastic. He might even to this point be the difference in your team's success or not being that you most likely scooped him up from free agency or the waiver wire early in the year.
One thing going his way is he's not a high spin rate pitcher, so you wouldn't assume he's having to siphon off sticky substances like others. Regression is coming though, and if he's also traded out of Arlington that regression could come quicker and more severe. Now is a good time to sell high.
JUST OKAY: Nelson Cruz – Minnesota Twins
If you're in an average league that doesn't do OBP, I would actually make Cruz the Yay and Gallo the Just Okay. That's because Cruz is hitting over .300 at the moment and most projection systems have him around a .270-.280 guy the rest of the way.
Cruz still shows no signs of slowing down elsewhere – just take a look at his Baseball Savant page.
Clearly being over 40 hasn't affected his ability to get to the fast stuff – he's hitting .336 against fastball.
Overall projections have most of the numbers very similar for Gallo vs. Cruz, it just seems that the OBP might be a tad steadier for Gallo whereas average for Cruz. Apply to your settings, but either way you'd be happy with either hitter the rest of the season.
The market for Cruz isn't that wide should the Twins go into sell mode. He's a DH, meaning it'll have to be another American League team. Then when you cut the non-contenders out and the teams that can roster a DH-only player it might just be a handful of teams. His situation shouldn't be completely overhauled, so it shouldn't change much.