News
Down a Pair of Aces, Dodgers To Promote Top Prospects
Julio Urías and Dustin May are on the shelf, but of course the Dodgers have a couple of top prospects to fill in.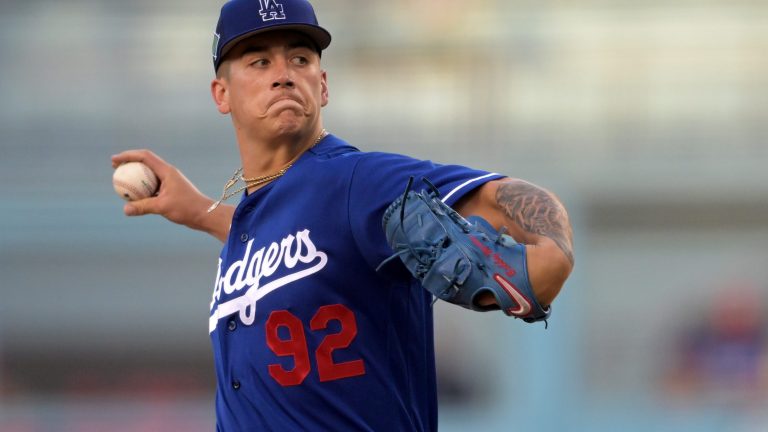 The Los Angeles Dodgers were dealt two significant blows this past week when starting pitchers Dustin May and Julio Urías were placed on the injured list. May will miss at least a month with a flexor pronator strain, while Urías will sit out a couple of weeks with a strained hamstring. The Dodgers are optimistic Urías will return as soon as he is eligible, while the timeline for May's return is much foggier.
The 25-year-old May was off to a strong start after missing most of the 2021 and '22 seasons recovering from Tommy John surgery. As of May 17, his 2.63 ERA ranked seventh in the National League, while his 1.2 fWAR ranked eighth.
Urías, who turns 27 in August, was off to a solid start himself. Until his disastrous outing on Thursday (which ultimately landed him on the IL), he had a 3.61 ERA through nine games. His 5.78 K/BB ranked third in the NL and eighth in baseball.
Over the past four years, Urías has established himself as one of the most reliable starting pitchers in the game. May was hoping to do the same in 2023; he has flashed ace potential (career 3.10 ERA) but has yet to pitch more than 56 innings in a season.
The Reinforcements
Losing two pitchers like Urías and May on consecutive days would be a disaster for most any team, but don't forget – this is the Dodgers we're talking about. They can pull starting pitchers from their system like a clown can pull an endless stream of colored hankies from his pocket. Their No. 3 prospect (No. 43 overall), Gavin Stone, will start on Monday, making his second big league appearance. The following night, their No. 2 prospect (No. 32 overall), Bobby Miller, will make his MLB debut. They will face the National League-leading Atlanta Braves, a tough task for any young arm.
Here's what our own Aram Leighton has to say about Stone and Miller:
Gavin Stone
"There isn't much more Stone can achieve in the Minor Leagues. He has excelled at every challenge the Dodgers have thrown his way and the numbers/overall polish reflect the fact that he is big-league ready right now…If he further develops his breaking balls and command, Stone has the ceiling of a number two starter on a first-division team."

Aram Leighton, on Gavin Stone's outlook (Just Baseball 2023 Top 100 Prospects List)
Bobby Miller
"Yet another electric pitching prospect in a loaded Dodgers system, Miller has a good chance to be the best of the bunch. Three potentially plus pitches with solid command and impressive size/athleticism on the mound paints the picture of a potential front line starter…Miller is a middle-of-the-rotation option with a chance for more."

Aram Leighton, on Bobby Miller's outlook (Just Baseball 2023 Top 100 Prospects List)
Stone had a rough time in his Dodgers debut, giving up five runs (four earned) in four innings pitched against the Philadelphia Phillies on May 3. However, he was utterly dominant in his latest Triple-A outing, striking out 10 in 5.1 innings of work. Over his last four minor league outings, he has a 1.74 ERA and 29 strikeouts in 20.2 IP. He might suffer some growing pains at the MLB level, but Stone is ready for his next challenge.
Miller got off to a slow start this season in more ways than one. He didn't make his first appearance until April 29, and his 5.65 ERA in 14.1 IP hardly inspires confidence. That being said, he finally looked like his old self on Wednesday. The righty went six innings on just 76 pitches, striking out six and walking one.
Either Stone or Miller will likely return to Triple-A in the coming days once starting pitcher Michael Grove returns from his stint on the IL. He is currently rehabbing with Triple-A Oklahoma City and should be back to full strength shortly. Grove opened the season in the Dodgers rotation, making four starts before straining his groin on April 20 in Chicago.
Meanwhile, Ryan Pepiot's rehab hasn't gone so smoothly. The right-handed starter is still dealing with oblique pain stemming from an injury he sustained in the spring. The Dodgers are unable to provide a clear timeline for his return, although manager Dave Roberts says he might not be back until after the All-Star break.
---
The Dodgers have dealt with more than their fair share of starting pitcher injuries in 2023, yet they still sit atop the NL West. Their depth has kept them afloat so far, and their latest call-ups will look to continue that trend.