Analysis
Daulton Varsho is Exactly What the Blue Jays Needed
After a blockbuster offseason trade brought him to Toronto, Daulton Varsho has been everything the Blue Jays could have asked for so far.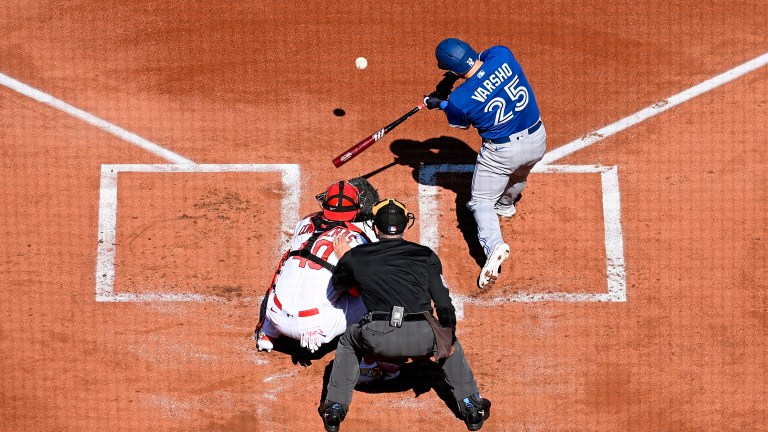 When the Toronto Blue Jays moved top prospect Gabriel Moreno and long-time contributor Lourdes Gurriel Jr., many questioned if the team sent too much to the Arizona Diamondbacks for a player that had been around a league-average hitter and an elite defender in Daulton Varsho.
Well, the early returns on the deal for the 26-year-old have been everything the Blue Jays could have hoped for and then some.
Through Toronto's first 12 games of the 2023 season, Varsho has flashed a little bit of everything that made evaluators so excited about his game as he made his way through the minors after being picked 68th overall in 2017.
A couple of those tools he's shown so far?
A 94th percentile max exit velocity. Varsho recorded the hardest-hit ball of his career in his first at-bat as a Blue Jay, hitting a 112.5-mph double against the St. Louis Cardinals:
His secret ability to bunt for hits. Varsho already has two bunt singles, which is tied for second across all of MLB to start the season:
And, of course, after leading all outfielders in Outs Above Average (OAA) in 2022, he's helped boost what is expected to be one of the top defensive outfields across baseball:
But besides the value in having a player who features all these raw tools, how can Varsho help the Blue Jays go from good to great in 2023?
Let's break down what he's bringing north of the border to start the season on both sides of the field.
Offense
Through 12 games, Varsho has posted a .317/.420/.463 slashline with a 152 wRC+. We've already established that he's hitting the ball harder than ever, with his career-best swing against St. Louis, but to expand on that even further, his average exit velocity is up more than two mph from his mark in 2022.
This, in turn, is helping him post a career-high in wOBA, xwOBA and hard-hit percentage — yes, all the good stuff you'd hope to see from a player who is getting looks as the Blue Jays' cleanup hitter.
As he looks to emerge as a consistent force with his new club, Varsho has also made key strides in some other areas that have helped him fit right in with Toronto.
Varsho hit just one of his 27 home runs in 2022 against left-handed pitchers and totaled a 52 wRC+ in those 129 plate appearances against southpaws. But in 2023, he has a 129 wRC+ and a .375/.421/.375 slashline in same-handed matchups.
While he might not be able to get to his power against lefties, hitting above league average in those at-bats could help Varsho become a threat game in and game out.
The Wisconsin native is also providing a much-needed patient approach to the Blue Jays lineup.
He is currently posting career bests in walk (14.0%) and chase rate (26.3%), seemingly becoming more selective in picking which pitches he swings at — a common theme amongst many Toronto hitters to start the season.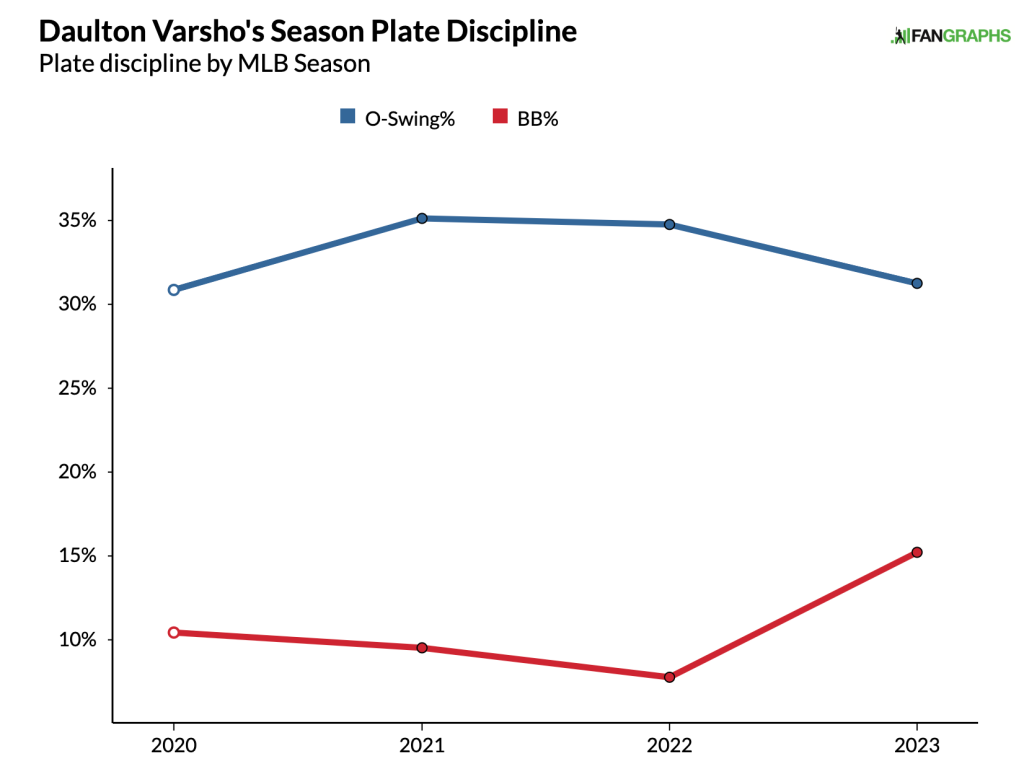 The Blue Jays' offseason moves were geared toward giving opposing pitchers different looks and preventing opponents from dialing up a single game plan that would work against a primarily right-handed lineup.
If you compare Varsho to the departed Teoscar Hernández — who swung at pitches outside of the strike zone 33.6% of the time and walked in just 6.4% of his plate appearances — you'll see a change in the approach and handedness of the player tasked with filling the Hernández-sized hole in Toronto's lineup. If you want to add Gurriel Jr. into the conversation, his chase rate (33.4%) and walk rate (6.3%) looked awfully similar to those of Hernández last year — further hammering home the changes that the Blue Jays were looking to make over the winter.
With Toronto just making its debut at the new-look Rogers Centre this week, we haven't gotten a full sense of how the dome's renovations will play just yet, but Varsho's swing could be a perfect fit with the right-center field fence coming in.
While playing at the massive Chase Field to begin his career, Varsho lost many home runs to the power alley while playing at home. If you only look at 2022, he hit 10 balls to right-center field that were projected to go over 359 feet — the new distance of the wall at the Rogers Centre.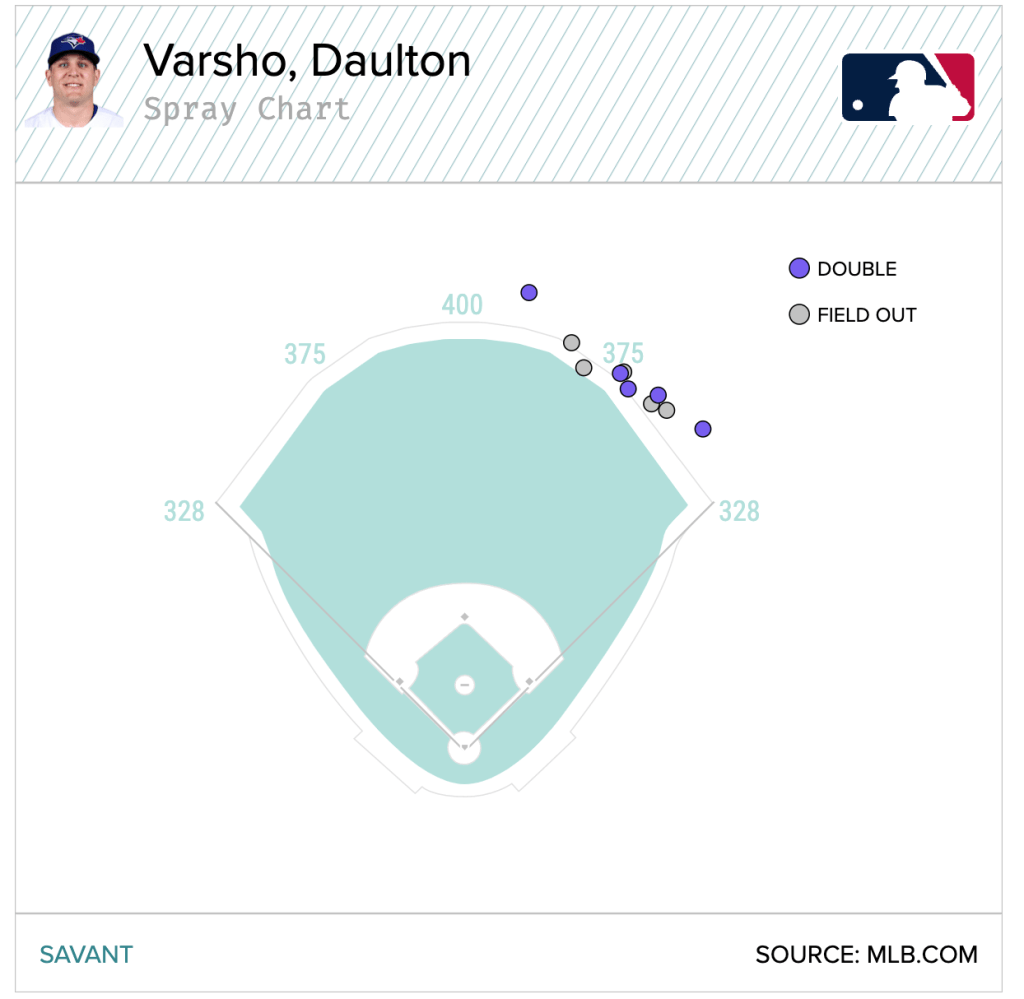 Now that does include both home and away contests, but the point stands that Varsho could abuse his new home stadium.
Just Baseball editor Leo Morgenstern wrote yesterday at FanGraphs about Varsho and how often he is hitting the ball in the air this season. This could also affect how the new Blue Jay performs at home going forward.
Toronto is also hoping for a baserunning boost in 2023 after finishing 25th league-wide with -10.5 BsR a year ago. Well, so far, so good. Varsho — an above-average baserunner for his career — ranks 12th in the AL with 0.6 BsR this season, helping boost the Blue Jays to fourth (1.2 BsR) early on.
Defense
Everything Varsho adds offensively is a bonus for a player whose main selling point at the time of the trade was how his glove would contribute to the Blue Jays' new-look defense. The Jays were looking to improve their run prevention after a poor showing in 2022.
As mentioned earlier, Varsho led all MLB outfielders in OAA in 2022 and helped the Diamondbacks assemble the best defensive outfield in the sport.
Compare that to the -3 OAA of the 18th-ranked Toronto group, and the fit for Varsho was obvious. The Blue Jays were one of just three playoff teams — the others being the Atlanta Braves and Philadelphia Phillies — to rank in the bottom half of MLB in team outfield defense.
Adding Varsho and Kevin Kiermaier to replace Hernández and Gurriel, who combined for -6 OAA in 2022, will certainly give Toronto the run prevention boost it hopes for throughout the year — even though the small sample size of the early season has Blue Jays outfielders with 0 OAA thus far. However, they have already accumulated 4 Defensive Runs Saved.
---
While sample size needs to be considered this early into the season, Varsho already looks like he is going to be a perfect fit for a Toronto team looking to take the jump and insert itself firmly into the World Series conversation in 2023 and beyond.