Analysis
CJ Abrams is Blossoming Into a Star For the Nationals
The strides the Nats shortstop has made in year two have provided flashes of what could be so much more.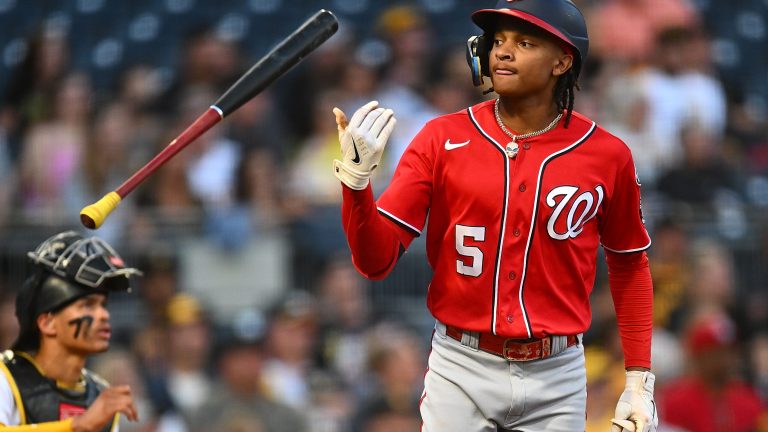 Ever since CJ Abrams was selected by the Padres sixth overall in the 2019 MLB Draft, he has endured a somewhat turbulent development process, to no fault of his own. The mere fact that he signed with an A.J. Preller-led Padres team out of high school made him a bit more likely to be aggressively pushed through the Minor Leagues or traded for big league help.
Abrams ended up getting hit with a double whammy.
After the ink dried and his $5.2 million signing bonus was headed to the bank in '19, Abrams was assigned to the Rookie-level Arizona Complex League where he hit the ground running with a 20-game hitting streak. In 32 games, Abrams mashed to a .401/.442/.662 line with 23 XBH on his way to winning the Arizona League's MVP Award.
Abrams had shown enough to earn the bump to Low-A, where he would unfortunately suffer a shoulder injury that would cut his season short and his taste of full season ball to just two games.
Even with the injury, it was difficult to call Abrams' first pro season anything shy of a large success, and he was set to likely rejoin the Low-A club for his first full season in 2020. The pandemic-cancelled season affected players differently. Some thrived at the alt-site of their big league club (if they were invited), elevating their status within the organization.
A then 19-year-old Abrams did just that, working hard on his defense at shortstop as well as tapping into more power. While it is impossible to replace a full season of at-bats, Abrams made big strides working alongside the MLB club in San Diego, perhaps playing a large part in the team's confidence in his ability to handle aggressive assignments.
As the 2021 season rolled around, Abrams continued to impress in Spring Training and was assigned to Double-A San Antonio despite only playing two games above the rookie level. A stiff challenge for any player–even a top-10 pick–Abrams settled right in, slashing .296/.363/.420 (112 wRC+) with 16 extra base hits, 13 stolen bases and just a 19.7% strikeout rate in 42 games.
Unfortunately, Abrams suffered a fractured tibia and sprained MCL after a collision at second base in late June, which would wipe out the remainder of his 2021 campaign. He showed up to camp healthy in 2022, standing out in a fairly large sample size of MLB Spring Training.
Abrams showed enough both offensively and defensively to break camp with the big league club despite only playing 76 professional baseball games, none of which coming above Double-A. While he exceeded expectations at every ambitious stop, the leap to the big leagues is massive, even for prospects on a traditional development path.
He saw action in 20 games, struggling to a .182/.270/.273 line before being optioned, debuting in a relatively unconventional way in Triple-A given that he skipped over the level altogether.
In 30 Triple-A games, Abrams mashed to an OPS of .871 while launching seven home runs and swiping 10 bags before being recalled to the Padres. It seemed like the theme for the young shortstop had been that whenever he was on the cusp of generating momentum, something would get in the way.
In hindsight, it probably would have been better for the development of Abrams to compile more professional at-bats–he had just 348 plate appearances under his belt prior to 2022–rather than jumping back and forth between Triple-A and the MLB level.
During his second Padres stint, Abrams was included in the monumental package sent over to the Nationals in exchange for Juan Soto at the 2022 Trade Deadline, which also included: MacKenzie Gore, Robert Hassell III, Jarlin Susana and Just Baseball's No. 8 overall prospect James Wood.
Abrams reported to Triple-A Rochester before being promoted to a diminished Nationals team after just eight games. The 21-year-old shortstop never really found his footing in the subsequent 44 MLB games, posting just a .603 OPS, but it seemed as though the Nationals were embracing that the remainder of his development could come at the MLB-level, given the fact that the team was in rebuild mode.
Though there was no reason to panic, there was some understandable eagerness to see Abrams progress in 2023. But again, entering this season, Abrams had nearly played as many MLB games (90) as he had Minor League games (114).
The Nationals 2023 Opening Day shortstop, Abrams appeared to have made some progress both offensively and defensively, but his production remained meager through the first couple months of the season.
Once July came around, things really began to click for the 22-year-old. From July 1 onward (60 games), Abrams has slashed .275/.335/.475, with 11 HR, 22 XBH and 32 SB.
Offensive Improvements
Beyond the surface level stats, Abrams has really found consistency with his lower half, using the ground to generate more power and leverage. After launching just two homers in 90 games in 2022, Abrams matched that total with a multi-homer game on September 11 and launched seven homers in a span of just 20 games (August 18-September 11).
When taking a look at some key batted ball metrics from the 2022 season to the 2023 season, it's easy to see how Abrams has been able to slug more. Most of the 2023 metrics have improved even further over his strong second half.
| | | | | | |
| --- | --- | --- | --- | --- | --- |
| 2022 | GB%: 51% | LA: 6.8° | Avg EV: 86.5 mph | Max EV: 109.6 mph | HR/FB%: 2.7% |
| 2023 | GB%: 42% | LA: 14° | Avg EV: 87.1 mph | Max EV: 112.5 mph | HR/FB%: 12.7% |
While there's hardly an obvious change in his pre-swing moves and a setup, Abrams is utilizing his lower half much more effectively, using his longer levers to create more impact. He had flashed above average raw power in the past, but struggled to get into it with much consistency.
Improving his ability to hold his back hip and control his body through his swing not only has allowed him to tap in to more power, but also remain adjustable against secondary stuff. After posting an OPS that hovered in the mid .600s against non-fastballs last season (90 games), Abrams has upped his production against secondary stuff to an OPS over .800 through his last 90 games.
This swing in the video below is on a curveball from Eury Pérez. While it was somewhat of a hanger, Abrams stays back on an 0-2 count to launch the first home run Pérez has surrendered on the curve as a big leaguer. As of the date this was published, opponents are 5-for-59 against the pitch (.085 batting average) with only two extra base hits and 32 strikeouts.
An aggressive hitter, Abrams still could benefit from shrinking the zone a bit, but he has made progress in that regard. After chasing at a much-too-high 41% clip in 2022, he has cut that number to 36% in 2023.
League-average chase rates sit around 28%, but players with a plus feel to hit and elite speed like Abrams can get away with elevated swing rates a bit more. It was nearly impossible to be any worse than he was last year in the walk department, picking up just five free passes in 302 plate appearances, giving him the lowest walk rate in the big leagues.
This year, Abrams has walked at a 5% clip, which is still incredibly low, but puts him in a group of hitters who have displayed the ability to be productive in that range. Other notable hitters with a walk rate below 6% include: Bobby Witt Jr., Luis Robert Jr., Nick Castellanos, Michael Harris II and Teoscar Hernandez.
This may come as a surprise, but Abrams max exit velocity in 2023 is within one MPH of all of the aforementioned names. Though he is still working to get into that 112.5 MPH max juice–or anything close to it–a bit more frequently, he is providing plenty of reason to believe that he can.
90th percentile exit velocity is a key metric to monitor with somebody like Abrams. He has jumped a tick to 104 MPH in that regard this season, placing himself in the better half of the league, but most players with a 90th percentile exit velocity within a similar range did not flash exit velocities as has as 112 MPH in 2023.
All this to say, Abrams is just starting to scrape the surface of the power he is capable of producing. Perhaps a bit reminiscent of former Nationals shortstop Trea Turner when he first came up, Abrams has plenty more production in the tank even if he does not attain such a lofty ceiling as Turner's
Defense/Speed
The new rules have played into the favor of speedsters like Abrams, but his massive leap from 7 stolen bases in 11 tries last season to 41 in 45 tries in 2023 goes far beyond bigger bases and pick-off restrictions.
He has blossomed into a confident base stealer with aggressiveness that is consistently rewarded, as he's become one of the game's most efficient thieves. Not only does he rank fifth in the league in stolen bases, his 93% success rate is the best mark of any MLB player with more than 30 bags.
Defensively, there's visible improvements with the leather. The advanced metrics are a bit of a mixed bag, as Defensive Runs Saved has him far improved from last season where he posted a -5 DRS. This season he has improved to 4 DRS, which is a big jump and places him in the top 10 in baseball.
Outs Above Average does not see as much improvement for Abrams, tabbing him with an identical -8 OAA as last season. Based on how OAA is calculated, this is somewhat of an indictment on his range, something a player as athletic as Abrams surely should be able to improve.
But considering how few reps he had at shortstop due to his limited Minor League experience, seeing the 22-year-old improve upon the fundamentals and consistency–which can be seen in DRS and fielding percentage–provides plenty of reason to believe that Abrams can develop into a good everyday shortstop.
What Does the Finished Product Look Like?
This is the fun part, and I will preface with this: There is no way to totally know the answer to that question. But the beautiful thing about Abrams' 2023 campaign is that in his performance this year alone, he has proven to be an above average regular at the shortstop position.
That elevates the floor, but this breakdown in general serves to remind people of how much there still is to dream on with a player like him. There's still more room to add strength for the 22-year-old with his long, lanky frame, but given the power that he has already flashed, he doesn't really need to add much. It's more about learning the mechanical nuances of the swing as well as defense (footwork, actions etc.) that can place him in a different realm.
Given the incredibly unorthodox path to the majors that he endured, there is still more development to be had at the highest level. Often times when a player breaks into the big leagues and we see a full season, we question how much more is in there, but in the case of players like Christian Yelich, Trea Turner and even Bobby Witt Jr. this season, sometimes the biggest leap comes on the biggest stage.