Analysis
Fantasy Baseball Waiver Wire Pickups: Week 1
The top players that are readily available in most fantasy leagues right now.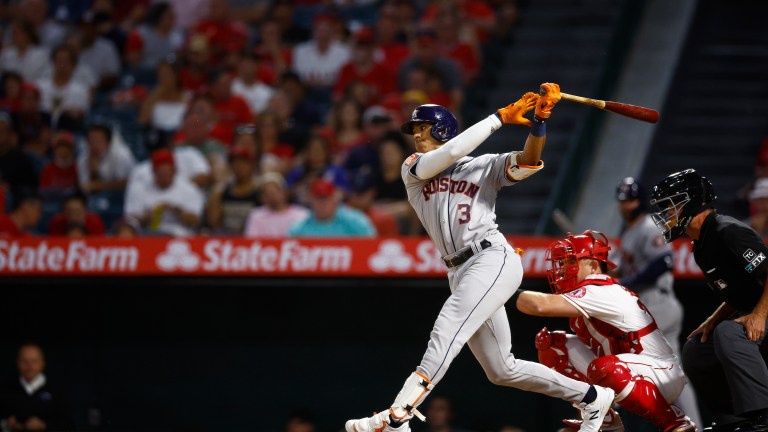 The fantasy baseball season has just begun, as we are only now entering our first full week of Major League Baseball action. If you are looking at your roster after the first couple of days are not looking how that lineup is stacking up to your competition, it is time to hit the waiver wire.
Here are some overlooked players that you should look to scoop up if they are still available in your fantasy leagues.
Josh Lowe – Tampa Bay Rays – OF
ESPN Ownership: 14.3%
The main reason the Rays traded Austin Meadows to the Tigers was to make room for Josh Lowe, who is their top hitting prospect. It shows the great trust they have in Lowe to produce at a high level for them this season. In his first four games, he's hit fifth in the lineup twice and sixth and seventh in his other starts.
Lowe is Just Baseball's 28th ranked prospect and is coming off of a 2021 in which he hit .291 with 22 home runs and 26 steals in Triple-A. He has an advanced approach and mashes contact in the air, leading to plenty of extra-base hits. He needs to be added in all 12-team leagues and could be a speculative add in 10-team leagues with an ability to be a five category producer in a stacked Rays lineup.
Steven Kwan – Cleveland Guardians – OF
ESPN Ownership: 12%
Steven Kwan was owned in 2.1% of fantasy leagues on Sunday. He's now owned in 12% of leagues as of writing this and I'll bet a lot of money he's owned in double that by tomorrow afternoon.
Kwan is the definition of a high floor stud. The plate discipline and ability to get on base shown in a small sample this year is what he's shown in the minor leagues throughout his career. He hit over .300 in Double-A and Triple-A last season, while striking out less than 10% of the time. The best part is that Kwan has been hitting second in the lineup in front of Jose Ramirez and Franmil Reyes. The average and run upside with Kwan is incredible. Grab him now!
Jeremy Peña – Houston Astros – SS
ESPN Ownership: 27%
With Carlos Correa nestling up north in Minnesota, Jeremy Peña has taken over the shortstop reigns in Houston. The world hasn't seen much of him since 2019 due to COVID cancelling the 2020 minor league season and a wrist injury holding him to just 120 plate appearances in 2021. He hit 10 home runs in 30 games in Triple-A last year and wasted no time hitting his first major league bomb in 2022, with his parents looking on from the stands.
It's encouraging to see Peña hit second in the order in his fourth career start. He'll have the opportunity to play every single day and should provide 20 home runs and 10 stolen bases at the bear minimum with upside for more in an Astros lineup that is one of the deepest in baseball. Make him a priority.
CJ Abrams – San Diego Padres – SS
ESPN Ownership: 12.1%
CJ Abrams is a consensus top-15 prospect in baseball, but like Peña, his minor league action has been limited by injuries. He has only been able to log 339 plate appearances in his minor league career and none above Double-A. Now he's being thrown into the fire as the Padres desperately need Abrams to fill a void at short in Tatis' absence.
Simply put, Abrams has the highest ceiling of any player on this list. If he can get 500 plate appearances, 12 home runs with 15 stolen bases and a decent average is very possible with upside for more. He's one of the most athletic players in the game and will have long leash whether he finds success immediately or not. Pick him up while you can and if he's not producing in a few weeks, then drop him. His stolen base upside gives him a ton of potential value.
Alejandro Kirk – Toronto Blue Jays – C
ESPN Ownership: 16.1%
Alejandro Kirk hit well in his 2021 debut as a 22-year-old slashing .242/.328/.436 in 189 plate appearance and there looked to be more in the tank, but injuries derailed his season before he could really heat up.
Now in 2022, he's going to get his opportunity. The Blue Jays gave a vote of confidence in Kirk's abilities at the plate by shipping Randal Grichuk to the Rockies for light-hitting fourth outfielder, Raimel Tapia. When Kirk isn't behind the dish, he's entrenched himself in the DH spot and has a chance to get near 450 plate appearances.
Kirk does everything right as a hitter. He hits the ball hard in the air and his 11.6% strikeout rate would have been the sixth-lowest in all of baseball. He has the batted ball and plate discipline profile to be able to hit .300 with 20 home runs. It's impossible to discount the run and RBI potential of the Blue Jays lineup as well. The catcher position is filled with power bats with little average upside and Kirk gives both.
Seth Beer – Arizona Diamondbacks – UTIL
ESPN Ownership: 5.1% owned
Are you in need of a power boost in your lineup? Boy do I have the player for you.
You may have seen Beer walk it off against the Padres over the weekend on National Beer Day of all days. The upside for Beer is 20+ home runs and even though he's hitting sixth in the D-backs lineup now, he should carve out a role in the four or five hole soon enough. The downside to Beer is that he is only currently playable in the Utility position because he is a full time DH, but if you are in a deep league and need home runs without sacrificing much in average, Beer is your man.