Analysis
Candelario, Alzolay Hit IL as Cubs Enter Crucial Stretch
Despite missing two key players, the Cubs will look to get back on track this weekend in a pivotal rematch with the Diamondbacks.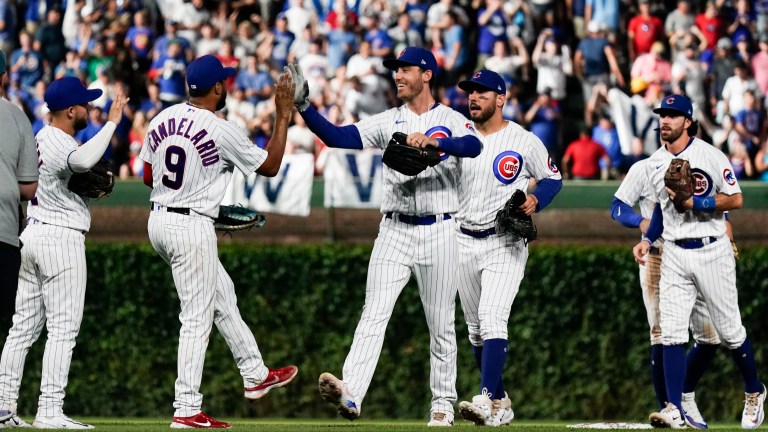 The Chicago Cubs are in the midst of a tight playoff race, but they are hitting a rough patch at the wrong time.
Last weekend, the Cubs dropped three of four games at home to the Arizona Diamondbacks, a team they are battling with in the NL Wild Card race. It was their first series loss since August 9th.
In the following series, Chicago failed to get back on track against the last-place Colorado Rockies, losing the final two games of their three-game set at Coors Field. It was the first time the Cubs had lost back-to-back series since July 2nd.
After playing 27 games in 27 days, the Cubs will be rested up after Thursday's off day and will look to capitalize on the perfect opportunity to get back on track in a crucial weekend rematch with the Arizona Diamondbacks.
Chicago is still in a good position in the playoff standings. While they do sit 4.5 games back of the Milwaukee Brewers in the NL Central, they currently hold a 2.5-game lead for the second Wild Card spot. Behind them is a three-way tie between the San Francisco Giants, Arizona Diamondbacks, and Cincinnati Reds for the third and final Wild Card berth.
However, if the Cubs wish to climb back into the division race, separate themselves in the Wild Card standings, or even push Philadelphia for the top spot, they will have to do so without their budding closer who was in the midst of a breakout season.
Adbert Alzolay Hits Injured List With Forearm Strain
The Cubs losing Adbert Alzolay is obviously a huge hit to the bullpen. Alzolay has taken a large step forward this season, and he has flourished as Chicago's closer in 2023.
Alzolay is pitching to a 2.71 ERA with a 1.02 WHIP in 63 innings pitched. He has 22 saves on the year and has been excellent at minimizing hard contact while limiting traffic on the base paths. He is striking out batters at a 26.4% clip while walking under five percent of batters, and he has played a large role in Chicago's success this season.
It's unknown how long Alzolay will be sidelined, and the Cubs will need to turn to some of their other veteran relievers to step up and fill the void while Alzolay is on the shelf.
Pitchers to Step-Up
While the situation is far from ideal, the Cubs are in a fortunate position, having several experienced veterans to hold down the back end of their bullpen.
Michael Fulmer
The corresponding move for Alzolay hitting the injured list was the activation of Michael Fulmer, who will likely see some opportunities to secure saves in Alzolay's absence. The 30-year-old is in his seventh year in the big leagues, and it has been an up-and-down season in his first year with the Cubs.
He is striking out batters at the highest rate of his career this season (27.4%), which is over a five percent jump from 2022, and he has also excelled at forcing low-quality contact. Fulmer is allowing a hard-hit rate of just 30.3%, and his average exit velocity against of 86.4 miles per hour sits in the top eight percent of baseball.
However, Fulmer has struggled with command issues this season, illustrated by his 11.8% walk rate, and he has been susceptible to allowing heavy traffic on the base paths, highlighted by his WHIP of 1.33. Both are areas Fulmer in which struggled last season, and it will be an area for him to clean up if he wishes to be a successful closer for the Cubs down the stretch.
Fulmer has spent the majority of his time as the setup man in Chicago's bullpen this season, and now he will play an even bigger role for the Cubs in the final few series of the season.
Julian Merryweather
Julian Merryweather is in the midst of his best season of his four-year career, pitching to a 3.18 ERA and a 1.28 WHIP in 65 innings pitched. He is striking out batters at a whopping 33% clip, which is a career-high and in the top four percent of baseball, and he is posting an impressive 12.46 K/9.
Merryweather has the pitch arsenal to succeed if he is able to harness his command and limit free passes, two areas in which he has struggled this season.
Additionally, there could be workload concerns for Merryweather as the season winds down. He leads the Cubs in both appearances (63) and innings pitched out of the bullpen (65), but he has never surpassed more than 27 innings pitched in a season prior to this year. He has already more than doubled that mark, and the Cubs are in a position where they will need to lean on him even more to close out games in the final weeks of the season.
Mark Leiter Jr.
Mark Leiter Jr. is also in the midst of the best season of his four-year career, and he has arguably been Chicago's best relief pitcher not named Adbert Alzolay this season.
Leiter is pitching to a career-best 3.13 ERA and a 1.06 WHIP while posting an impressive opponent batting average of just .194. He has been excellent at striking out batters, putting up a strikeout rate of 30.3%, which is in the 91st percentile. Additionally, his 45.9% ground ball rate has allowed him to minimize hard contact and has helped him succeed at limiting traffic on the base paths.
Leiter has found himself as one of the primary setup men for the Cubs, and they will need him to continue his success in high-leverage situations and potentially close out games down the stretch.
Not only will the Cubs be without their closer for the next few weeks, but they will be down their premier trade deadline acquisition and one of their most consistent bats for the next few series as well.
Jeimer Candelario Hits the Shelf With Back Strain
Jeimer Candelario got off to a blistering hot start after arriving in Chicago at the trade deadline. However, he has hit a dry spell offensively in September, which could be attributed to his back issues. Since the calendar flipped from August, he has hit just .111 with a .656 OPS.
In his 136 plate appearances since joining the Cubs, Candelario is slashing .237/.324/.449 for a .773 OPS to go along with eight doubles and five home runs. He has been an extra-base hit machine and a symbol of consistency in the heart of Chicago's batting order when healthy, and his defensive versatility has also been extremely valuable for the Cubs' lineup.
In his absence, the Cubs will call upon Nick Madrigal to hold down Candelario's spot in the field. Madrigal is a defense-first third baseman who can make an impact with his glove and his legs but won't bring an impact bat to the lineup.
The Cubs will also utilize Patrick Wisdom's bat to help pick up the slack in the lineup. Wisdom doesn't bring much value as a defender, but he has enough power potential to provide an offensive spark if he gets hot at the plate.
Influx of Youth
Pivoting from the roster subtractions, the Cubs made a key roster addition earlier in the week to help ignite a hot streak to close out the regular season.
Pete Crow-Armstrong, Just Baseball's No. 9 overall prospect, made his debut with Chicago on Monday as a pinch runner. It didn't take long for him to flash his 80-grade glove, as he made a couple of dazzling plays in the outfield during his first start in the big leagues on Tuesday night:
PCA won't be one to completely alter the lineup with his bat, but he was able to impact the game with his glove at the big league level nearly immediately.
Crow-Armstrong brings immense defensive talent to the center field position for the Cubs, and his presence allows Cody Bellinger to slide to first base while Candelario is on the injured list. The Cubs will look for him to provide a spark defensively to complement their high-octane offense.
In the end, Chicago will need their offense to keep hitting if they're going to make some noise in the playoffs. In order for this team to be a contender come October, they will need someone to step up and become an X-factor in the middle of their lineup.
Offensive X-Factor
There is no denying the star power that Chicago has in their lineup between Bellinger, Nico Hoerner, Dansby Swanson, and Ian Happ. However, I believe the player who could be the biggest X-factor in the final few series for the Cubs is Seiya Suzuki.
It has been a roller coaster of a season for Suzuki. After starting the season on the injured list, he put together a productive month of May, but he followed it up with a brutal two-month stretch in June and July.
However, since August 1st, Suzuki has been not only one of the best hitters on the Cubs, but one of the best hitters in all of baseball:
| Metric | Apr. 14 – May 31 (174 PA) | Jun. 1 – Jul. 31 (202 PA) | Aug. 1 – Sept. 15 (144 PA) |
| --- | --- | --- | --- |
| BA | .293 | .212 | .348 |
| OPS | .872 | .578 | 1.078 |
| wRC+ | 138 | 60 | 185 |
| ISO | .193 | .084 | .341 |
| K% | 24.1% | 25.7% | 17.5% |
Stats courtesy of FanGraphs
Since August 1st, Suzuki has the fourth-highest OPS and the third-best wRC+ in the National League. He already has four homers and 15 RBIs in 14 games during September, and his hot bat has been a huge reason why the Cubs' offense has been soaring in the second half.
On the season as a whole, Suzuki has 50 extra-base hits, including 28 doubles, three triples, and 17 home runs. He is walking at an above-average clip, he has cut his strikeout rate from last season, and his quality of contact is some of the best in the sport. He has 63 RBIs on the year, and he is starting to become a seriously impactful bat in his second year in Major League Baseball.
Suzuki was a five-time All-Star in Nippon Professional Baseball (NPB), and this is the best version we have seen of him since he signed with the Cubs in March of 2022. He has played a key role in Chicago's hot offensive second half, and his power presence in the middle of the Cubs' lineup will be extraordinarily valuable in their playoff push.
Rest of Season Outlook
It's obvious, but the Chicago Cubs are entering their most important stretch of the season, and it starts with this weekend's matchup with the Diamondbacks. It's a series that could determine how the rest of the season could go, and with fewer than three weeks left in the year, this is Chicago's opportunity to solidify their playoff position.
Following their series with Arizona, the Cubs have six straight home games against non-playoff teams in the Colorado Rockies and the Pittsburgh Pirates. If the Cubs wish to compete for a division title or create some breathing room in the Wild Card standings, those two series will be their opportunity to do so.
Following that stretch of games at Wrigley Field, the Cubs enter a gauntlet to end the regular season. They travel to Atlanta for a three-game set with the Braves in the second-to-last series of the year, and then they end the regular season with a three-game series at American Family Field against their division rival, the first-place Milwaukee Brewers.
Closing Thoughts
Despite how much potential Chicago's offense has, the Cubs' success down the stretch will hinge on the performance of their pitching staff. It was especially evident in their latest series with the Rockies, where their offense showed up, but their pitching floundered in the later innings.
With their best bullpen arm in Adbert Alzolay hitting the injured list, the Cubs will need guys to step up in their bullpen to fill the void. Equally as important, the starting rotation will need to elevate their play and work deep into games down the stretch to make things easier on the bullpen. Justin Steele is making a strong case to be the NL Cy Young Award winner, but how the other pitchers around him in the rotation perform will greatly dictate the ceiling for this team.
The Cubs will need to battle through some adversity as they hit their most important stretch of the season, and they will look to get back on track this weekend to make one last push up the playoff standings and solidify their postseason positioning.