Analysis
Can Robinson Canó Do Anything For the San Diego Padres Offense?
Does the eight-time All-Star have anything left in the tank, or is this just the last stop of the dissapointing finish to his career.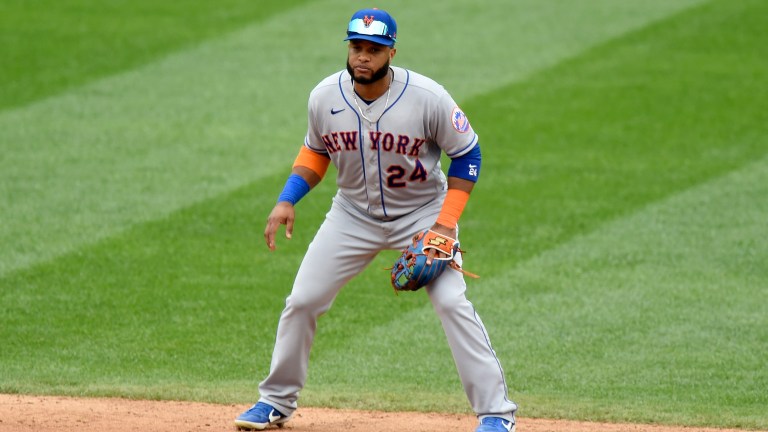 In what most observers would call an attempt at proving his detractors correct, Padres general manager AJ Preller is expected to make a move in the form of acquiring Robinson Canó. The deal is expected to be finalized soon and be one for the major league roster.
Well, where do we start? I believe my mom's reaction upon hearing the news, "WHAT?!?!?" — in the tone one would use as if a rodent were just spotted lurking in their home — might suffice. Indeed, the move is a bit of a confusing one. As evidenced by the tweet above, Canó has looked more like a decaying corpse of a once-great player rather than the spark-plug the Padres offense is looking for.
Obviously, it's not just a one-season slump either. During his entire tenure with the Mets, Robinson Canó accumulated a measly 1.53 WAR. Considering that he earned $44.3 million over this stretch, it's not difficult to imagine why the former All-Star has drawn the ire of Mets fans everywhere. It's not entirely impossible that a similar level of discontent may come from Padres fans over the coming weeks.
While the Padres offense, as a whole, ranks 10th in baseball in fWAR, that can be a bit misleading. Much of the firepower has come from the sublime performance by third basemen Manny Machado and much-maligned first basemen Eric Hosmer. The former is a superstar that may very well net himself an MVP award, while the latter should be expected to come back down to earth, so it's understandable why the Padres are looking to add a bat to their team.
With players like Luke Voit, Wil Myers, and Trent Grisham performing poorly, an attempt at grabbing whatever Robinson Canó has left in the tank makes sense. There are some positives here, despite what you may hear on the bird app. For one thing, all of baseball is struggling to find offense these days ($45 bucks to whoever finds the culprit!), so paying Canó the minimum, even at his age, doesn't have too much of a downside.
A lefty bat off the bench is nice, plus the potential clubhouse effect shouldn't be dismissed entirely. After all, this is still the team that, well, had issues in that department not too long ago. Unfortunately, true believers, that's about it. To put it lightly, the Padres signing Robinson Canó is a microcosm of the organization's complete lack of creativity.
It's an extremely Padres thing to do, which is NOT a compliment in the slightest. Sure, betting against the Mets — an organization that not so long ago was viewed more as a clown show than a true contender — is not the most ridiculous bet one can make. But even still, Canó was let go by the Mets for many reasons.
Aside from his porous slash line (.195/.233/.268), one of Canó's signature attributes has declined tremendously: strikeout rate. His 25.6% strikeout rate in 2022 is by far the worst mark of his entire career, with the second-worst being the 16.3% mark he posted in 2019. That's quite a significant change! He doesn't provide any value on the base paths and he's obviously a non-factor defensively.
Optimists would point to his 2020 season with the Mets when he slashed a mighty .316/.352/.544 with 10 homers, a 142 wRC+, and a 1.3fWAR in 49 games. But that was the truncated pandemic season! That was the same season that also manipulated us into thinking players like Jose Altuve were washed and that Wil Myers had somehow Figured it Out. So, realistically, what does that tell us? Oh, and that was before his second (!) suspension for performance-enhancing drugs that saw him miss the entirety of the 2021 season.
It's not exactly an atrocious move — the minimal stakes prevent it from being so — but it's an uninspiring one. The Padres seem hellbent on rehashing old, tired ideas rather than giving younger talent a chance. Perhaps it's due to AJ Preller's crusade to trade away every ounce of farm system depth in a short period of time. But even still, you have to wonder how there can't be any better options.
Luis Campusano, your top-rated catching prospect, can't get another shot? Nope, make way for Robinson Canó. Considering the Padres' recent history of moves (see: Arrieta, Jake), it reeks not of a team prepared to milk the last bit of value out of an aging player, but rather a team hamstrung by a high payroll with a fetish for name value rather than on-field-production.