Analysis
Behind the Seams Prospects Corner: Q&A with Rays' Colby White
Tampa Bay Rays pitching prospect Colby White joins the show as the latest guest on the Behind the Seams Prospects Corner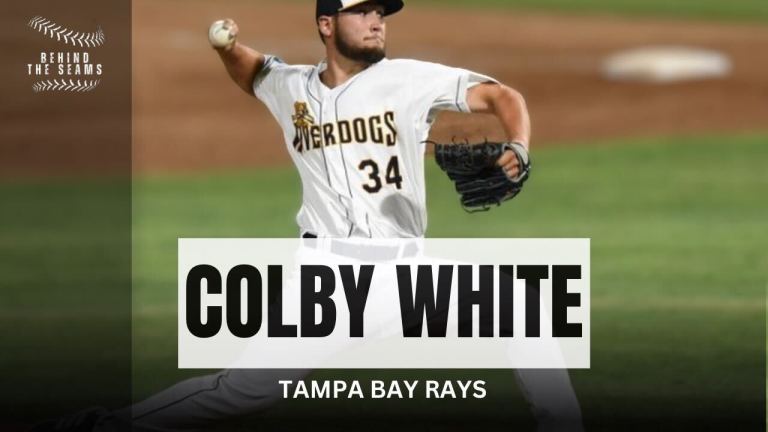 Welcome to the Behind the Seamsl Prospects Corner! A bi-weekly article and podcast featuring interviews with some of your favorite prospects in baseball. We hope to bring you a behind-the-scenes look into the stories that go beyond who the player is on the field. We will be sharing stories of players overcoming adversity, dealing with mental battles, and life events that truly make these individuals who they are as human beings.
Colby White found himself on a fast track to the big leagues in 2021. He had a meteoric rise through four levels (A to AAA) that year. During that season, he compiled a 1.44 ERA with 104 strikeouts over 62.1 innings. Just absolute dominance at every level. Then White found himself facing major adversity. In April 2022, White was placed on the 7-day injured list in the minor leagues and underwent Tommy John surgery causing him to miss the entire 2022 season. 
We sit down with Colby White to talk about how he pushed through adversity, maintained a positive attitude during rehab, and how he is now on the verge of making his return to professional baseball. Here are some excerpts from the interview with Colby below. You can find the full interview here:
Jared: Take us into the moment you found out you had to get Tommy John surgery and what that impact was like on you and how you powered through your recovery process.
White: It kind of takes me back to the end of 2021. I noticed my arm didn't feel as fresh. You know it was my first full season. I was fatigued and I had a bunch of teammates who would say "man, it's just that time of year" they call it the dog day so to speak. Nobody feels good around September. So I kept just going through it and all…I don't I still to this day don't really know the definitive thing that caused it but I remember I threw for like a two or three week spell in spring training and I just didn't feel great you know. It wasn't like I was like okay there's definitely something wrong. My velo was down a little bit but I was still throwing pretty good in the first couple outings. I remember right before we went to break, I went in and told the one of the pitching coaches, I was like man "I'm gonna need a few days you know gotta feel it whatever. I'm gonna need a few days off, I'm not feeling great." He said we'll go talk to the trainers. So I went in there and told them I'm having some elbow stuff going on probably gonna need a few days so they just went through some Tommy John test…He was like man you might need a MRI. I was kind of in denial because I was like because you here stories of guys like "oh you feel a pop"…I never felt a pop which was very weird to me but then I had a different form of Tommy John so to speak.
I had an avulsion…so I actually broke the epicondyle bone that the UCL was connected to and it was floating around the back of my arm and apparently I had thrown for several weeks without not even connected. The doctor said you're going to need surgery. This is what was a crazy thing about it didn't really hit me initially like "hey I'm gonna miss a year" and how much time was gonna be into it but I was just so exhausted from my arm being in pain so I'm just kind of thankful that we figured out what it was and road to recovery. But I'm thankful it happened.
Jared: What are some of the lessons you learned from going through the injury recovery process?
White: I had always all through college, all through high school, probably even little league, I would rather hurt and pitch than not pitch. I took pride in college or in pro ball in saying "Hey I'm sore but I can cowboy up and get it done. I'm available. I'm going to be close to my best even sore, even some fatigue and I'm going to help the team." After having surgery and learning good habits and learning things to look for, things to not throw through…just kind of understanding what should be sore, what shouldn't and then also biggest thing I've taken away from is listening to my body more. You know everybody wants a plan in pro ball and oh I need to do this today, I need to lift legs today, I need do arms today, I need to do this amount of arm care, and more so lately over the past it probably hit me around the nine or 10 month mark when I started having a few setbacks, I started realizing I gotta listen to my body more. My arm more specifically and not just cookie cut a plan.
Jared: As you have been pushing through the recovery process, who have been some of the biggest supporters during the recovery process? I know you have teammates like Cole Wilcox who have gone through some similar things.
White: My fiance, she does a good job of keeping me level headed because it's mental warfare really. When you show up to the field every day and you can't go out there and you wish you could and you do it for months at a time with one goal just to get healthy, it's hard. My family they do a great job too. They try to keep me to where I don't have too much downtime. I'm doing something. Don't have much time to think. But yeah, Cole Wilcox. I've called him numerous times. I'm sure him along with others have been kind of aggravated because I ask way too many questions. But yeah, he's A plus teammate, human being when it comes to that kind of stuff. I'm very thankful for him… I was around Drew Rasmussen in spring training and a few other guys who have had it a few times…For me, there is too many guys to name, to thank, but everybody's been so supportive.
Jared: So what are the next steps for you in the recovery process? Are you close to getting back out there and throwing? What's the next goal for you here?
White: I am at the live bullpens right now or batting practices. I pitched in one game probably a month ago down here in the rookie complex and I had something kind of irritated with my shoulder, just a little inflammation or whatever. But yeah, I'm at the live BP stage and then next week I'll face hitters and games down here so it'll be a more realistic look.
Jared: What was that moment like when you first stepped on a bullpen mound and got to throw a baseball after going through all that adversity and powered through the entire injury recovery process?
White: So my first couple times off the mound I didn't go on there go on the mound thinking "okay this is game 7 of the World Series. I'm facing a really good hitter." I kind of made sure I didn't have an adrenaline rush even though you know when you step back on the rubber it's like man this is where I belong. I really tried to tone my effort down because I wanted it to be a gradual ramp up and I think I've done a really good job of that. I did get on the mound and it was a surreal moment. I teared up a little bit. I was actually at home on my high school mound for the first pitch I threw off of the mound. Which was kind of crazy but yeah it's been an emotional little thing, but very exciting for me.
Jared: A more fun question. What's been the go to restaurant or type of food you go to during the rehab recovery process?
White: So early on I didn't eat as healthy as I should have but here lately…I went to my first Brazilian steakhouse and man I guess this is probably six months or so ago. I'm a big meat guy so I bet I went to at least a dozen since then. In six months I probably went to a dozen Brazilian steakhouses. I mean I probably gained 4-5 pounds there just eating just straight meat.
Jared: If you have one piece of advice for any guy who's going through some of the same adversity you had to go through the injury recovery process, what would that one piece of advice be?
White: First thing, never doubt your ability to adapt to situations. Because as a baseball player if you play this game very long or do it at any level pretty high the whole reason you were able to do that is cause you were able to make adjustments quick, you're able to adapt quickly. Growing up, my dad would talk about being able to make adjustments. Just trusting yourself and your ability.