Analysis
Allow The St. Louis Cardinals To Reintroduce Themselves
The Cardinals have gone from out of the playoff picture to 4.5 games up in the Wild Card in less than two months. How have they done it?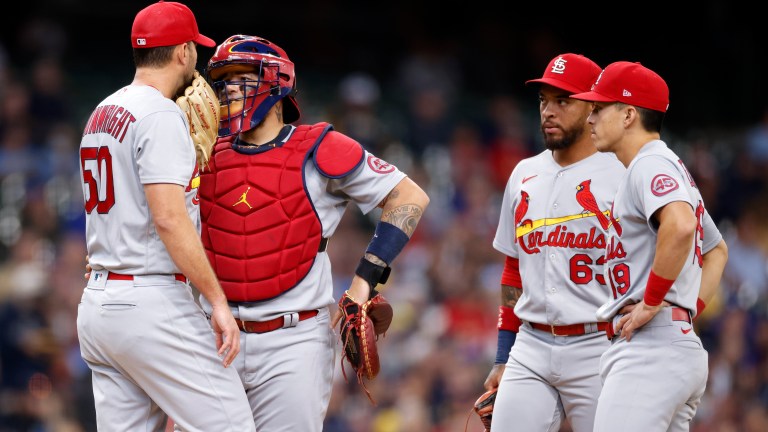 The St. Louis Cardinals had plenty of buzz heading into the season, especially after their offseason acquisition of superstar third baseman Nolan Arenado. Yet that buzz had all but dissipated after a 10-17 June, which included an injury to Jack Flaherty, removing their ace from an already depleted rotation.
The Cardinals were able to tread water in the subsequent months, but treading water doesn't earn you playoff berth. As other teams hit their stride, Mike Schildt's team found itself 8.5 games back on August 10th.
Since then, the Cardinals have gone 28-13 and are riding the second-longest winning streak in the franchise's illustrious history at 12 games. All of the sudden, the Cardinals are 4.5 games up on division rival Reds and the Phillies for the final NL playoff spot. Oh yeah, and Jack Flaherty has only made three starts in that span before unfortunately going down with another injury; so, how the heck did the Cardinals do this?
Fountain of Youth
In 2006, Yadier Molina and Adam Wainwright helped the St. Louis Cardinals to the franchise's first World Series title in nearly a quarter-century. Fifteen years later, at 39 and 40 years old respectively, the duo is leading the Cardinals back to the postseason in the twilight of their careers.
After the injury to Jack Flaherty, the Cardinals were desperate for an arm that they could rely on for a quality start every fifth day. When I looked up and down the roster, I didn't see that guy. I looked right over the 6-foot-7 Adam Wainwright, assuming at 40 years old there was not much he and his 89 MPH fastball could offer.
Well, Uncle Charlie has filled the void for the Cardinals and then some by pitching as well as anyone in baseball in the second half. Among qualified MLB pitchers in the second half, Wainwright is first in Wins (9), second in WHIP (0.92) to only Max Scherzer, fourth in WAR (2.6), and seventh in ERA (2.47).
Velocity was never a big part of Wainwright's game, with his low 70s curveball serving as his bread and butter for the vast majority of his 16-season career. Waino is going to the bender 34% of the time and holding opponents to a .212 average. He also deploys three variations of a fastball, a sinker, four-seamer, and cutter which give him several different looks. In the late stages of his career, Adam Wainwright is using his intelligence and pitchability to get outs. He also has a battery mate who has worked with him for 16 years.
Yadier Molina has been wildly impressive in his own regard. At 39 years old, the Cardinals backstop continues to catch at a high level. Molina has only committed three errors all year (.997 fielding %) and is throwing out 42% of attempted base stealers, the third-best mark in baseball.
With more than 2,000 innings in the squatted position, it is truly remarkable how Molina is still able to perform at such a high level. The value that Molina brings to the pitching staff is immeasurable as well. Whether it is relating to veteran arms like Wainright, Jon Lester, and J.A. Happ or helping groom young pitchers like Alex Reyes and J.P. Woodford, it is probably safe to say that Molina is a preferred catching option for any pitcher.
Defense Wins Championships
When legendary Alabama football coach Bear Bryant told us defense wins championships, he probably didn't have Outs Above Average and Defensive Runs Saved in mind. Or the sport of baseball for that matter. Still, the saying is ringing true for the Cardinals, who have hedged their thin pitching staff with the league's best defense in 2021.
Defensive value is a fairly ambiguous component of baseball to measure with analysts preferring different metrics to decipher the quality of a team's ability to field. The two most widely accepted metrics are Outs Above Average and Defensive Runs Saved. The two barometers generally coincide with each other at least loosely, but on occasion will have minor dissents.
The Cardinals make it easy by sitting way out in front of every team in baseball in both statistics. At 44 Outs Above Average, the Cardinals are pacing MLB. The only team within 10 OAA is the Houston Astros at 41. When looking at Defensive Runs Saved, the Cardinals lead the league with 84; the next closest is the Rockies at 72.
The Cardinals defensive metrics are buoyed by two of the game's best gloves in the outfield, Harrison Bader and Tyler O'Neil. The two speedsters make two-thirds of the outfield essentially a no fly zone, running down what seems like anything in their vicinity.
The Cardinals added a decent defender at third base last offseason by the name of Nolan Arenado. All he has done is win a Gold Glove in all eight of his seasons in the big leagues at the hot corner. Tommy Edman has been fantastic, leading all second baseman at 12 Outs Above Average. Paul Goldschmidt, Paul DeJong/Edmond Sosa, and Nolan Arenado all rank in the top-five in baseball at their position in just about every defensive metric. That Yadier Molina guy is a pretty good catcher as well.
Developing Bats
Tyler O'Neil has the kind of tools scouts dream about, but had not been able to fully put it together at the plate through his first 170+ MLB games. It all has clicked for the 26-year-old in 2021, hitting .279/.349/.533 with 29 homers and the aforementioned phenomenal defense.
Harrison Bader was a very similar case to O'Neil, as Cardinal fans would see glimpses of what he could be, but he just couldn't find the consistency. Now Bader has made solid offensive strides and we are seeing the same from top prospect Dylan Carlson as well. Anchoring the offense is Paul Goldschmidt, who seems to have recaptured his Diamondback form.
One of the few exceptions has been Paul DeJong, who took quite a large step back after an All-Star 2019 season. Fortunately for the Cardinals, 25-year-old Edmondo Sosa has stepped in and been all Mike Schildt could ever ask for and more. The rookie is slashing .278/.348/.398 with stelar glove work at shortstop and electrifying speed on the base paths.
Piecing Together Pitching
Given the fact that the Cardinals playoff hopes were quite bleak at the end of July, they were cautious buyers at the trade deadline. The team went out and got Jon Lester and J.A. Happ to eat innings in what was a paper-thin rotation. Neither southpaw has lit the world on fire, but the duo has combined for a low 4s ERA in 19 starts, and an 8-3 record. Jake Woodford made the move from the bullpen to the rotation in the second half and has risen to the occasion. The 24-year-old righty has made six starts since the Mid-Summer Classic, pitching to a 3.38 ERA. To follow the theme of unlikely help, Miles Mikolas has come back to show flashes of his 2018 form over his last few starts.
After making the full-time move to closer, Alex Reyes came out shoving in 2021, but has hit a bit of a wall. Other bullpen arms have stepped up, including Kodi Whitley who has pitched 11.2 consecutive scoreless innings in relief. T.J. McFarland has been one of the Cardinals most reliable arms in the second half as well, sporting a 2.45 ERA and 1.00 WHIP. Other notable bullpen performers in the latter half of the season include Luis Garcia (2.48 ERA) and Genesis Cabrera (3.28 ERA); the pair have shouldered a lot of the innings load in relief since late July.
Are They For Real?
While the Cardinals run has seemed improbable, the team has always had the talent to perform at a playoff level. That said, it is hard to get excited about a rotation that features several of Adam Wainwright, K.K. Kim, Jon Lester, J.P. Woodford, J.A. Happ, and Miles Mikolas in the postseason, but it has worked for them in September.
The return of Jack Flaherty will be a massive boost to the team, even though he is limited to more of an opener's role. As it stands now, the Cardinals are in the driver's seat for the final playoff spot in the NL, which would pit them against the defending champion Dodgers and potential Cy Young winner Max Scherzer in a one-game playoff. Adam Wainwright vs. Max Scherzer should be fun, with the obvious advantage to the Dodgers despite Waino's incredible second half.
Depending on how Flaherty looks down the stretch, the Cardinals could go to Wainwright on a short leash in that game with Jack Flaherty waiting in the wings. Mike Schildt is going to have to be creative with his pitching staff, but he has shown to be in tune with all of his arms, aided by his future Hall of Fame catcher. The Cardinals offense can stack up with any in baseball, especially with the way they have been swinging the bat in the second half, ranking in the top-10 in virtually every offensive category.
On paper, it is a bit difficult to see how this St. Louis pitching staff could survive a postseason, but as the Cardinals have showed us over the last month and a half, there is a reason why the game isn't played on paper.