Analysis
In His Final Act, Adam Wainwright Found a Fountain of Youth
Since the start of the 2020 season, Adam Wainwright has resurrected his career to again become one of the game's most effective workhorses.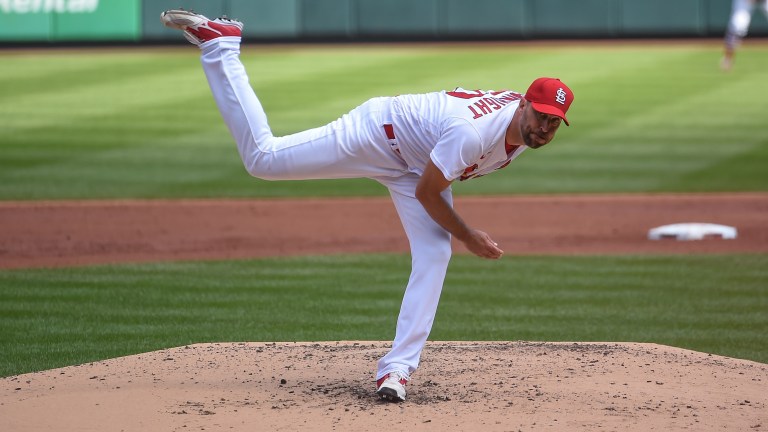 When we take a look at the leaderboard for most innings pitched since the start of the 2020 season, there is one name that stands out above all the rest. No it is not Sandy Alcantara, who is at the absolute prime of his career.
No it is not teammates Zack Wheeler and Aaron Nola, who have combined to throw over 850 innings between the two of them, or Gerrit Cole, the $324 million man. All of those pitchers mentioned are between 27 and 32 years old, the real physical peak for any quality starting pitcher.
Instead the name that jumps out is the one who has been around these parts for a long time.
Adam Wainwright.
Now 41 years old, Wainwright has discovered a fountain of youth at the end of his career, once again becoming one of the game's best and most effective workhorses. In doing so, he has put together one of the best stretches of his career, that could make his eventual case for Cooperstown at least a little bit more compelling.
Adam Wainwright's Career Arch
Adam Wainwright's career arch is fascinating. You may not know that Wainwright took the first pitch he saw as a hitter and put it in the seats, becoming the seventh pitcher in MLB history to hit a home run on the first pitch they saw in the big leagues. This was part of a season where the then-24-year-old pitched entirely out of the bullpen for the Cardinals.
Wainwright was solid in a middle relief and eventual set-up role out of the pen, registering 17 holds for closer Jason Isringhausen. The Cardinals closer ended up needing season-ending hip surgery in September, which forced Wainwright into the role to finish off the season.
The rookie proved to be more than up to the task, closing a few pivotal games at the end of the season, before being lights out in October. Wainwright did not allow a single run in the Cardinals run to winning the 2006 World Series, infamously striking out Carlos Beltran looking on a curveball to close out Game 7 of the 2006 NLCS.
Despite his great success as a reliever, Wainwright's future was as a starting pitcher and he made a full transition into the rotation the following season in 2007.
When breaking down Wainwright's career, we can really look at three-to-four year stretches that show his effectiveness. It all began in 2007, the first of four years where he would lead the Cardinals rotation. During that span he finished in the top-three of NL Cy Young voting twice, led the league in innings pitched and wins once, was an All-Star and won a Gold Glove.
In Spring Training prior to the 2011 season, Wainwright experienced discomfort in his elbow and would miss the entirety of the campaign after undergoing Tommy John surgery.
After a down-year in his first season back in 2012, Wainwright led the league in both innings pitched and wins again in 2013, while also taking home his second Gold Glove. He finished as the runner-up in the Cy Young race to Clayton Kershaw.
The 2014 season brought another top-three finish in Cy Young voting for Wainwright, proving he could still be one of the best starting pitchers in the sport on a consistent basis post-Tommy John. Then he got hurt again, rupturing his Achilles during the 2015 season.
While the Achilles only kept him out of the rotation for a season, it seemed to sap his effectiveness once healthy. Wainwright endured four seasons from 2016-2019, where he was nothing more than an average back-end starting pitcher, who too frequently found himself on the IL with nagging injuries.
Then something changed in 2020, and we have seen a renaissance for the great Cardinals starter ever since.
Over the past three seasons, only Sandy Alcantara has thrown more innings than Adam Wainwright. Waino has taken the ball every fifth day, making 71 starts, while racking up exactly 450 innings pitched. Prior to their last starts, Wainwright was actually the leader in innings pitched, but Alcantara went seven his last time out, while Uncle Charlie went just five.
Across this three-year span, Wainwright has pitched to a sparkling 3.16 ERA, which is the 10th-best mark among all qualified starters. His 33 wins are the fourth-most and his 0.88 HR/9 is the eighth-best mark. With a 7.9 fWAR since 2020, Wainwright ranks as the 14th most valuable starting pitcher in baseball across the last three seasons.
Saving the Best for Last?
Due to the two significant injuries Wainwright suffered, we can really divide up his career into three-to-four year chunks to show his effectiveness as a starting pitcher at each stage.
Let's take a look to understand how this most-recent three-year stretch compares to the other peaks and valleys of his career.
| | | | | | | | | | |
| --- | --- | --- | --- | --- | --- | --- | --- | --- | --- |
| Years | GS | IP | ERA | FIP | xFIP | K/9 | BB/9 | HR/9 | fWAR |
| 2007-2010 (4 seasons) | 119 | 797.1 | 2.93 | 3.35 | 3.63 | 7.36 | 2.55 | 0.64 | 16.4 |
| 2012-2014 (3 seasons) | 98 | 667.1 | 3.05 | 2.83 | 3.11 | 7.85 | 1.85 | 0.54 | 15.0 |
| 2016-2019 (4 seasons) | 95 | 534 | 4.58 | 4.18 | 4.26 | 7.58 | 3.13 | 1.06 | 6.7 |
| 2020-2022 (3 seasons) | 71 | 450 | 3.16 | 3.66 | 3.95 | 7.30 | 2.24 | 0.88 | 7.9 |
Missed all of 2011 and most of 2015 due to injury.
It would be a doing a disservice to Wainwright's prime to say that he is better now than he was across his first seven full seasons in the Cardinals rotation, but the fact that he has even gotten close to that level of production is pretty remarkable.
Assuming he doesn't falter down the stretch, Wainwright is about to turn in his third-consecutive season with a sub 3.50 ERA. After four seasons with an ERA over 4.00, that is a drastic shift for him to make late in his career.
Anyone who watched Wainwright pitch from 2016 through 2019 saw a pitcher that looked to be on his way out. Now pitching at 41 years old, Waino looks like he could keep pitching until he's 45.
Looking over the data, it is pretty hard to pinpoint what happened that allowed Wainwright to resurrect his career. There was no drastic change in pitch mix, or the shape of his offerings. Part of it could be attributed to the Cardinals exceptional defense behind him over the last few years, but really it boils down to health and what is going on between the ears.
Wainwright's first season back from the Achilles injury was 2016, a year where he led the NL in both hits and earned runs allowed. In 2017, Wainwright missed time for a back injury and also an elbow injury, which required another surgery where they removed a cartilage flap that they believe resulted in a bone bruise in his elbow.
In 2018, Wainwright dealt with more elbow issues, as well as a hamstring injury. The 2019 season finally brought good health to the veteran starter, who made 31 starts and pitched to a respectable 4.19 ERA.
With his injury woes behind him, Wainwright has learned how to pitch with his diminished stuff to be effective over the last few years. He has gotten back to limiting his walks, while keeping the ball in the yard to get back to being one of the better pitch-to-contact arms in the game.
In a league where we value whiffs and strikeouts more than ever, Wainwright is as old school as it gets. Throw strikes, pitch to contact, eat innings. For the Cardinals, having Uncle Charlie leading their rotation has been invaluable to the point where they will continue to welcome him back with open arms for as long as he wants to pitch into his 40s.
Last year, Wainwright started the NL Wild Card Game and allowed just one earned run in 5 1/3 innings pitched against the Los Angeles Dodgers. This year we will get to see Wainwright pitch in October yet again, where he could look to ride off into the sunset with his long-time teammates Yadier Molina and Albert Pujols, or return for another crack at a title if they come up short.
What a final act to the incredible story that has been Adam Wainwright's career with the Cardinals.