Rankings
MLB Power Rankings: Yankees and Mets Are Surging
As we enter May, MLB's power rankings are beginning to shuffle.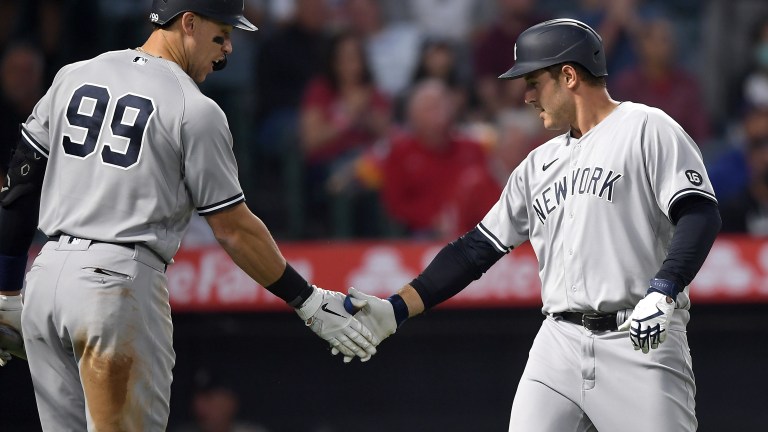 April is as welcomed of a month as we have on the baseball calendar. The highest level of the sport we love returns, we take in as much action as our brains allow us to, and we blatantly overreact about our favorite team's success and failure on a nightly basis.
Again, we're here to remind you that the Major League Baseball season consists of 162 games. So, here is a list that we can all overreact about, together, after the first 25 games.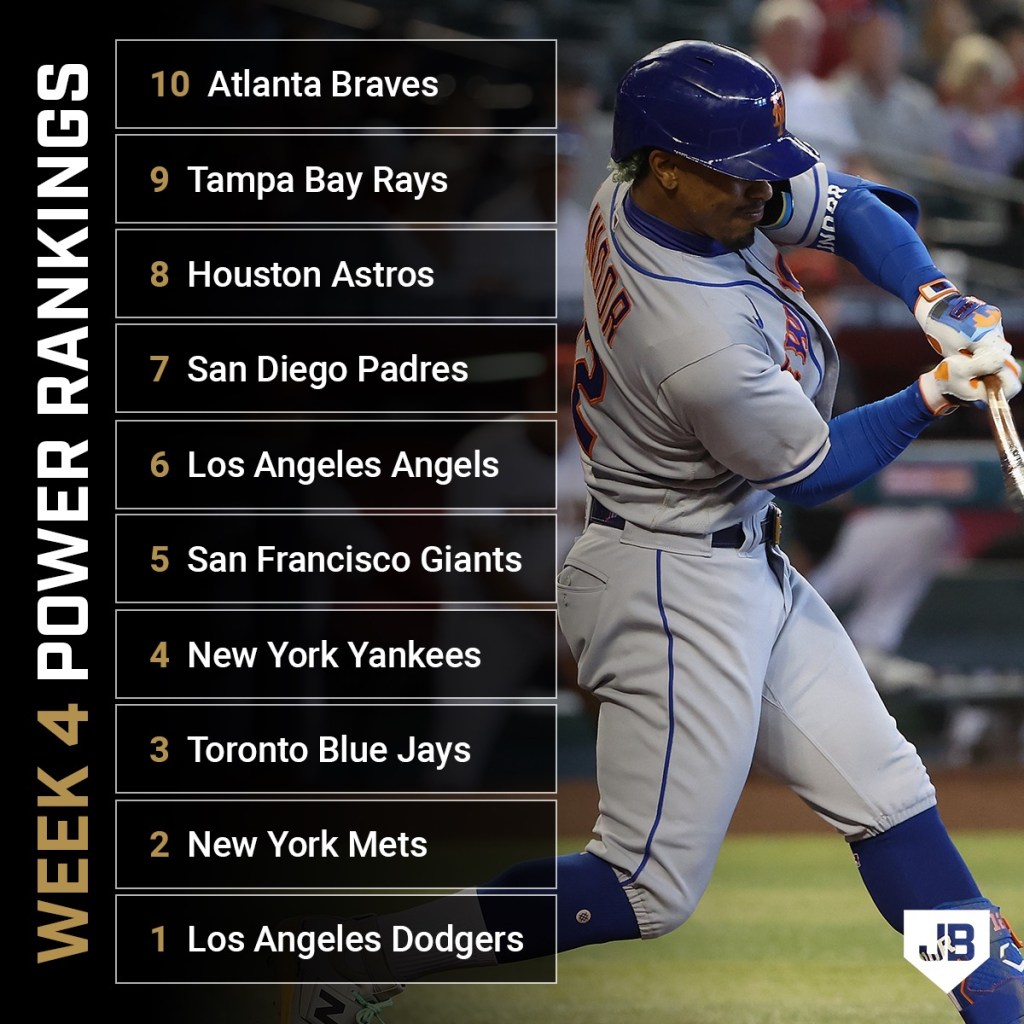 1. Los Angeles Dodgers (Previous Ranking: 1)
This team is nothing short of a battering ram. A couple late slip-ups forced them into a 6-4 record over their past 10 games, but Walker Buehler is as locked in as you could ask an ace to be, riding a 14-inning scoreless streak (highlighted by a complete game shutout in Arizona last Monday). Clayton Kershaw just became the Dodger's all-time strikeout leader, passing a mark that Don Sutton set more than 50 years ago. The bats are fine, too.
2. New York Mets (Previous Ranking: 4)
After five Mets pitchers combined to fire the first no-hitter of the season, the offense covered their end of the bargain by putting on an offensive display on Sunday Night Baseball. The most productive moment of their week, however, may have been when they designated eight-time All-Star Robinson Canó for assignment, eating nearly $40 million by doing so. Tylor Megill has emerged as an elite middle-of-the-rotation arm, Jeff McNeil could win a batting title, and the New York Mets could…wait for it…legitimately win the World Series.
3. Toronto Blue Jays (Previous Ranking: 2)
If Buehler and Kershaw aren't the best one-two punch in a starting rotation right now, then that title belongs to Kevin Gausman and Alek Manoah. Those two have combined for 66 strikeouts and just 12 earned runs in 56 2/3 innings so far this year, with Gausman having punched out 41 and has yet to allow a walk or a home run. The offense is still as potent as advertised, with George Springer's .921 OPS leading the charge.
4. New York Yankees (Previous Ranking: 11)
The hottest team in the game and winners of nine in a row now own the best record in baseball at 16-6. The tandem of Anthony Rizzo and Aaron Judge are the most prolific power couple (both men are happily married) in Major League Baseball, combining for 17 home runs, 37 runs driven in, and are both sporting an OPS over 1.000. The pitching, meanwhile, has been excellent; both Nestor Cortes and Jordan Montgomery are sporting sub-3.00 ERA's in the rotation, while relievers Michael King and Clay Holmes have combined to allow just two earned runs in 25 1/3 innings of work.
5. San Francisco Giants (Previous Ranking: 3)
One of the two top scoring offenses in all of Major League Baseball entering play on Monday, the Giants are again killing opponents slowly with overwhelming depth, including Minor League journeyman Jason Krizan. On the hill, Carlos Rodón is pitching like a Cy Young candidate, striking out 38 hitters and allowing just three earned runs in 23 innings pitched.
6. Los Angeles Angels (Previous Ranking: 9)
The Angels ripped off six wins in a row last week, including a clean four-game sweep of the Guardians in Anaheim. Mike Trout has been outstanding, which makes all the sense in the world. Where the true revelation lies is in Taylor Ward; the 28-year-old outfielder is hitting .390 with a 1.239 OPS through his first 16 games of the year. On the hill, the trio of Patrick Sandoval, Noah Syndergaard, and Michael Lorenzen look incredibly sharp through their first couple of starts.
7. San Diego Padres (Previous Ranking: 13)
The Tatis-less Padres entered play on Monday tied with the Giants for the most runs scored in all of baseball. Eric Hosmer, though not sustainable, is hitting an absurd .382. Manny Machado is playing like the National League MVP, slashing .375/.440/.591. Joe Musgrove looks like an ace, walking just two hitters in 32 innings and logging a sub-2.00 ERA. And, how can we not mention MacKenzie Gore's incredible start to his big league career? This team, despite preseason concerns, will be just fine while their generational talent's wrist heals.
8. Houston Astros (Previous Ranking: 7)
Justin Verlander did not invite Father Time to the cookout. While the 39-year-old throws to a sub-2.00 ERA, 28-year-old Framber Valdez continues to morph into a top-flight 2-man behind the future Hall-of-Famer. Chas McCormick, Michael Brantley, and Jeremy Peña have had strong starts to the year, but Yordan Álvarez is quickly proving that he's one of the very best hitters in the game.
9. Tampa Bay Rays (Previous Ranking: 8)
Shane McClanahan continues his ascension to becoming the next Tampa Bay ace to rise from obscurity, carving through opposing lineups every fifth day. Once Shane Baz returns from his elbow issues, "The Shane's" will become the hottest ticket in St. Pete. Wander Franco is proving his worth in his sophomore season, hitting .313 through his first 20 games.
10. Atlanta Braves (Previous Ranking: 5)
Aside from the corner infield duo of Austin Riley and Matt Olson, the offense as a collective has drastically underperformed. Getting Ronald Acuña Jr. back helps, but Ronald has come out of the gates incredibly slow over his first three games. Kyle Wright's 1.13 ERA and 34/6 K/BB Ratio through his first four starts is no fluke, but this rotation seems to lack depth behind him and Max Fried.
11. Seattle Mariners (Previous Ranking: 14)
The "JRod Show" finally arrived on Sunday afternoon, when top prospect Julio Rodriguez blasted a 450-foot shot to left-center field on a 97 mile-per-hour sinker form Marlins ace Sandy Alcantara. Logan Gilbert dazzled through the first month, capped off by being named MLB's AL Pitcher of the Month in April. The Mariners offense has yet to truly transform into the juggernaut that we were hoping for, but J.P. Crawford and Ty France's torrid starts have this offense starting to simmer.
12. Milwaukee Brewers (Previous Ranking: 15)
The rough start to the season for the starting rotation is long behind the best staff in baseball. Eric Lauer is punching out 13 guys in prime time, Corbin Burnes looks primed to repeat his Cy Young candidacy, and the offense has gone from brutally horrible to brutally below-average.
13. St. Louis Cardinals (Previous Ranking: 10)
Nolan Arenado is making Busch Stadium look like Coors Field! I'll see myself out.
In all seriousness, Arenado is swinging the bat like a top-five player in baseball at the moment. The beauty of the Cardinals offense this year is that Arenado is getting help from all directions. Glove-first Tommy Edman is sporting an .891 OPS, while Paul Goldschmidt is pumping out a .296 average through the first month of the season. We still have our concerns with their pitching staff, but Miles Mikolas' first month and Ryan Helsley's 103 mile-per-hour heater have quelled them for a brief moment.
14. Chicago White Sox (Previous Ranking: 6)
The White Sox and Red Sox share the title of this week's largest droppers. With Chicago, it's all reliant on depth and health. Dylan Cease looked untouchable on Monday against the Angels, fanning 11 in seven innings of one-hit ball. Andrew Vaughn has had an exceptional start to the season, while Tim Anderson and Luis Robert are contributing effectively. Aside from that, where's the help? It's on the Injured List.
15. Miami Marlins (Previous Ranking: 17)
The Marlins continue to gradually ascend on these rankings. An 8-2 record over their past 10 games is a testament to the immense growth they've seen in the starting rotation, with Jesús Luzardo stepping up and Pablo López earning National League Pitcher of the Month in April. Jazz Chisolm Jr. has proven to be electrifying, but this offense lacks some complementary firepower at the moment.
16. Minnesota Twins (Previous Ranking: 21)
If any team were to get motion sickness from their movement on this list, Minnesota's the one. An incredibly rough start offensively, Sonny Gray headed to the I.L, and Byron Buxton with another legitimate injury scare plummeted their stock. Now, the Twins are 9-1 in their last 10 games, the bats are all starting to heat up, and Joe Ryan is pitching like a true ace and the American League Rookie of the Year.
17. Philadelphia Phillies (Previous Ranking: 16)
If we could only use one part of the slash line to measure this offense's production, it'd probably be slugging percentage. The good news is, Philly ranks fourth best in all of baseball in slugging. The bad news? They have a bottom-10 staff ERA in all of baseball. The Phillies needed Zack Wheeler and Aaron Nola to both pitch like top-10 pitchers in the game this year. Neither is doing so.
18. Colorado Rockies (Previous Ranking: 19)
Colorado's fall back down to earth halted before they touched the ground. Randal Grichuk, Connor Joe, and slugger-extraordinaire C.J. Cron have paced this offense through a 5-5 stretch and through three wins in a row. The pitching is starting to deteriorate, but we knew that was going to happen. Hold on hope for these bats, even with Kris Bryant on the shelf.
19. Cleveland Guardians (Previous Ranking: 18)
Even in what seems like a rough start, Guardians pitching has been some of the best in baseball. Shane Bieber, albeit down nearly two miles-per-hour on his fastball from his previous career-low, hasn't allowed a home run in nearly 30 innings of work. Triston McKenzie is sporting a sub-3.00 ERA, while Cal Quantrill's 3.27 isn't far behind. Steven Kwan has started to reach even water, but José Ramirez is still swinging one of the hottest bats in baseball, and Myles Straw continues to rake through the early goings.
20. Boston Red Sox (Previous Ranking: 12)
What a fall from grace. Boston's 3-7 over their last 10 games, and they're getting close to zero production from hitters not named Xander or Rafael. Nathan Eovaldi has been great, Michael Wacha has been surprising, and Garrett Whitlock has been the best fireman in the game, but this team needs Chris Sale back. Badly.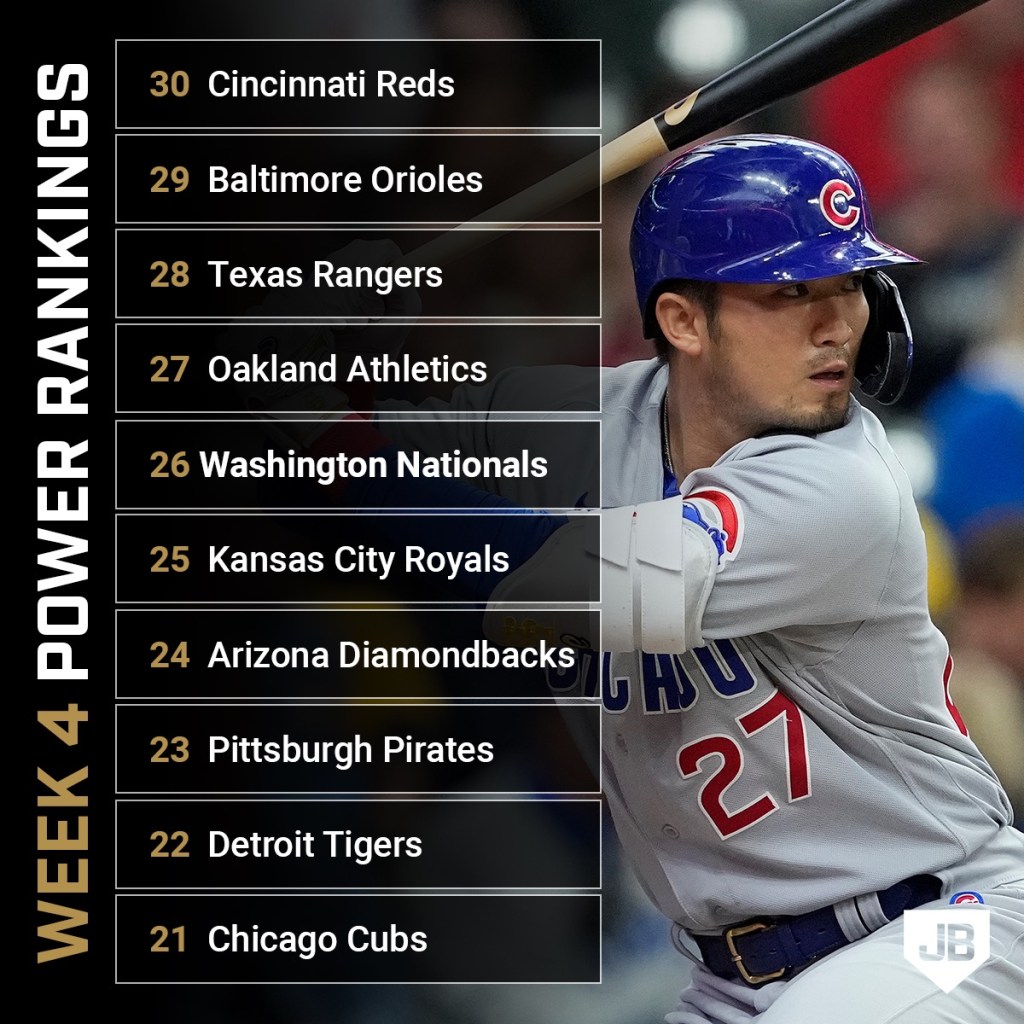 21. Chicago Cubs (Previous Ranking: 20)
I'm ready to sharpie Seiya Suzuki into the National League Rookie of the Year slot. He's been as advertised, and more. Their pitching, however, has been as advertised in the worst way. Kyle Hendricks, Marcus Stroman, and Justin Steele all have ERA's north of 5.00, and it wouldn't be at all shocking if they stayed above 5.00 through the All-Star Break.
22. Detroit Tigers (Previous Ranking: 22)
Among players with 10 or more games played this year, their three offseason acquisitions (Javier Báez, Austin Meadows, and Tucker Barnhart) are their three best contributors, OPS-wise. Aside from that, the bats have next to nothing to show for themselves, aside from Miguel Cabrera's 3,000th hit. The bullpen is the best by ERA in all of Major League Baseball, but they're a moot point if they're already down 5-2 by the time the sixth inning rolls around.
23. Pittsburgh Pirates (Previous Ranking: 24)
Ke'Bryan Hayes and lead-off man extraordinaire Daniel Vogelbach have been swinging hot bats, but that's all this offense has to show for the first month of the season. Will Crowe and David Bednar are great in the bullpen, but Brubaker and Keller aren't giving them leads to hold. This could be a long year.
24. Arizona Diamondbacks (Previous Ranking: 29)
The tandem of Merrill Kelly and Zac Gallen at the top of the rotation may not be entirely flukey. The two of them have combined to allow just seven earned runs in 49 2/3 innings, each owning an identical 1.27 ERA. The offense, however, lacks any firepower whatsoever.
25. Kansas City Royals (Previous Ranking: 26)
Andrew Benintendi has been one of the better bat-to-ball hitters in the American League through the first 20 games, but his hot start has been tranquilized by every other contributor doing hardly any contributing. Adalberto Mondesi suffering a torn ACL is a severe blow to the possible dynamic nature of the offense, and the pitching is borderline worst in baseball.
26. Washington Nationals (Previous Ranking: 23)
A mediocre start to the year has turned into a 2-8 record over their past 10 games. The pitching staff, as a collective, is one of two in the game with an ERA over 5.00 at this point. I feel bad for Juan Soto.
27. Oakland Athletics (Previous Ranking: 25)
The A's have come back down to the new, lower level of earth that their offense is maxed out at reaching. Oakland's lost four games in a row, and the pitching staff is battling with Kansas City and Texas for the least inspiring in Major League Baseball.
28. Texas Rangers (Previous Ranking: 27)
The team that can hit and cannot pitch. Marcus Semien has had a brutal start to the year, hitting .149 with a .431 OPS, and is without a home run in his first 22 games of the regular season. Might I recommend venturing a bit north and catching some Jack Leiter starts for the Frisco RoughRiders?
29. Baltimore Orioles (Previous Ranking: 28)
We may not want to admit it, but the pieces look like they may be slowly coming together. The biggest news comes down on the farm; top prospect Adley Rutschman and top left-hander D.L. Hall have been assigned to start their rehab assignments with Double-A Bowie, and Grayson Rodriguez continues to carve through Triple-A hitters, striking out 33 and walking just five in 21 2/3 innings.
30. Cincinnati Reds (Previous Ranking: 30)
This team has already allowed more runs than anyone else in Major League Baseball, and they're an M.J. Melendez grand slam away from being the lowest scoring offense in Major League Baseball. It. Is. Not. The. Reds'. Year. I'm sorry, Clay Snowden.