Analysis
Kyle Wright Has Figured It Out
The Braves former top prospect has looked noticeably improved this season and is now looking like a fixture in their rotation moving forward.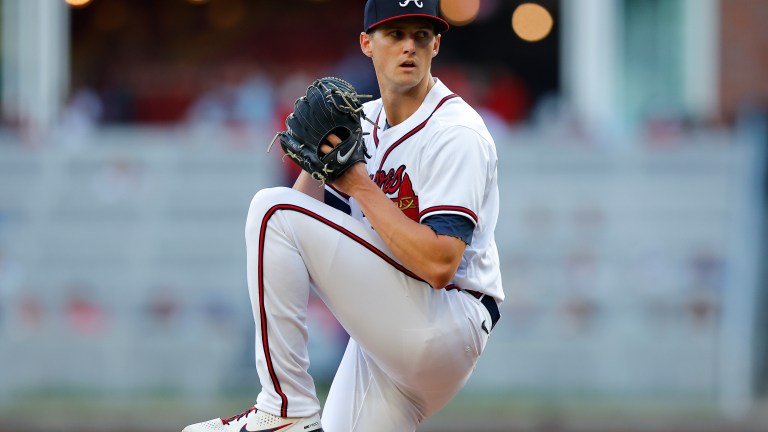 When the Atlanta Braves selected right-hander Kyle Wright fifth overall in the 2017 MLB Draft out of Vanderbilt University, they believed they were getting a potential impact starter who could climb through the minor leagues quickly.
Wright showed his polish out of the gate, pitching his way to his big league debut a little over a year after he heard his name called for a cameo at the end of the 2018 season. A brutal Spring Training in 2019 and three consecutive poor starts to open up the regular season resulted in Wright heading back to Triple-A.
Solid Triple-A numbers in 2019 and a chaotic abbreviated 2020 season, where no team could have too much pitching, resulted in Wright's longest MLB tenure to date, however the then 24-year-old struggled to get outs. Wright struggled to put hitters away, surrendering seven homers and 24 walks in 38 innings.
It was more of the same in 2021 for Wright, posting the best numbers of his professional career in Triple-A, but with similar struggles in limited action for the Braves. Understandably, doubt continued to cloud Wright's future as the former top prospect just could not put it together at the highest level. Well, until this season.
Wright has looked like a different pitcher through his first three starts this season, pitching to a 1.06 ERA while punching out 26 batters against just two walks in 17 innings. Beyond the impressive numbers and much improved command, Wright seems to have figured out how to maximize his stuff.
Improved Curveball
Prior to 2022, Wright had gone to his curveball less than 15% of the time at the MLB level, leaning on his slider as his out pitch. The slider was effective in getting swings and misses at times, but also was a lightning rod for loud contact when he missed his spots with it.
Wright's inconsistency with his slider largely contributed to his inconsistency overall and now in his fifth big league stint, we have seen the 26-year-old phase out the slider in favor for his new-looked curve.
Wright's curveball is now his most used pitch with his slider being thrown the least. This isn't the same curveball that Wright has flashed in previous seasons, hence the 34% usage. Wright has tightened up his curveball throwing it about 4 mph harder, while still maintaining plenty of movement.
Generally when curveballs are thrown harder, the vertical and horizontal break of the pitch takes a major hit, but Wright's breaking ball still features more than desirable break at now a much higher velocity.
Despite the velo jump, Wright has lost just five inches of vertical drop and two inches of horizontal sweep, and according to Baseball Savant, his curveball moves horizontally 2.3 inches more than other curveballs at the same velocity. Based on the velocity and movement profile, Wright's curve aligns with Corbin Burnes and Lance McCullers.
Of pitchers who have thrown their curveball at least 50 times this season, Wright ranks fourth in whiff rate at 42.9%, trailing only Josiah Gray, Jesus Luzardo and Corbin Burnes. Even more impressive, opponents are hitting just .125 without an extra base hit against the offering this season.
Improved Command and Velocity
The jump in velocity was most evident with Wright's curveball, but his fastball ticked up by more than 1 mph and the right-hander has massively improved his command of both his four-seam and two-seam heaters.
Starting with the four-seamer, Wright has been getting more whiffs on the pitch then ever before. Wright's sharper curve tunnels with his fastball incredibly well, allowing the heater to play much better at the top of the zone.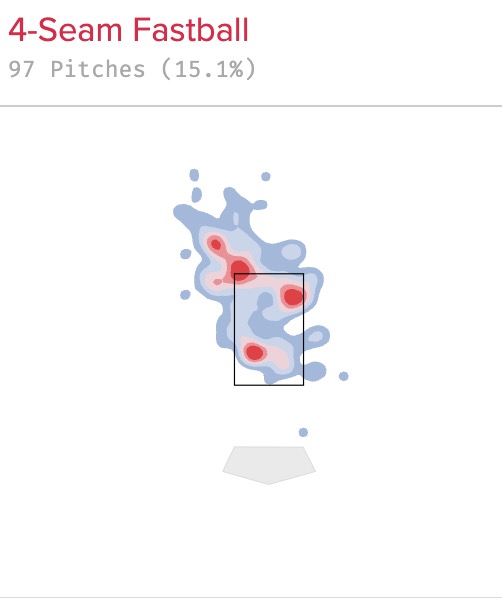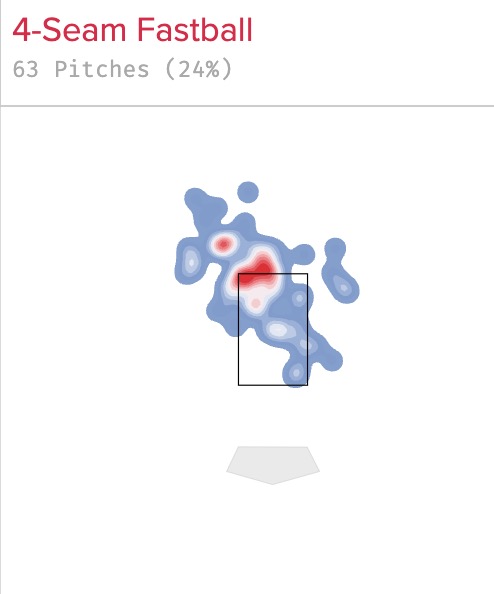 As you can see in the two graphics above, Wright has been more surgical with his fastball location in 2022. His arsenal tweaks and uptick in velocity allow for the heater to be more effective when elevated and he is trusting it. It is no coincidence that Wright's whiff% on his fastball has more than doubled from his career mark this year thanks to an improved ability to tunnel his arsenal with the increase in velocity.
Tunneling
FanGraphs eloquently defines the concept of tunneling as, "The idea that two different pitches fly down the same trajectory long enough to look nearly identical through the point when a hitter must decide whether, or not, to swing."
Essentially, the goal of "tunneling" is to make it as difficult as possible for a hitter to differentiate what type of pitch is flying his way as the back-to-back different types of pitches would fit inside of the same approach "tunnel" up until the ball is around 28 feet away from home plate. Wright's improvements have allowed him to maximize this desired phenomenon.
Along with an arsenal that tunnels off of itself much better thanks to adaptations to pitch usage and movement, Wright has also altered his vertical attack angle. Wright is now throwing from a lower release point, helping maximize that desired perceived rising action to his four-seamer.
After having his two-seamer was bludgeoned by left-handed hitters in the big leagues, Wright has exclusively thrown the pitch to right-handed hitters this season. Again citing the improved ability to tunnel, Wright's two-seamer and changeup both featured heavy arm side run with only 5-6 mph of separation, allowing lefties to hunt pitches down in the zone. While theoretically those pitches would tunnel well, it doesn't help when they both break in the same direction with limited separation in velocity.
Now, Wright sets up lefties with the elevated four-seamer and has successfully tunneled his curveball and changeup off of the pitch. Coming into this season, left-handed hitters had an OPS over .900 against Wright, while righties hovered in the low .700s. So far this season, lefties are just 2-for-26 with a .227 OPS and while those ridiculous numbers may not hold up, the Braves pitcher has never had a stretch that good against opposite-handed hitters in his entire career.
Yes, this is a lot to draw from just three starts and a shortened spring training, but the tangible adjustments are too much to ignore. Aside from the fact that Wright has never had a three start stretch this impressive at the highest level, Wright has adjusted the characteristics and usage of his pitches, seen his velocity rise and adjusted his attack angle.
All things considered, I am buying the early breakout from Kyle Wright and while the 26-year-old may not keep his ERA below 2.00 for the entire season, the Braves may have their latest homegrown fixture to their starting rotation, albeit a little bit later than everyone thought.