Rankings
Fantasy Baseball Rankings: Top 10 Shortstops for 2023
Superstar shortstops like Trea Turner and Bo Bichette are some of the best picks you can make for your fantasy team in 2023.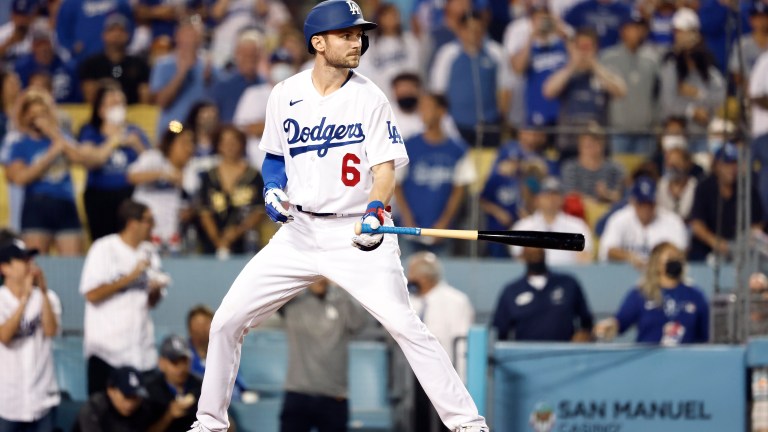 1. Trea Turner – Philadelphia Phillies
2022 Stats: .298/.343/.466, 21 HR, 101 R, 100 RBI, 27 SB
ADP: 2
Not just the #1 ranked shortstop, Trea Turner can be considered a worthy selection at #1 overall. The speedster has averaged 29.5 steals over the last two seasons and has eclipsed 20 home runs in back-to-back years.
The power did take a hit last season, but my belief is that was indicative of the ball more than true power decline. A move to Philly from the Dodgers shouldn't impact his run and RBI output. He's a perennial .300+ hitter with value in all categories. Draft with confidence.
2. Bobby Witt Jr. – Kansas City Royals
2022 Stats: .254/.294/.428, 20 HR, 82 R, 80 RBI, 30 SB
ADP: 10
The 22-year-old Witt really held his own in his rookie season, as he hit .254 with 20 HR and 30 SB. Fun fact, he's the second rookie in MLB history to have at least 20 HR and 30 SB. Mitchell Page did it first back in 1977 for the Oakland A's.
The question for Witt entering his second season will be whether he can improve his power and average output. He hit 33 home runs across Double-A and Triple-A in 2021 with an average near .300, but he'll have to raise his hard-hit rate and barrel rate to make that happen. Drafting Witt in the back of the first round or early in the second round is a fine selection!
3. Bo Bichette – Toronto Blue Jays
2022 Stats: .290/.333/.469, 24 HR, 91 R, 93 RBI, 13 SB
ADP: 15
Bichette came into 2022 as a consensus top-10 fantasy player and for the first half of the season was wildly disappointing. He hit just .257 as his strikeout rate ballooned to 24% and was only successful stealing on 7 of his 13 attempts.
Bichette made an adjustment at the break and had one of the best second halves in all of baseball. His strikeout dipped to 19% as he hit .337 with 10 HR and 6 stolen bases (only caught twice). His 52.6% hard hit rate was sixth in all of baseball. If Bichette returns to his second half ways for the entire 2023 season, there could be a case for taking him above Bobby Witt Jr., but the questions about his stolen base upside are lingering. Target Bichette with confidence at the end of the first round and early in the second round.
4. Fernando Tatis Jr. – San Diego Padres – ADP 17
2022 Stats: NA
ADP: 17
The short answer? A healthy Fernando Tatis Jr. could be the best overall fantasy baseball player in the game.
You can't find another player with 40 HR and 30 SB upside on the board, but the issue is that it comes with somewhat significant injury risk. Players coming back from a torn labrum tend to see a decrease in power as Jeff Zimmerman notes below, but none of the players mentioned have the skillset of Tatis.
If there is a player on the board that could produce like a first rounder outside of the first round, Tatis is the guy. I'll leave the risk assessment up to you.
5. Francisco Lindor – New York Mets
2022 Stats: .270/.339/.449, 26 HR, 98 R, 107 RBI, 16 SB
ADP: 31
You cannot go wrong drafting Lindor. After a disappointing debut with the Mets in 2021, Lindor bounced right back in 2022 producing one of his best seasons ever. Lindor's 22 stolen base attempts last season were his most since 2019. Hitting third in a stacked Mets lineup makes his profile very high-floor. A perfect mix of power and speed makes him a great pick in the top 30.
6. Corey Seager – Texas Rangers
2022 Stats: .245/.317/.455, 33 HR, 91 R, 83 RBI, 3 SB
ADP: 60
Can a player that hit 33 HR in 2022 really be a bounce-back candidate? The answer is yes.
Corey Seager's wOBA ranked 61st among qualified hitters last year, but his xwOBA ranked ninth. Seager had maintained a batting average on balls in play over .300 in each of his first seven seasons before putting up an abysmal .242 BABIP last year, which led to a .247 average overall. Sometimes the baseball gods have it out for you and they definitely had it out for Seager last year.
Despite this, he eclipsed 30 HR for the first time in his career. I'm expecting Seager's average to regress towards his expected batting average of .285 last year, which would immediately make him a top-40 fantasy player and a steal at his current price. Make drafting Seager a priority at his current ADP and even above his current ADP.
7. Oneil Cruz – Pittsburgh Pirates
2022 Stats: .233/.294/.450, 17 HR, 45 R, 54 RBI, 10 SB
ADP: 70
Oneil Cruz has one of the highest ceilings in baseball. He owns the record for the hardest hit ball in MLB history at 122.4 MPH off the bat, and his 15.5% barrel rate ranked 11th in baseball last year. When Cruz makes contact, good things happen. Contact is the issue though.
Cruz struck out 35% of the time last year, which really hinders his average upside and his production across the board. There was glimpse of hope for Cruz though as his K rate decreased to 18% across his last 66 plate appearances of the season, so it's something he's cognizant of and is working to improve.
Cruz is a buy at his current price as a player with 30 HR+ and 20+ SB upside who should be hitting atop the Pirates' lineup. Even if he doesn't squash the strikeouts, his profile should deliver a ton of fantasy value.
8. Dansby Swanson – Chicago Cubs
2022 Stats: .277/.329/.447, 25 HR, 99 R, 96 RBI, 18 SB
ADP: 78
Swanson parlayed a career year into a seven year deal with the Cubs. He proved his 27 HR campaign in 2021 was not a fluke with 25 HR last year behind a career high 46% hard-hit rate. He also stole a career-high 18 bags.
Swanson is a high-floor option, and even though he's leaving the Braves' loaded lineup, the Cubs' lineup still offers him plenty of RBI and run upside. Draft Dansby with confidence.
9. Wander Franco – Tampa Bay Rays
2022 Stats: .277/.328/.417, 6 HR, 46 R, 33 RBI, 8 SB
ADP: 86
Franco is one of the best pure hitters in baseball and was one of three hitters with a strikeout rate under 10% last season. Steven Kwan and Luis Arraez were the other two. For reference, Kwan hit .298 and Arraez hit .315, so players with Franco's profile are near locks to hit above .300.
Franco dealt with a wrist injury for much of last year, which could be a reason we didn't see his power develop. Entering his age-22 season, it's fair to assume that Franco takes a step forward in the power department while mixing in 10+ steals. He's an amazing high floor option who will compete for a batting title.
10. Tim Anderson – Chicago White Sox
2022 Stats: .301/.339/.395, 6 HR, 50 R, 25 RBI, 13 SB
ADP: 90
Talent has never been the concern for Anderson, who has hit above .300 in four straight seasons. The issue is he has not played more than 123 games in a season since 2018. On a per-game basis, Anderson rates as a near top-50 fantasy player with a great combo of power and steals.
Entering his age 30 season, it's tough to trust Anderson to stay on the field, so while the upside is there, I am going to stay with so many other incredible shortstop options available.