Rankings
2022 Fantasy Baseball First Base Rankings
Just Baseball's rankings of the top fantasy baseball first basemen for the 2022 season.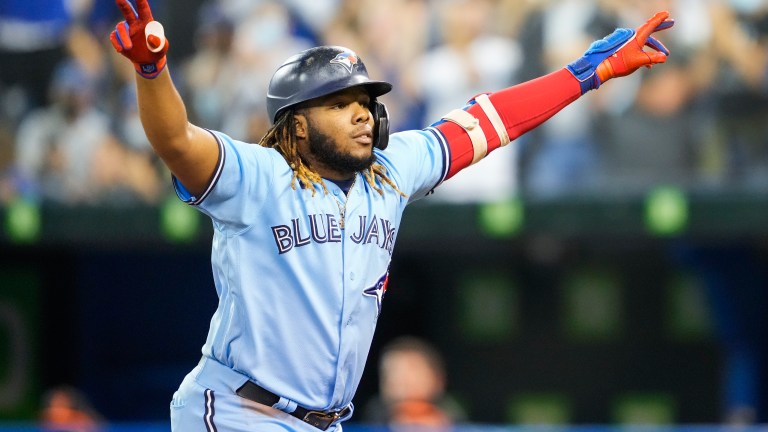 Last week, we kicked off our fantasy baseball positional rankings with catchers, giving you insight on the backstop options you should be considering when drafting this year. Now it is time to take a look at one of the real premium offensive positions in fantasy baseball, first base.
Below you'll find Just Baseball's first base rankings for fantasy baseball. Rankings are done in accordance with 5×5 scoring, meaning batting average, home runs, runs, runs batted in and stolen bases are the only stats taken into account for scoring.
| | | |
| --- | --- | --- |
| Rank | Player | ADP |
| 1 | Vladimir Guerrero Jr. | 6 |
| 2 | Freddie Freeman | 20 |
| 3 | Matt Olson | 44 |
| 4 | Pete Alonso | 50 |
| 5 | Paul Goldschmidt | 55 |
| 7a | Jared Walsh | 116 |
| 7b | Jose Abreu | 75 |
| 8 | Max Muncy | 148 |
| 9 | Ryan Mountcastle | 109 |
| 10 | Josh Bell | 131 |
| 11 | Ty France | 140 |
| 12 | Rhys Hoskins | 138 |
| 13 | Joey Votto | 149 |
| 14 | C.J. Cron | 127 |
| 15 | Trey Mancini | 187 |
| 16 | DJ Lemahieu | 112 |
| 17 | Anthony Rizzo | 176 |
| 18 | Brandon Belt | 228 |
| 19 | Yuli Gurriel | 199 |
| 20 | Alex Kirilloff | 175 |
| 21 | Spencer Torkelson | 261 |
| 22 | Jonathan Schoop | 198 |
| 23 | Nate Lowe | 241 |
| 24 | Frank Schwindel | 229 |
| 25 | Luke Voit | 268 |
| 26 | Rowdy Tellez | 328 |
| 27 | Bobby Dalbec | 228 |
| 28 | Jesus Aguilar | 289 |
| 29 | Eric Hosmer | 365 |
| 30 | Miguel Sano | 267 |
| 31 | Nick Pratto | 540 |
1. Vladimir Guerrero Jr. – Toronto Blue Jays – ADP: 6
2021 Fantasy Slashline: .311 AVG / 48 HR / 123 R / 111 RBI / 4 SB / 698 PA
There is no question about it, Vladdy is the best first basemen in fantasy baseball by a wide margin, but is he deserving of his current draft position in the middle of the first round?
The short answer is yes.
Although he won't provide you with much by way of stolen bases, which should be a focus for fantasy owners in the first few rounds, he finished as the most valuable fantasy hitter in 2021 and a repeat of last year's numbers will make his cost more than worth it.
Guerrero Jr. did everything right in his third major league season and having not turned 23 yet, there is still room for improvement. The biggest step he took was decreasing his ground ball rate, which no longer capped his home run potential. Behind the fourth-highest hard hit rate in baseball, Vlad launched 48 home runs. While he did take advantage of the launch pads of Dunedin and Buffalo in the first half, Vlad still hit 20 bombs in the second half, proving his power potential is nearly unlimited. He's worthy of his current draft position and is the perfect building block for any team. Just make sure to grab some speed after taking Vlad.
2. Freddie Freeman – Los Angeles Dodgers – ADP: 20
2021 Fantasy Slashline: .300 AVG / 31 HR / 120 R / 83 RBI / 8 SB / 695 PA
Freddie Freeman really signed with the Death Star, huh. Well, it is what it is, and he's going to rake like he always does.
He's hit over .300 in five of the last six seasons and has stolen more than six bags in the last five.
He's currently being drafted as a second rounder, and is one of the safest bets to produce at that level. He checks every single box and whether he stays a Brave or goes elsewhere, it's easy to believe that he'll inch closer to 100 RBI next season. He's locked in at his current draft position. Draft him with ease.
3. Matt Olson – Oakland Athletics – ADP: 44
2021 Fantasy Slashline: .270 AVG / 39 HR / 101 R / 111 RBI / 4 SB / 673 PA
While Freddie Freeman is stuck in limbo on the free agent market, Matt Olson is dangling on the trade block, awaiting a deal that will likely send him away from Oakland as the A's tear it all down. After a season like this from Matt Olson, it's fair to question if this is the peak, but the underlying numbers even point to this being below what Olson could eventually produce, especially in a non-A's uniform.
The Oakland Coliseum, where the A's play their home games, is the worst hitter's ballpark according to Baseball Savant Park Factors.
With an increase in his home run per fly ball rate, which was below 20%, Olson could reach close to 50 home runs. By comparison, Vlad Guerrero Jr.'s HR/FB% was 26.5%, so an increase towards 25% could catapult Olson's numbers into another echelon. Olson won't give you a .300 average, but at the price, he may be a better value than Freeman currently.
4. Pete Alonso – New York Mets – ADP: 54
2021 Fantasy Slashline: .262 AVG / 37 HR / 81 R / 94 RBI / 3 SB / 637 PA
Remember when Pete Alonso hit 53 home runs and drove in 120 runs? That was just three short years ago in 2019, and despite lower run and RBI totals in 2021, we're expecting Alonso to creep back towards 50 home runs in 2022.
It's no secret that the Mets lineup was anemic last year and with the addition of Starling Marte, the Mets lineup is in a much better position to score runs this season.
Alonso's batted ball profile has only improved since 2019, as he's increased his hard hit rate and decreased strikeouts, leading us to believe he's a lock for 40+ home runs and 100+ runs and RBI. At his current average draft position of 54, he's a great value and could put up even better numbers than Matt Olson.
5. Paul Goldschmidt – St. Louis Cardinals – ADP: 50
2021 Fantasy Slashline: .294 AVG / 31 HR / 102 R / 99 RBI / 12 SB / 680 PA
Paul Goldschmidt is about as easy to project as any player in baseball. He's had a batting average above .290 in eight of the last nine seasons and has hit 30 or more home runs in the last four seasons, excluding 2020. His 12 steals in 12 attempts last season were his most since 2017, when he stole 18 bags, which is a huge value add for a first basemen. The shortened 2020 season could have given him the rest he needed to return to swiping bags, and while some regression in the steals department is likely, Goldy is locked in to produce similar numbers to last season.
7a. Jose Abreu – Chicago White Sox – ADP: 75
2021 Fantasy Slashline: .261 AVG / 30 HR / 86 R / 117 RBI / 1 SB / 659 PA
Jose Abreu gets the job done. He's eclipsed 100 RBI in six of seven full seasons and hit 30 or more home runs in five out of seven seasons. He's coming off one of his best years yet, and despite entering his age-35 season, there is no reason to envision Abreu slowing down any time soon.
He's firmly entrenched in the four spot in a White Sox lineup that will be one of the most loaded in all of baseball. There will be many opportunities to drive runners in with Luis Robert, Yasmani Grandal, Tim Anderson, and Eloy Jimenez hitting in front of him on a regular basis, so the expectation for Abreu to reach 120 RBI again is within reach.
7b. Jared Walsh – Los Angeles Angels – ADP: 116
2021 Fantasy Slashline: .277 AVG / 29 HR / 70 R / 98 RBI / 2 SB / 585 PA
Walsh busted onto the scene in 2020 with nine homers in 32 games and backed it up in 2021 with a full season of great numbers. There is a lot of hype surrounding Walsh and for good reason, he hit .333 with a .994 OPS against righties last year and with the imminent return of Mike Trout and Anthony Rendon, Walsh could have even more RBI chances this season.
The one issue with Walsh is his inability to hit well against lefties. He managed just a .170 average against southpaws last season, but that seems below what Walsh is capable of and with an offseason to make adjustments, Walsh should hit lefties better in 2022. Regardless, fantasy players should expect 30 HR and more than 100 RBI from Walsh next season, but some regression in the batting average department is likely.
8. Max Muncy – Los Angeles Dodgers – ADP: 148
2021 Fantasy Slashline: .249 AVG / 36 HR / 95 R / 94 RBI / 2 SB / 592 PA
Muncy is one of fantasy's biggest question marks leading into this season. Due to the lockout, very little information is being reported on the current status of Muncy's torn UCL. The last report, which was given on November 29th, indicated that Muncy was healing slower than expected. That's not exactly encouraging, but with that report three months in the rearview, the hope is for Muncy to be ready to go for Opening Day, whenever that may be.
Injury status aside, Muncy is the definition of consistency when on the field, hitting 35 or more home runs in three full seasons with the Dodgers. If healthy next season, it's fair to expect a similar pace in home runs from Muncy and with the Dodgers always pushing out one of baseball's top offenses, Muncy will near 100 runs and RBI yet again. He's a risky pick with little known about his injury status, but he could be a steal at his current average draft position at 148.
9. Ryan Mountcastle – Baltimore Orioles – ADP: 109
2021 Fantasy Slashline: .255 AVG / 33 HR / 77 R / 89 RBI / 4 SB / 586 PA
Ryan Mountcastle made his mark in his rookie season last year, blasting 33 home runs, 19 of which came in the second half. With most of his contact being put into the air, there is a chance for Mountcastle to reach new heights in his second season and owners should be comfortable with him producing 30 HR easily. The Orioles lineup could improve slightly with Adley Rutschman coming up and that could give Mountcastle even more RBI and run upside as well.
10. Josh Bell – Washington Nationals – ADP: 131
2021 Fantasy Slashline: .261 AVG / 27 HR / 75 R / 88 RBI / 0 SB / 568 PA
Josh Bell hits the ball harder than most players in baseball. He finished in the 92nd percentile or better in average exit velocity, max exit velocity, and hard hit rate. He's not a boom-or-bust guy, as he sprayed balls to all fields last year and his strikeout and walk rates were very encouraging. His expected stats were even better than his standard stats.
The issue with Bell is that he hits too many ground balls, which caps his power potential and shines doubt on him ever reaching 37 home runs like he did in 2019, unless he makes an adjustment and hits more balls in the air. The other thing capping Bell's fantasy production is a putrid Nationals' lineup, who really only has Juan Soto and Keibert Ruiz as above average hitters in addition to Bell. The plus is that pitchers should have to pitch to Bell with Soto hitting in front of him, but his RBI and run upside is severely limited.
All in all, Bell has the upside to hit 35 home runs and should be a solid contributor in batting average, but don't expect 100 runs and RBI from him.