Rankings
Fantasy Baseball Top 10 First Basemen
Vlad Guerrero Jr. Freddie Freeman, Pete Alonso and Paul Goldschmidt headline one of the most productive positions in fantasy baseball.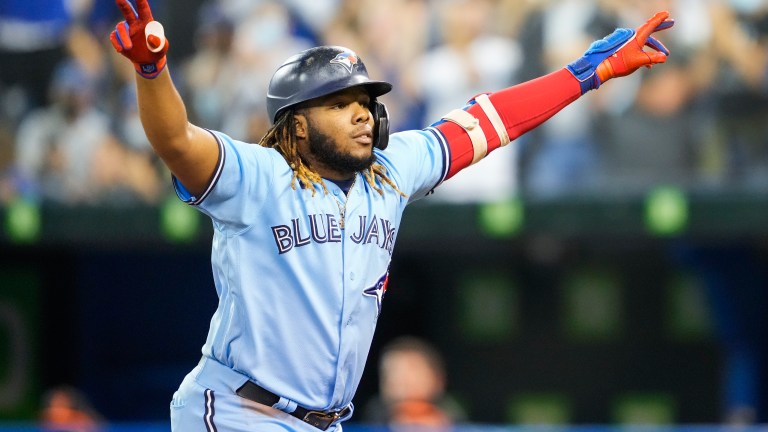 The next installment of our fantasy rankings brings us to first base. Big mashers, budding stars, and a few greying vets. A position that has depth, but passing up on one of the elite options at the top of the draft will be difficult.
For more in-depth breakdowns, check out the Just Fantasy Baseball podcast on YouTube or your favorite podcast platform.
1. Vladimir Guerrero Jr. – Toronto Blue Jays
2022 Stats: .275/.339/.480, 32 HR, 90 R, 97 RBI, 8 SB
ADP: 11
Matching his 2021 numbers always seemed like a pipe dream. Not because it was a fluke, because it was that special. In 2022, Vlad still managed to put up numbers that deserve our number one spot, and 2023 could be even better. Toronto has a fantastic team around him leading me to believe his 50% hard hit rate can once again produce more than 100 runs and RBI.
The concern with last season was how much he hit the ball into the ground. A 52% groundball rate is far too high and could really cut into his power numbers. We saw a tick up in breaking balls, by far his biggest weakness where he hit .241. We know the talent, and at only 24 years old the Vlad's best baseball is still in front of him.
2. Freddie Freeman – Los Angeles Dodgers
2022 Stats: .325/.407/.511, 21 HR, 117 R, 100 RBI, 13 SB
ADP: 12
Freeman has been one of the best pure hitters at first for almost a decade. A high-walk, low-strikeout hitter with up-and-down power. Last season, Freeman tied a career-low in home runs to fly balls at only 12% causing a dip the power department. A player of his caliber with an elite approach who still hits the ball hard enough to tap into 30 long balls.
Run production should not be an issue batting near the top of the Dodgers lineup. Freeman has a good bill of health, playing in at least 158 games each of the past four full seasons. The 13 stolen bases also marked a career-high, which is important for a position where steals can be tough to come by.
3. Pete Alonso – New York Mets
2022 Stats: .271/.352/.518, 40 HR, 95 R, 131 RBI, 5 SB
ADP: 19
What's not to love about Pete Alonso, the Home Run Derby King? You can pencil him in for 40 home runs, a respectable average, and over 100 RBI. Alonso has also improved over the past few years into a better overall hitter, dropping his strikeout rate for the fourth-straight season.
Alonso graded out favorably against just about every type of pitch he saw. I cannot find a glaring hole in his game. Easily worth his top 20 ADP.
4. Paul Goldschmidt – St. Louis Cardinals
2022 Stats: .317/.404/.578, 35 HR, 106 R, 115 RBI, 7 SB
ADP: 24
A 2022 MVP ranking outside of the top 20 might seem off. Well, the advanced stats will show just how lucky he was in 2022. His .317 average came with a .261 expected batting average, while his .578 slugging was almost 100 points higher than his .482 expected slugging.
I know, I know. Who cares – what actually happens matters more. While that's true, we are projecting here. At 35 years old, regression is possible. Goldschmidt still has five-straight full seasons of 30 or more home runs and brings value, even if an MVP repeat is unlikely. The talent alone, regression or not, makes him a top five option.
5. Matt Olson – Atlanta Braves
2022 Stats: .240/.325/.477, 34 HR, 86 R, 103 RBI, 0 SB
ADP: 43
Covid-year Matt Olson has been proven a fluke. In his first year in Atlanta, Olson hit 34 home runs and drove in over 100 runs, which has become the norm. A .240 average is lower than you'd like, but that's the price you pay for someone with 40 home run potential in a lethal lineup.
6. Vinnie Pasquantino – Kansas City Royals
2022 Stats: .295/.383/.450, 10 HR, 25 R, 26 RBI, 1 SB (72 Games)
ADP: 92
I have a feeling "Vinnie P" will quickly become not only a fan favorite in Kansas City, but across the entire league. A rarity in this day in age, Pasquantino offers power and elite contact skills. A 47% hard hit rate, combined with a 90% zone contact rate gives him unlimited upside.
Finding a player who can add power and average to your lineup near the back-end of the top 100 is great value. The Royals lineup hinders his run production, but a step forward from Bobby Witt Jr. and MJ Melendez could change that.
7. Jose Abreu – Houston Astros
2022 Stats: .304/.378/.446, 15 HR, 85 R, 75 RBI, 0 SB
ADP: 92
The White Sox legend has moved from the south side to join the World Series Champs. Still productive at 35, Abreu saw a massive dip in power cutting his home run total in half with 15. Before you assume age has caught up to him, take a deeper look. His 5% hard hit rate was actually higher than 2021. His launch angle dropped slightly, something I am sure he can fix.
I usually stray away from players approaching their twilight years – Abreu is the exception. A bounce back seems likely and 30 home runs, .300 average at this ADP? Sign me up.
8. Christian Walker – Arizona Diamondbacks
2022 Stats: .242/.327/.477, 36 HR, 84 R, 94 RBI, 2 SB
ADP: 131
Not many players bounce around the waiver wire and put up 29 home runs in their first full season. Walker did exactly that in 2019 and posted a career-high 36 home runs in 2022. Coming off a career year playing for the much-improved Diamondbacks could lead to a big year for Walker.
It's hard to argue selecting a guy with 36 jacks in a season, but I do want to bring one thing to your attention. Walker mashes fastballs to a .266 clip, but struggled, .201, against breaking balls. He saw 5% more breaking balls in 2022 than 2021. If pitchers start throwing significantly more breaking balls, Walker could be in trouble.
9. Rhys Hoskins – Philadelphia Phillies
2022 Stats: .246/.332/.462, 30 HR, 81 R, 79 RBI, 2 SB
ADP: 120
I need to get this out there – Hoskins is my guy. Although, he can be one of the most frustrating fantasy players. He's either red-hot, or ice-cold. Some weeks he'll carry your team, while others you wish he wasn't on it.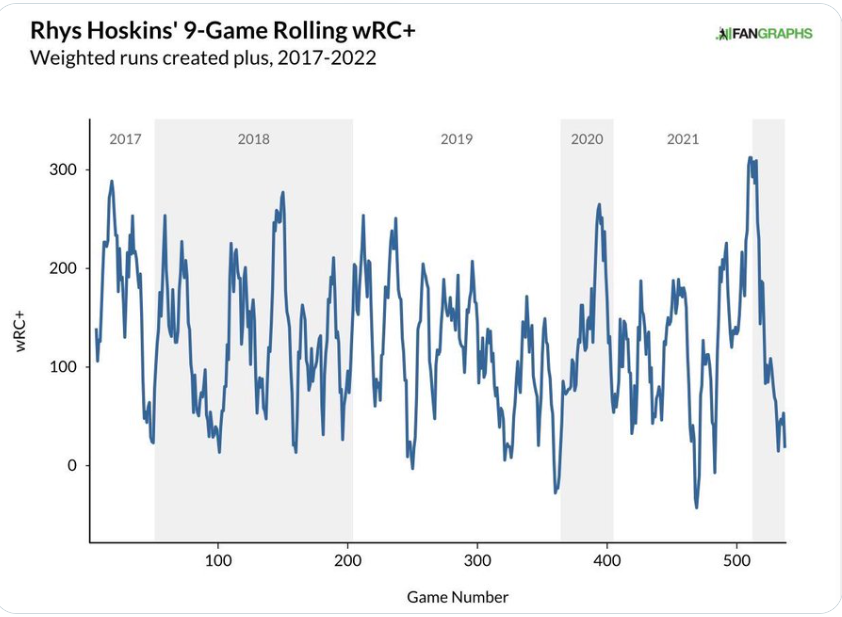 Hoskins has yet to breach the 100 runs or RBI mark in his career, and his 2023 contract year seems like the perfect time to do so.
10. Ryan Mountcastle – Baltimore Orioles
2022 Stats: .250/.305/.423, 22 HR, 62 R, 85 RBI, 4 SB
ADP: 154
The Orioles slugger does one thing fantasy owners love – hits the ball hard. His 91.3 mph average exit velocity ranked in the 88th percentile in2022. We saw a glimpse of his power in 2021, when he hit 33 home runs, but a 22-mark last season fell short of expectations.
Drafting Mountcastle is all about buying into the expected numbers. His .277 expected average and .509 expected slugging gives you something to dream on. The extended wall in Baltimore might bring nightmares.