Rankings
2022 Fantasy Baseball Starting Pitcher Rankings
Just Baseball's rankings of the top fantasy baseball pitchers for the 2022 season.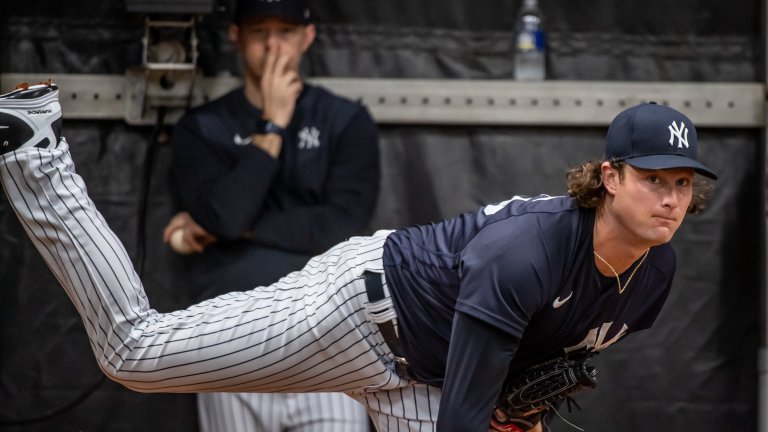 Tomorrow is Opening Day, so many of you may have already drafted your fantasy team for the upcoming MLB season. Still, if you have not yet drafted your team, we have one final position group to rank for you. Starting pitchers.
Over the last few weeks, we have been ranking the top 10 players at each position for fantasy. So far, we have already ranked the top catchers, first basemen, second basemen, third basemen, shortstops and outfielders. Now we close things off looking at the best starting pitchers for fantasy this season.
1. Gerrit Cole – New York Yankees – ADP: 8
In the wake of sticky stuff allegations, Gerrit Cole is looking to prove he doesn't need spider tack to succeed. But in a world filled with pitcher injury risk, Gerrit Cole has none. His 870 innings pitched since 2017 leads baseball and the expectation is that Cole eclipses 200 innings for the fifth time in his career this year. Don't overthink this one, draft Cole in the first round of your fantasy drafts and set your pitching staff up for dominance.
2. Corbin Burnes – Milwaukee Brewers – ADP: 11
The craziest part about Corbin Burnes' 2021 Cy Young season was that it could have, and probably should have been better from an ERA standpoint. Even though he finished the year with a 2.43 ERA, his 1.63 FIP is the second-lowest FIP in a season since 1920. It's crazy to think we haven't seen the best Burnes has to offer, but when every single one of your baseball savant stats is in the 97th percentile and above, nothing is impossible. There is even a conversation to be had whether Burnes is better than Cole, but for now we're vying with Cole for the extra innings.
3. Max Scherzer – New York Mets – ADP: 20
Don't panic, Max Scherzer's tight hamstring keeping him from making his Opening Day start is just precautionary and the plan is for him to start the second game of the season. There are certain injury concerns that are attached to a 37-year-old with over 2500 innings under his belt, but to expect the Scherzer gravy train to come to an end in 2022 would be silly. The last time he had an ERA above 3.00 was 2014 and an improved Mets lineup should make 15+ wins more than attainable.
4. Walker Buehler – Los Angeles Dodgers – ADP: 18
Buehler was one of four pitchers to cross the 200 inning threshold last season and pitching for this stacked Dodgers team should put him in line for 15+ wins yet again. He did lose *some* stuff last season, as his fastball velocity decreased by 1.5 MPH and his strikeout numbers dipped ever so slightly, but regardless, Buehler is a top-four fantasy arm and a bona fide innings eater.
5. Brandon Woodruff – Milwaukee Brewers – ADP: 21
Corbin Burnes takes some of the hype away from Woodruff, but don't let that fool you, Woodruff is an ace and should be drafted as such. He's Picasso-like in the way he paints the edges with his five-pitch arsenal of whiff-inducing nastiness. He's held a 2.70 ERA over the last two seasons and it's likely he ends up around that numbers in 2022.
6. Zack Wheeler – Philadelphia Phillies – ADP: 31
Wheeler was dealing with minor shoulder soreness, but just threw 45 pitches in an intrasquad game on Saturday, so it's fair to put limited weight on this "injury". Last season was a career year for Wheeler, because he finally showed he can whiff batters at an elite rate while limiting hard contact. His 29% strikeout rate was a career-high and his hard hit rate against was lowest in all of baseball. If Wheeler is falling in your drafts due to hesitancy over his shoulder, jump at the bit to snag him at value.
7. Julio Urias – Los Angeles Dodgers – ADP: 36
Urias was the only 20-game winner last season, showcasing pinpoint command with his fastball and an ability to get whiffs on his otherworldly curveball. Urias is a dark horse to win the Cy Young this year. Having another 20-win season with an ERA below 3.00 could do the trick. You're going to want to own Dodgers players this season.
8. Shane Bieber – Cleveland Guardians – ADP: 38
Bieber dealt with a shoulder strain that kept him out for three months, and upon his return caused his velocity to dip. It's a concern for fantasy owners because any pitcher taken in the top-40 needs to deliver and stay on the mound, but Bieber has looked healthy this spring and is just one season removed from a Cy Young award. When healthy, Bieber is a top-four pitcher in the sport and could deliver big returns on his current draft position.
9. Logan Webb – San Francisco Giants – ADP: 69
Currently being taken as starting pitcher number 16 off the board, Webb is being undervalued by the fantasy community at large. Webb burst onto the scene last year posting a 3.03 ERA while overhauling his pitch mix, opting for a sinker instead of a four-seam fastball. The pitch swap allowed his slider and changeup to shine. Webb is going to provide above-average splits across the board as he's able to get a ton of ground balls and strike out more than a batter an inning.
10. Freddy Peralta – Milwaukee Brewers – ADP: 56
Peralta is made of pure electricity. He started his career as a two-pitch reliever, but added a slider with the sixth-best whiff rate in baseball and a rock-solid changeup in 2021 and thrived as a starter. His 2.70 xERA ranked third in baseball. He will look to increase his innings load this season after turning in 144.1 IP over 27 starts in 2021. If he can put up 170 to 180 innings, he'll fit comfortably inside the top-10 fantasy arms at the end of the year.