Feature
College World Series 2021 Preview: Mississippi State
Can the Bulldogs make a deep run in their return to Omaha?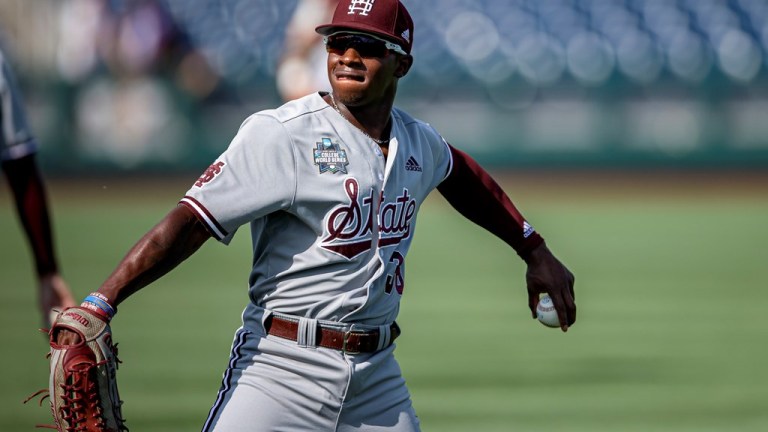 The Bulldogs return to Omaha with some College World Series experience, with Tanner Allen, Rowdey Jordan and Logan Tanner making the trip back to Nebraska after being bounced in 2019 by Louisville.
Tanner Allen has done it all for Mississippi State hitting .392/.463/.634 with 10 HR, 62 RBI and 9 SB. Rowdey Jordan has played a big part in the Bulldogs return to Omaha as well with his .326/.428/.572 slash line along with 10 homers and 9 SB of his own.
Potential first-round pick Will Bednar leads the Mississippi State rotation with some of the best swing and miss stuff around (13.7 K/9), but has struggled in his last three outings, surrendering 9 ER in his last 12 IP. No. 2 starter, Christian MacLeod has been a bit susceptible to the longball, allowing 5 HR in his last 3 starts, but is another arm who can rack up swings and misses with the best of them (12.7 K/9).
Mississippi State's bullpen is a strength, behind one of the nation's best closers, Landon Sims. Sims has struck out a ridiculous 85 batters in 46.1 IP (16.6 K/9) to go with a 1.55 ERA. Houston Harding has been great between the rotation and relief (2.87 ERA) along with several other reliable arms and a fairly deep bullpen for the Bulldogs.
It will be interesting to see what version of Bednar and MacLeod the Bulldogs get, because if that duo is on, Mississippi State and its experienced offense could be a tough match-up.