News
Ole Miss Takes Game 1 of College World Series Final
Latest update from Omaha, as Ole Miss grabs the early series lead over Oklahoma.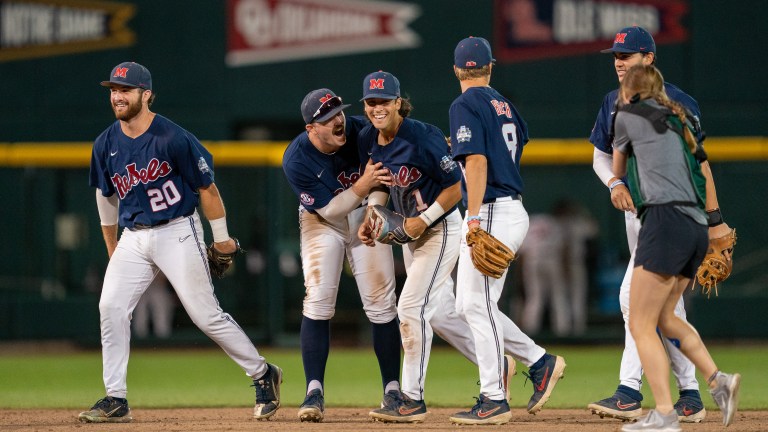 Ole Miss and Oklahoma being the final two teams standing has been the perfect way to end a crazy postseason. The two biggest underdogs heading into Omaha have outdone expectations through reliable starting pitching and key hitting in the middle of their orders.
The Rebels got off to an early 2-0 lead with an RBI single from Kevin Graham and a two-out error by Sooner shortstop Peyton Graham. Catcher Jimmy Crooks was unable to handle ace Jake Bennett's off speed, leading to multiple passed balls that put runners in scoring position.
Ole Miss doubled their lead to four, with an RBI single from Justin Bench and a solo home run from senior captain Tim Elko.
With top pitchers Dylan DeLucia and Hunter Elliot unavailable, Ole Miss coach Mike Bianco turned to Jack Dougherty for the Game 1 start. Though it was only his fourth start of the entire year, Dougherty welcomed the pressure, able to go scoreless into the sixth.
A throwing error off a Kendall Pettis bunt gave the Sooners their first run of the days. A couple batters later, with two outs and the bases loaded, Tanner Tredaway walked to make it a 4-2 ballgame. That would be the closest the game would ever get.
Hotty Toddy Nation blew the doors wide open in the eighth, as TJ McCants, Calvin Harris, and Justin Bench made it 8-2 with back-to-back-to-back home runs with two outs.
Oklahoma put up one more in the eighth but Ole Miss responded with two of their own, and the final would end up 10-3.
Jake Bennett's final stat line read 6 1/3 innings pitched, 10 strikeouts, and 3 earned runs. On the other side, the Rebel pitching staff held Oklahoma to only five hits on the night, as their pitching has completely dominated all postseason.
Tim Elko had a four-hit night to help the last team to enter the tournament become one win away from hoisting the trophy in Omaha.
Cade Horton is expected to start Game 2 for Oklahoma, but with Rebels Hunter Elliot and Dylan DeLucia still yet to throw a pitch, it's going to be one tough hill to climb for the Sooners who find themselves down 1-0.