List
College Baseball Top 25 (March 22nd)
Just Baseball's top 25 NCAA baseball teams through the third week of March.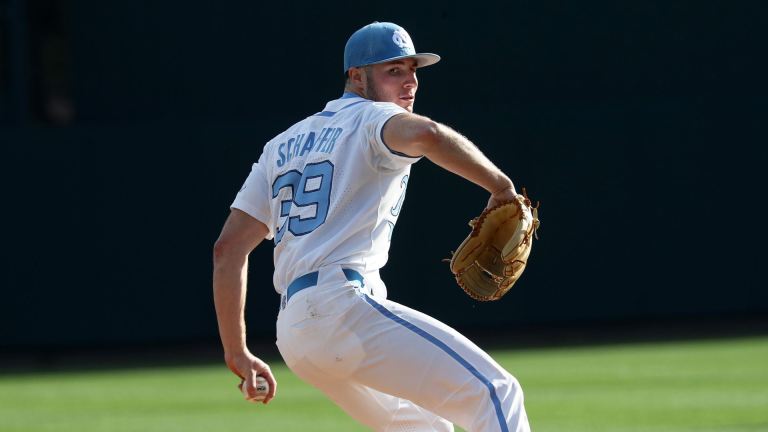 Another exciting week of college baseball is in the books and as we move into conference play, it will only get more action-packed. This upcoming weekend alone features huge matchups including #5 Tennessee facing off against #1 Ole Miss. Check out the updated rankings below:
25. Connecticut Huskies (14-4)
While it may be a surprise to see UConn on this list, they have done nothing but produce all season long. The Huskies' offense is led by senior outfielder Erik Stock, who carries a career 1.033 OPS during his time at UConn. On the mound is where they have had the most success, with a team ERA of 2.31, along with 191 strikeouts over 152 innings.
24. Stanford Cardinal (9-8)
The Cardinal had a great start to the season, including a big win over Arkansas, but have faltered since entering conference play. Their highly-touted outfielder Brock Jones hasn't gotten off to a hot start, a vital piece of this offense. Outside of senior Alex Williams, the pitching staff has struggled, making it hard for Stanford to stay in games.
23. Gonzaga Bulldogs (14-4)
Gonzaga may not have the power in their lineup, combining for four total home runs, but the Bulldogs continue to find ways to produce offensively. This is a very young team, so expect Gonzaga to be very good for years to come. After multiple upset wins versus Oklahoma State earlier this month, the Bulldogs will look to carry the momentum into conference play.
22. Texas State Bobcats (18-3)
With one of the better stories in college baseball, many are rooting for the Texas State Bobcats to make a deep postseason run. This team thrives off of experience, with all top five players in plate appearances being seniors. Their pitching staff is anchored by righties Zeke Wood and Levi Wells, along with senior Tristan Stivors locking down the bullpen.
21. Louisville Cardinals (16-4)
A once-loaded powerhouse for college baseball, Louisville is looking to put itself back into top 25s industry-wide. The Cardinals completed the sweep of highly ranked Notre Dame this weekend, starting conference play off with a bang. Louisville has many names to know, as well, including shortstop Christian Knapczyk (1.246 OPS) and senior Ben Metzinger (1.250 OPS).
20. Wake Forest Demon Deacons (16-4)
After a rough start to conference play earlier this month, the Demon Deacons took care of business versus #11 Georgia Tech. Wake Forest has one of the more underrated pitching staffs in the country, which includes sophomore Rhett Lowder and closer Eric Adler. The offensive production is more of a group effort, as their star third baseman, Brock Wilken is just starting to get going.
19. Old Dominion Monarchs (16-2)
All this team does is hit. Led by senior Andy Garriola, the Monarchs hold a team OPS of 1.009, finding production throughout the lineup. Old Dominion has multiple names to watch for in the 2023 draft, including sophomores Carter Trice and Kenny Levari. Their pitching has also done well, especially lefty Noah Dean, who hasn't allowed a run in 9.2 shutdown innings out of the bullpen.
18. Georgia Bulldogs (16-4)
One of the more experienced teams in the sport, the Bulldogs' lineup is mainly constructed with graduate students and seniors. Sophomore catcher Corey Collins leads the charge on offense, already slugging seven homers with an OPS at 1.281. Standing at a towering 6'6″, Jonathan Cannon could pitch his way into first-round consideration this year, already holding a 1.83 ERA in five starts.
17. Texas Tech Red Raiders (17-4)
Texas Tech is led by sophomore infielder Jace Jung, who will be drafted in the first round this July. Other impact bats include junior Ty Coleman (1.098 OPS), senior Parker Kelly (1.084 OPS), and freshman Owen Washburn (.976 OPS). On the mound, junior Brandon Birdsell invested in himself, returning to Lubbock after being drafted in the 11th round last summer.
16. Louisiana State Tigers (15-5)
LSU features the most talented lineup in the country, with multiple of their top hitters projected to go early in the next two drafts. As a team, the Tigers are slashing .309/.432/.527 with 31 homers so far this season. The pitching staff has some interesting pieces, but Friday night starter Blake Money has been injured, without a timetable to return.
15. North Carolina Tar Heels (17-3)
Coming into this season, there were many unknowns for this young UNC team. Needless to say, things have worked out to this point, with key contributions from freshman Vance Honeycutt (8 HR) and sophomore Johnny Castagnozzi (1.273 OPS). The Tar Heels' pitching staff has been lights out, led by junior southpaw Brandon Schaeffer. Out of the bullpen, the duo of Kyle Mott and Shawn Rapp have given UNC quality innings all year long.
14. Liberty Flames (14-4)
Since the Flames took two of three from Florida on opening weekend, they haven't looked back. Liberty has a talented roster that includes sophomore righty Trey Gibson, who has struck out 27 in 19.2 innings. The offensive production is more of a group effort, led by redshirt seniors Derek Orndorff (10 HR) and Stephen Hill (.465 OBP).
13. Notre Dame Fighting Irish (12-4)
The Fighting Irish had lost just one game before being swept by now ranked Louisville, showing some struggles versus good opponents. This offense has had a ton of successes, especially catcher David LaManna, whose average is up to .375. On the mound is where Notre Dame has thrived, combining for a 3.27 ERA in 143.1 innings.
12. Arizona Wildcats (16-4)
The Wildcats couldn't have had a better start to conference play, going 5-1 versus California and Stanford. Catcher Daniel Susac and junior Tanner O'Tremba have been automatic at the plate, with O'Tremba (.443/.535/.671) putting up video game numbers. This pitching staff includes a talented arm in TJ Nichols, who could hear his name called early in the 2023 draft.
11. Georgia Tech Yellow Jackets (15-5)
Still one of the more underrated teams in the nation, Georgia Tech came out on the short end of a three-game series versus a talented Wake Forest team. This team could see draftees in the double digits this summer, including Kevin Parada, Andrew Jenkins, and Drew Compton. Transfer Chandler Simpson has been an on-base machine for the Yellow Jackets, along with Parada, who already has eight homers.
10. Florida Gators (15-5)
Now to Florida, who has probably the hardest remaining schedule in the game. So far, the Gators have looked good, more recently taking two of three from a once-ranked Miami team. Jud Fabian, a second-round pick who decided to return to Gainesville, is a huge get-back for Florida. Other impact players include sophomore Wyatt Langford and a stacked pitching staff that is led by future first-rounder Hunter Barco.
9. Virginia Cavaliers (19-1)
Virginia is another team whose success was dependent on the production of their underclassman. One sophomore, Jake Gelof, leads the nation in home runs (12) and holds an unbelievable 1.174 slugging percentage. There has been offensive success up and down the lineup, with almost no one struggling. Maybe the most underrated pitching staff in college baseball, the Cavaliers' arms have put up a 2.31 ERA so far in this next-to-perfect season.
8. Oklahoma State Cowboys (14-6)
After a tough series versus Gonzaga, the Cowboys have yet to look back, going 8-1 since dropping two of three to the Bulldogs. Outside of Texas and Florida State, Oklahoma State may have one of the most talented pitching staffs in the nation, featuring sophomore righty Justin Campbell (0.85 WHIP) and talented flamethrower Victor Mederos. On offense, most of the production has come from graduate transfer Jake Thompson, who is up to a 1.133 OPS.
7. Oregon State Beavers (14-4)
Here is a team that has a realistic chance of winning the World Series. The Beavers will look to capitalize off of a soft spot in the schedule, which includes games versus Seattle, California, and Nevada. This offense starts with outfielder Jacob Melton (1.331 OPS), but almost everyone in this lineup has produced. Crafty lefty Cooper Hjerpe leads the charge on the mound with a 1.88 ERA with 44 strikeouts in 28.2 innings.
6. Florida State Seminoles (13-6)
Due to Texas' injuries on the mound, many in the industry believe that the Seminoles have the best rotation in the game. It starts with Parker Messick, who is a physical lefty who won't overpower hitters but is extremely effective. While their record may not reflect it, Florida State has a really good team and could go deep into the postseason.
5. Tennessee Volunteers (19-1)
Notice a pattern? Almost all of these top ten programs have talented pitching staffs, proving that pitching wins championships. A difference between the Volunteers and other staffs is that they have someone who could pitch in the major leagues this season, and that is Ben Joyce. Joyce has topped at 104 and includes a vertical slider and changeup. Freshman Chase Burns leads a rotation that includes other big names such as Chase Dollander and freshman Drew Beam.
4. Vanderbilt Commodores (17-2)
The Commodores have dominantly rolled through opponents since losing two out of three on opening weekend. Vandy has taken on an "America's Team" role in college baseball due to their success year in and year out. The lineup includes exciting sophomore Enrique Bradfield Jr., who may be the fastest player in the sport. On the mound, pitching depth has proved vital, with many well-known names such as Christian Little and Patrick Reilly pitching out of the bullpen.
3. Arkansas Razorbacks (16-3)
Arkansas is another team that's offensive production relies on the entire lineup. Sure, they have big names such as Robert Moore and Peyton Stovall, but it is the Michael Turners and Chris Lanzillis of the world that makes this team click. The rotation includes multiple underclassmen in Hagen Smith (Fr.) and Jaxon Wiggins (So.).
2. Texas Longhorns (17-5)
The loss of righty Tanner Witt was a big one, but the undeniable talent of Pete Hanson and Tristan Stevens makes it easier to digest. An experienced lineup, the Longhorns find production from redshirt junior Ivan Melendez and redshirt senior Murphy Stehly, who's .458 batting average leads the team.
1. Ole Miss Rebels (15-4)
Ole Miss seems to have a firm grab on the number one spot in our rankings despite the occasional loss to unranked opponents. Senior Tim Elko has slugged eight homers, TJ McCants (1.057 OPS) continues to hit, and shortstop Jacob Gonzalez (1.173 OPS) is starting to get going. This experienced group of pitchers is led by John Gaddis and Derek Diamond, who have combined for 49 strikeouts in 44.2 innings.