List
College Baseball Top 25 (March 14th)
Just Baseball's top 25 NCAA baseball teams through the second week of March.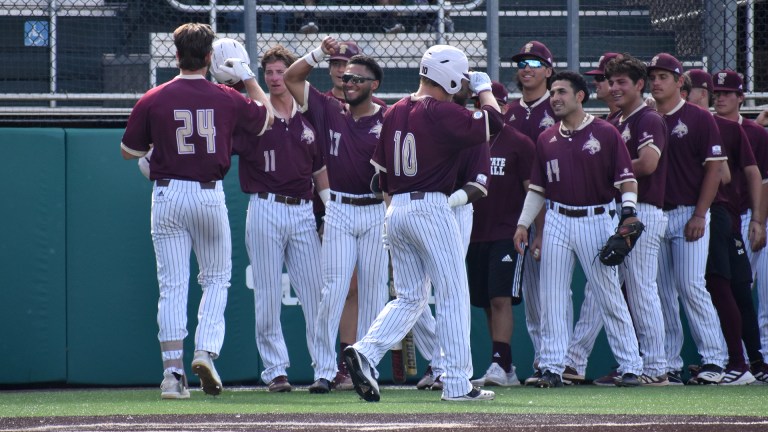 Welcome to our second top 25! Instead of trying to modify last week's list, we decided to start fresh and evaluate where teams are realistically slated now. To start, let's take a look at what teams dropped in our rankings:
Stanford Cardinal (Prev. Rank: 5) – After a strong start to the season, the Cardinal have faltered, losing last weekend's series to Oregon. With stars Brock Jones and Tommy Troy yet to find their stride, Stanford looks to rebound in a big series versus Arizona and Oregon State coming up.
Georgia Bulldogs (Prev. Rank: 18) – Georgia didn't do anything egregious to leave them off this list, we just feel that some other programs are better. Looking ahead, the Bulldogs play both Mississippi State and Florida upcoming, and success could land them back on the list.
North Carolina State Wolfpack (Prev. Rank: 14) – Now to NC State, who have had trouble will tough opponents to this point. The Wolfpack were swept in a brief two-game set against Notre Dame, with a recent four-game losing streak under their belt.
Now that we have discussed the teams that dropped in our rankings, let's take a look a the teams that have risen on our list.
This weekend, many teams solidified their status as a top 25 team. In Virginia's case, the Cavaliers have proven their status as one of the best teams in college baseball. With Texas State and Old Dominion, multiple big wins against good programs helped to land them well inside our rankings as well.
Texas State Bobcats (Prev. Rank: N/R) – What a story Texas State has been. The recent success of the Bobcats lies with a core group of upperclassman who are looking to do damage. A recent series win against Arizona, along with a split two-game set with Texas, lands them in this week's rankings.
Virginia Cavaliers (Prev. Rank: 23) – Coming into this year, everyone knew how talented Virginia's roster was, but questions arose about how much their underclassman would produce. Now that we have seen how good Jake Gelof, Griff O'Ferrall, and Casey Saucke can be, it is time to move the Cavaliers into the top ten.
Old Dominion Monarchs (Prev. Rank: N/R) – Old Dominion is yet another underrated program looking to do damage this spring. Their three-headed monster of Carter Trice, Andy Garriola, and Kenny Levari have lead the Monarchs to a 13-1 record moving into conference play.
The Top 25
25. Gonzaga Bulldogs (11-4)
24. Maryland Terrapins (12-2)
23. Mississippi State Bulldogs (10-7)
22. Texas State Bobcats (14-3)
21. Old Dominion Monarchs (13-1)
20. Texas Christian Horned Frogs (11-4)
19. Texas Tech Red Raiders (14-3)
18. Clemson Tigers (14-1)
17. Arizona Wildcats (12-4)
16. North Carolina Tar Heels (14-2)
15. Liberty Flames (12-2)
14. Oklahoma State Cowboys (9-6)
13. Georgia Tech Yellow Jackets (13-3)
12. Florida Gators (13-4)
11. Stanford Cardinal (9-5)
10. Florida State Seminoles (10-5)
9. Notre Dame Fighting Irish (11-1)
8. Virginia Cavaliers (14-1)
7. Louisiana State Tigers (13-3)
6. Tennessee Volunteers (15-1)
5. Oregon State Beavers (11-2)
4. Vanderbilt Commodores (13-2)
3. Arkansas Razorbacks (11-3)
2. Texas Longhorns (13-4)
1. Ole Miss Rebels (13-2)
Make sure you continue to check back in each week for our updated list of the top 25 teams in College Baseball!