Feature
Trading at The National: From Jasson Dominguez to Michael Jordan
How we traded from Jasson Dominguez to Michael Jordan (kinda) at the National.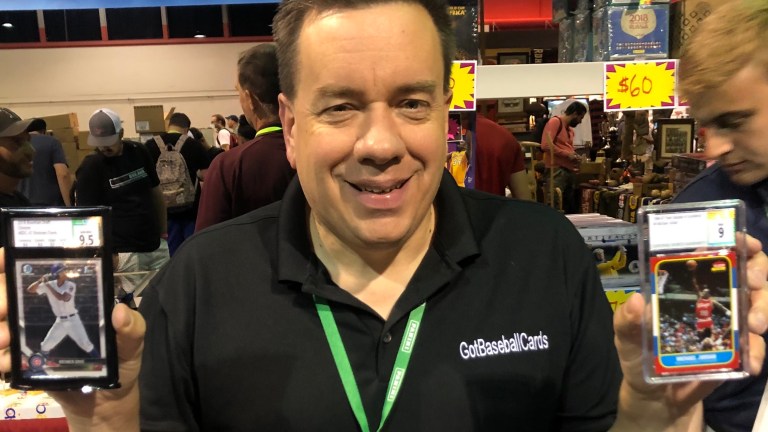 One of the best parts about card collecting is the relationships that are made in the process. Yes, it's fun to flip a product, or cash-in on a card you pulled. But if you've been doing it for a while, you've learned that it's the people who make this hobby great. This year's National did not disappoint in that regard, and a few trades were made along the way that brought us into contact with some of the best in the business.
The 2021 National was the largest NSCC in the history of the event, and admittedly, it was a bit overwhelming when we first walked through the doors. With so many cards and booths to see, there just wasn't enough time to lay eyes on everything. Personally, I want to interact with as many vendors as possible, but also want to make the event exciting and purposeful. So, for this year's convention, I decided to try the "trade" approach, and it was a smashing success. I knew immediately that I was going to note the trades I made along the way and write it all up for you guys when I had the chance.
If you've never done it before, it's incredibly simple. Select a card you're willing to part with, preferably one with not a ton of value, so you have some room to trade up, and set about moving from booth to booth seeing if you can trade that card for a slightly better one. As you make trades collect and swap business cards with all those you interact with. It's a fun game to play with a buddy as well. Keep it rolling throughout the show and whoever has the most valuable card at the end wins (winner gets both cards if you really want to take it to the next level).
I started The National with one of the first graded cards I ever bought. I have been collecting for years but had never purchased a graded card until late 2020 – a PSA 8 Jasson Dominguez Bowman 1st Camo. The card is fine, but not one with a ton of value and I certainly wasn't attached to it. It was a perfect card to play the game with.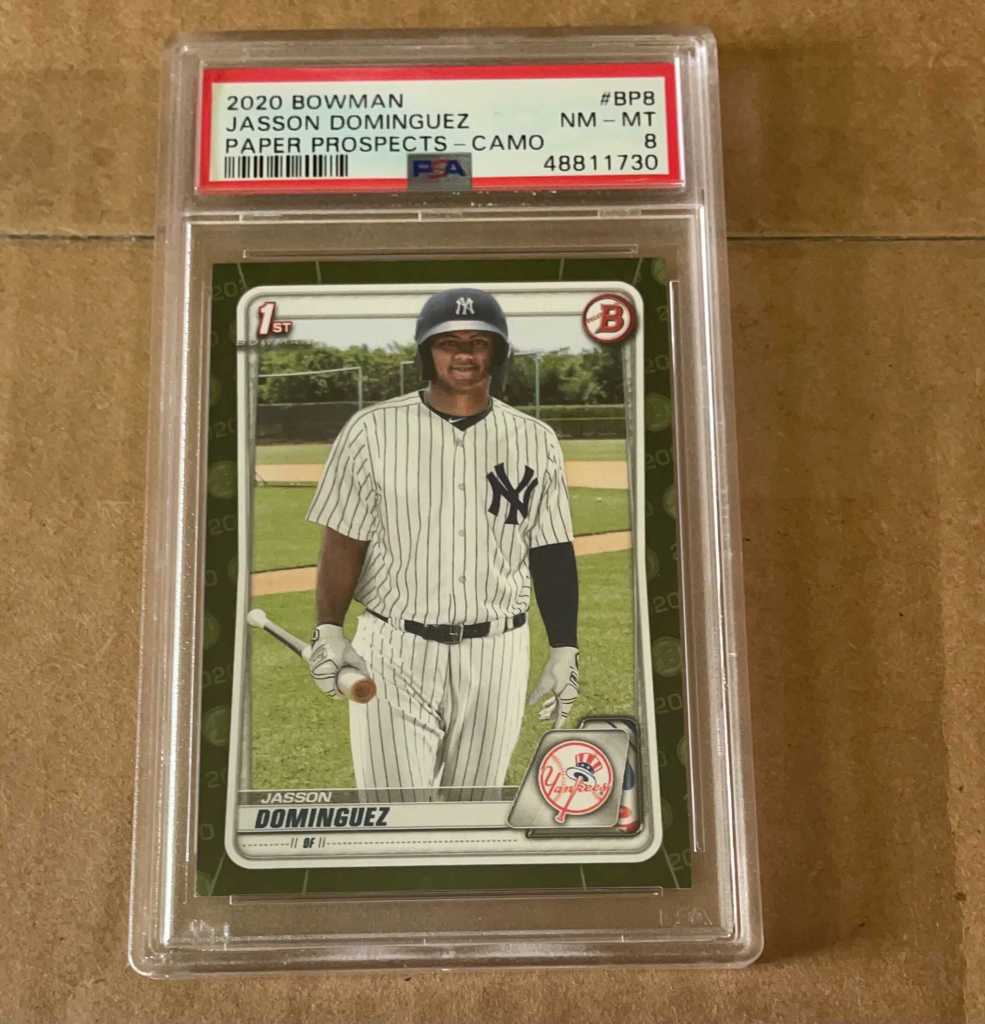 The value on this card was around $44 (on the high end), and Dominguez is a prospect that people either love or hate, so I knew it would get some play. What I did not expect was the number of vendors it took for me to cycle through until I found one that understood what I was trying to do. On day two, I got my first taker. It was a shop out of New Bedford, Massachusetts called LTD Sports. Here is a link to their site, go check them out.
I traded the Dominguez for a 2019 PSA 8 Wander Franco Bowman 1st Paper. I went this route because I thought that the Franco would be easier to trade, being that he is a young rookie with undeniable upside. We lost about $5 in this swap, but we were looking for a card that had wider appeal. LTD Sports also offered us an Al Kaline raw card and a Bobby Dalbec auto that was graded by LTD but we went with Franco PSA 8 because we thought we could move it more quickly.
It took almost 24 hours to get my first trade in the books but things moved quickly from that point on. I was able to move the $35 Franco for a nice $50 card at the next booth. I went back to a vendor I had already visited with earlier in the week, Payne Sports Collectibles, and we struck a deal for a 2020 Becket 9.5 Leaf Valiant James Robinson auto. Not a baseball card, so I might have violated company policy, but the value was higher than the Franco and I wanted to get that back up.
Payne Sports Collectibles is out of Ankeny, Iowa. They specialize in assessing and purchasing vintage cards, but have an incredible knowledge of the entire industry. If you are interested in getting a vintage collection evaluated, go to paynesportscollectibles.com and use the "Contact Us" tab to submit an inquiry.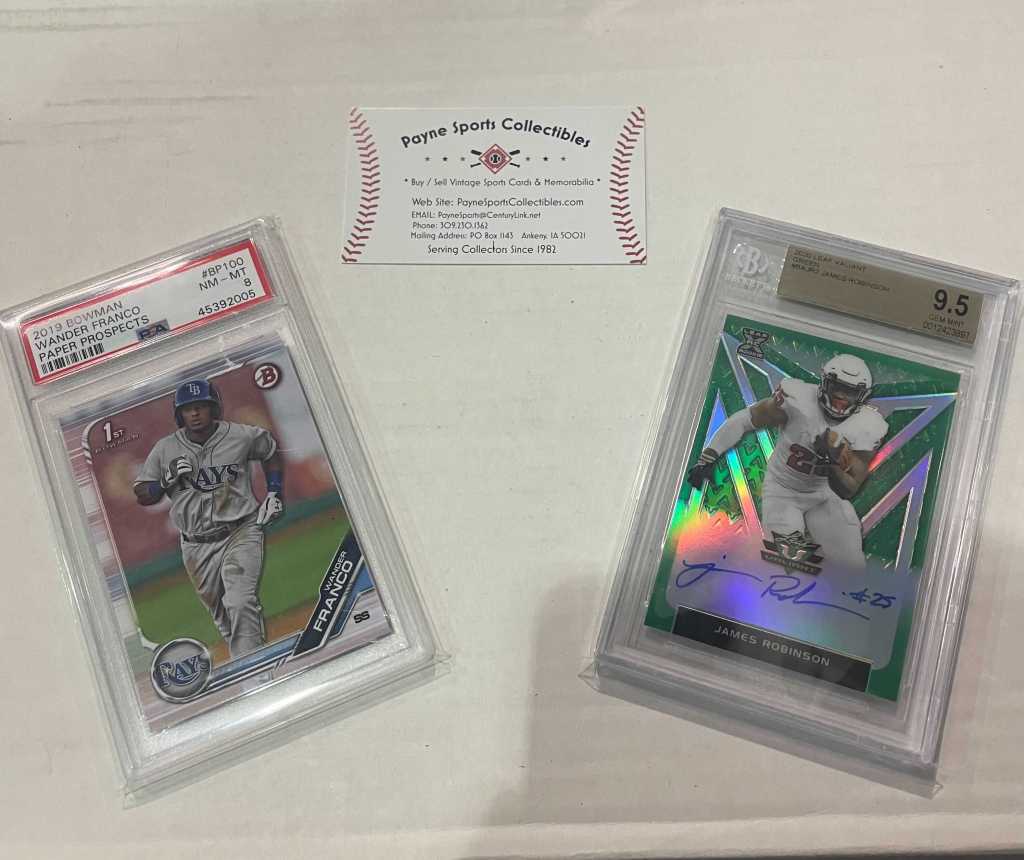 When I traded for the James Robinson I made the assumption that the graded chrome auto would be easy to move, and I was correct. We finished day two of the show by trading with Sharon and her team at Blackjadedwolf Inc. She immediately caught the vision of what I was trying to accomplish and hooked us up big time. We made a quick swap of the James Robinson for a $75 PSA 10 Noah Syndergaard Orange Refractor /25! This card was a huge step up. I was thrilled with the trade, but more so with the connection we made with Sharon. We plan on doing another piece in the future highlighting all she's doing for the hobby, but in the meantime, please go give her some love on social media and check out her incredible website at https://www.blackjadedwolf.com/.
Day three of the show was a wild one for me. I was interviewing various vendors for articles and meeting up with some of the connections we have made in the industry, so trading was not a huge priority that day. I did, however, find time to make one trade and was able to work with Bodner Cards to make my fourth swap of the show. The move was to another PSA 10, this time a 2014 Bowman Chrome Blue Wave Refractor of Trevor Story. Day four of the show coincided with the final day of the trade deadline and I thought Trevor would be traded from the Rockies so I went all-in trying to find a card of his. Unfortunately, Trevor wasn't moved, but I came away with a fabulous card. Mike Bodner was incredible to work with; he has a really awesome collection of cards and I loved getting to chat with him for a bit. Look him up on eBay and FB at BodnerCards.
I started day four knowing that I was comfortable leaving the show with the Trevor Story card. This took a little pressure off given that I really didn't need to make any more trades, so I was able to freely chat with shop owners and spend some more time making connections. Of course, the trade piece got brought up in conversation and before I knew it I was swapping cards again.
My next move was my favorite move of the week. If you have followed this website for any length of time you know we love Brennen Davis. We are huge fans and some of us have made some healthy investments in his cards. If he blows up in the majors, we might just be able to buy the Cubs with the amount we have invested in this man. So, when I had the chance to trade my Story for a CSG 9.5 Brennen Davis Bowman Chrome 1st, I jumped at the opportunity. I made the trade with Gem Mint Cards, a large Facebook group that everyone should join. It was also my first CSG slab that I had ever acquired and, I have to say, I'm a fan. With Brennen Davis in hand I thought I was done, and was only going to swap again if the trade was just right.
Earlier in the show, Aram Leighton and I submitted a handful of cards to Beckett to have graded. We love our friendship with Jeromy Murray and his team down in Dallas, and it was a blast to see those guys at the show. Aram submitted a 2020 Jesse Franklin Bowman Chrome Draft auto /50 and when it came back at a 9.5 we know we needed to get an expert opinion regarding its value. We went directly to Joe Davis at gotbaseballcards.com knowing full well that he was the guy when it came to Atlanta Braves prospects. Joe did not disappoint and was a huge help. He is one of the nicest guys in the hobby and spent a good deal of time talking to us about their shop. I told him about the trades I had made earlier in the week and he was intrigued. He wanted in on the action and brought something to the table that we certainly did not expect.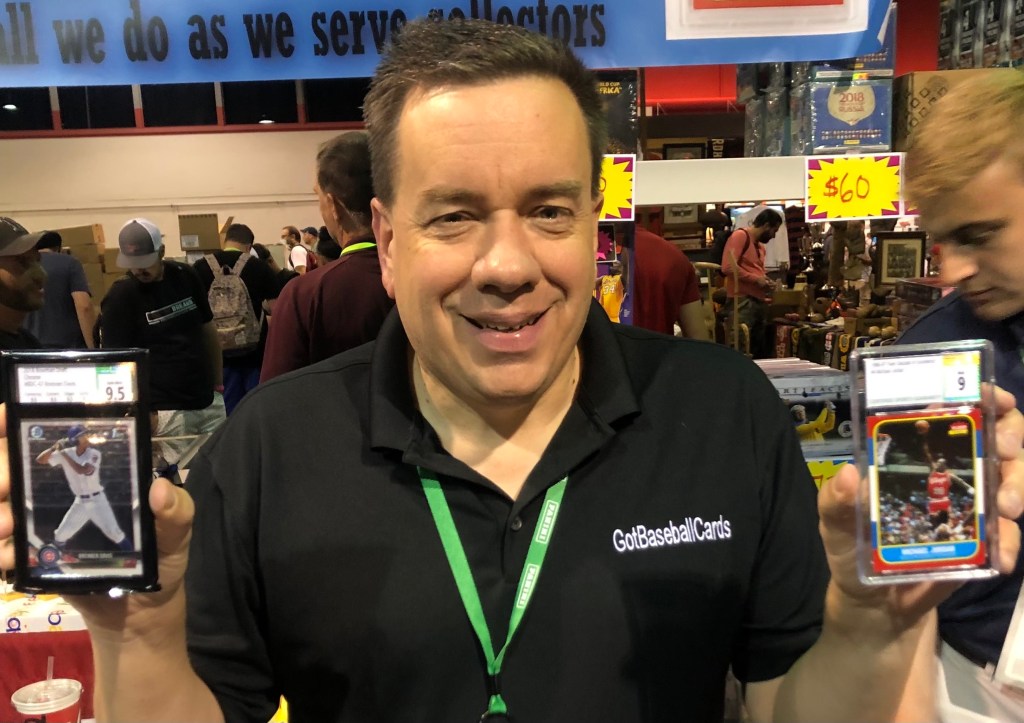 Joe traded us a 1996 CSG 9 Michael Jordan Fleer Decade of Excellence. This is a ten-year anniversary card of the iconic Jordan Fleer RC. It was the final card we traded for and the perfect ending to our time in Chicago. We just couldn't pass up the opportunity to trade for a replica of one of the most iconic cards in the industry with an icon in the industry himself. And, even though the MJ is a basketball card, he at least gave baseball a shot, so we weren't violating any company policies.
So, in the end, I was able to trade up from a $44 Jasson Dominguez to a Michael Jordan card worth around $90. And while we made decent trades and left with a card of greater value, the thing I enjoyed the most was the opportunity to converse and interact with all of these incredible shop owners. This hobby is about relationships. Yes, you can make money, but the people behind the cards are really what it's all about.
Look for us at future card shows, we'd love to interact with you and feature you in our next trade piece!