Looking Back at The National: Five Observations
Five brief observations from our time at The National Sports Collectors Convention.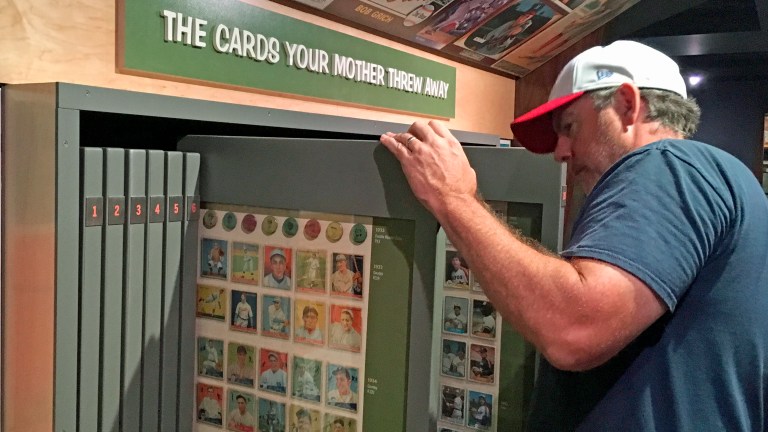 Now that we're back from The National and have had a few days to process the event, we've got five observations to share with you guys stemming from all we took in. The team at Just Baseball had a blast covering the event, made a ton of connections within the industry, and even added a few things to our PC's. If you have any interest in the hobby at all, this is a must-see, must-experience event, and next year's event is in Atlantic City, so go ahead and put it on the calendar right now (July 27-31, 2022). Here are five things that really stood out.
The Size of the Event
My goodness, there were so many people there. Record breaking in fact. You could barely move at peak times during the event. Some were no doubt bothered by the enormity of the crowd, especially given the circumstances, but the size relays the fact that the hobby is on fire right now and will probably continue to boom for quite some time. It also signaled opportunity for those that were there. You had access to nearly every large card shop in the country, not to mention all the individual collectors present; if you were looking to off-load some cards, make trades, buy wax, etc., there was just no better place to do it than at The National last week.
Memorabilia
If you are looking for autographed helmets, jerseys, bats, gloves, batting gloves, pictures, whatever, you can find it there. There's a reason it's called The National Sports Collectors Convention. You will see stuff at The National that is simply mind-blowing if you are a sports history buff. My favorite piece from this year's convention was found at the Christie's booth, it was the letter from Commissioner Landis to Joe Jackson regarding his reinstatement – an incredible piece of baseball history. There are a host of booths that are geared toward the non-card collector, and they feature some truly remarkable pieces of sports memorabilia.
More Women in the Industry
It was one of the first things I noticed when I walked the show floor – there were a ton of women there and they are really starting to make their mark on the hobby. I will dive deeper into their involvement in a coming piece, but their increased presence and impact were noticeable as well as exciting! I look forward to the innovation that will take place as more and more women enter the space. If you are a woman and are looking for other women who are involved in the hobby, join the Facebook group "Women in Cards." And, as mentioned above, stay tuned for a more in-depth look at what female shop owners, breakers, and collectors are doing across the card-collecting landscape.
Wax Availability and Cost
This might have been the biggest surprise of the weekend for me, but I was a little underwhelmed by the wax available at the show and the price points at which they were offered. Don't get me wrong, you can find product there, but just don't expect it to be at prices better than what you can find online, and in most cases it's higher. Of course, one should factor in the general state of the hobby at the moment, i.e., the massive amount of product that is being consumed by flippers and breakers and how that leaves little to no reason for resellers to sell product at a discount. But, just as a fair warning, if you make it to Atlantic City next year, don't go in expecting to find prices any lower than you would on eBay or these larger FB groups.
PSA Domination
It's PSA's world and we are all just living in it, for now. New grading companies are starting to emerge, other established companies are starting to gain ground, but PSA dominates the space on a variety of fronts. There was just no denying the fact that the bigger shops preferred PSA when it came to buying/selling/trading modern slabs, which is to be expected when you have an established market leader like PSA. That being said, turn-around times and high costs are going to allow other companies to slowly start capturing market share.
Furthermore, if you talk to some of the dealers who specialize in vintage, you will quickly hear that PSA struggles to find it's rhythm here. There's an opportunity for companies like Beckett, CSG, HGA, and SGC to continue to capture market share as PSA fights backlog, continued demand, and an inability to grade vintage accurately. The best thing for the collector, obviously, is to have multiple companies that are reputable and able to meet the demand; here's to hoping that we see more innovation and continued stabilization in the industry in the coming year.