Feature
Topps Project 70: Everything You Need to Know
Topps Project 70 is the latest artist-driven baseball set from the iconic trading card company celebrating 70 years of MLB cards.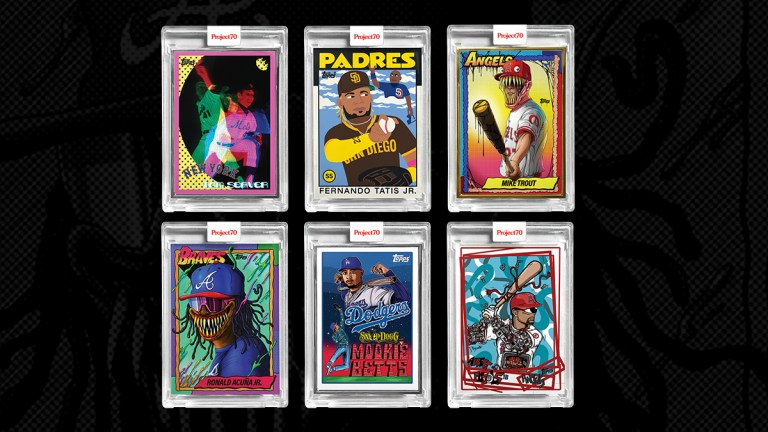 Editor's note: This article originally ran on our network partner site Den of Geek as part of the Collector's Digest content series powered by eBay.
Back in 1951, the New York Yankees were still on top, the Dodgers were in Brooklyn, the Giants roamed New York's Polo Grounds, and fans could collect the first set of Topps playing cards at one cent for a pack of two.
Needless to say, a lot has changed the past 70 years, all of the above remain woven into the fabric of baseball. And much like last year's Topps Project 2020, the trading card giant is giving artists the freedom to put their own stamp on traditional trading cards with Project70.
Coinciding with Topps' anniversary of that first set, Project70 kicked off on Feb. 17. Topps tasked artists with "revisiting and reimagining 70 years of iconic baseball card designs," according to the project's microsite. The number of partnered artists increased from the 20 who worked on Project 2020 to an apropos 51, a callback to the year it all began. Whereas Project 2020 tasked its artists—most of whom return for this new venture—with creating unique iterations of celebrated rookie cards from the past, Project70 opens up the whole Topps catalogue to interpretation and amalgamation.
A Ronald Acuña Jr. card by Los Angeles-based, pop-surrealist artist Alex Pardee, for example, depicts the Atlanta Braves' current young superstar with a cartoonish, sharp-toothed monster grin with the 1990 Topps (which released seven years before he was born) design as a base. Another, from Philadelphia-born artist Distortedd, models a 1982 Topps design with a cycloptic illustration of Hall of Famer Pedro Martinez cocking back to pitch while holding a chicken meal in his glove. Clearly, Project70 places a premium on artist freedom of interpretation.
Each of the artists will create 20 cards for Project 70, with new cards launching daily on Topps' website that will be available for just 70 hours — the numbers 51 and 70 figure prominently all over the project. The print runs for each card are posted at the completion of each sales window. Cards are printed on premium 130pt thick glossy card stock and feature a holographic logo security feature on the back. Each is encased in a protective plastic case.
And what would modern card collecting be without special editions? Project70 has those too throughout each print run. Rainbow Foils are numbered up to 70, and each card has one Gold Frame printing. Artist Proof editions, numbered to 51, feature silver frame, are available for every card.
Each individual card on Topps' site is listed for $19.99, with the option of purchasing a specific three-card bundle for $49.99 to save about $10. Artist Proof cards, featuring a silver frame, can be had for $99.99.
Once on the secondary market with sites such as eBay—where trading card sales grew 120 percent last year and were up 60 percent among baseball cards year of year—some cards explode in paid price. A Rainbow Foil, 1988 Topps-influenced Mookie Betts, from famed Los Angeles jeweler Ben Baller who previously contributed to Project 2020, fetched $36,900 on eBay.
Who Are The Topps Project70 Artists?
No name on the list of 51 jumps off the page quite like Snoop Dogg. The multi-platinum rapper and multi-hyphenate entertainment icon is not nearly as well known for his contributions to visual media as to music, but he already placed his stamp on Project70 with an Acuña design inspired by the 1954 set. His iteration looks distinctly more modern than the 67-year-old template.
Mixed martial arts fans will recognize Brittney Palmer, the longtime UFC octagon girl who doubles as a pop art painter. She already has graced Topps trading cards before thanks to her UFC role, but Project70 offers a creative outlet. Her first card for the project plants three-time American League MVP Alex Rodriguez, decked in Yankees pinstripes, on a 1980 design and fills the image with vibrant blue, purple and pink. A-Rod's bat is a solid yellow decorated with shapes and lines.
Los Angeles-based graffiti pioneer Kelly "RISK" Graval appropriately selected former Dodgers catcher and Hall of Famer Mike Piazza for his first release. Taking direct inspiration from an actual Piazza card from the 1994 set—the first after he earned National League Rookie of the Year honors the year before—RISK filled the background with the full rainbow and made the slugger pop with yellows directly behind him. The team name was tweaked from the original bold print "DODGERS" to a more loosely-penned "LOS DODGERS," a nod to the heavily Hispanic and Latino populace in L.A.
Topps Project70 Artist List
Action Bronson
Alex Pardee
Andrew Thiele
Ben Baller
Blake Jamieson
Blue the Great
Bobby Hundreds
Brittney Palmer
CES
Chinatown Market
Chuck Styles
Claw Money
Distortedd
DJ Skee
Doc C
Efdot
Ermsy
Fucci
FUTURA
Greg 'CRAOLA' Simkins
Gregory Siff
Infinite Archives
Jacob Rochester
Jeff Staple
JK5
Jonas Never
Joshua Vides
Keith Shone
King Saladeen
Lauren Taylor
Matt McCormick
Matt Taylor
Mikael B
Mimsbandz
Mister Cartoon
Morning Breath
Naturel
New York Nico
Oldmanalan
POSE
Quiccs
Risk
Ron English
Sean Wotherspoon
The Shoe Surgeon
Snoop Dogg
SoleFly
Sophia Chang
Toy Tokyo
Tyson Beck
UNDEFEATED
What are some of the most popular Project70 cards?
Pardee's Acuña interpretation surpassed a 1955 set-themed illustration of San Diego Padres superstar Fernando Tatis Jr. for the highest print run (14,825) when it was available from March 4-7. The Tatis card from Paris-based illustrator Ermsy was among the first batch available from Feb. 17-20 and printed 12,688 cards.
On eBay's online secondary market, both cards typically sell for twice or better than its initial price. But that's just for base set cards. The numbered-to-51 Artist Proof of the Tatis sold as high as $1,399.99 nearly a month after its Topps availability window closed. The Acuña sold for $799 a day after the 70-hour Topps buying period ended.
Where can you buy Project70 cards?
The window to buy these cards closes fast. Bookmark Topps' online store and check back regularly, especially if you want to land artist proofs. You can find the full archive to date on Topps.com. On the secondary market, head over to eBay to score the best of Project70.