Analysis
Fanatics Bought Topps, Now What?
The writing was on the wall for Topps after Fanatics outbid them for MLB licensing. Now that Topps is officially under the Fanatics umbrella, what does this mean for the baseball card hobby?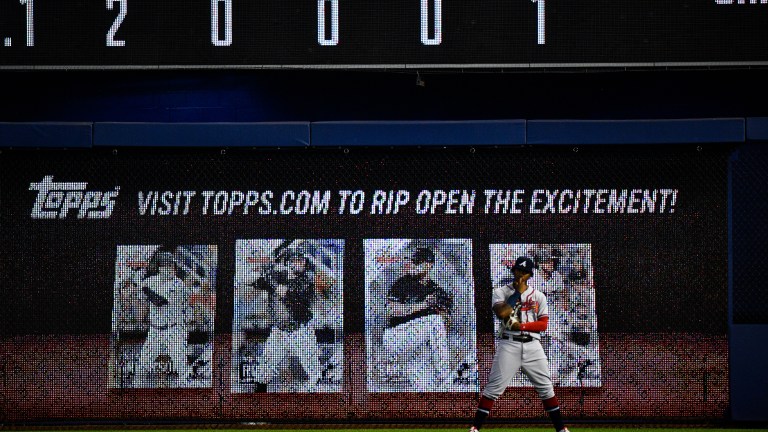 News spread Monday night that Fanatics Inc. has acquired the trading-card division of Topps Co. in yet another move by the sports-merchandise giant to further cement its position as a leader in the hobby for years to come. Twitter was flooded with commentary on the move and the implications it might have for local card shops, breakers, average consumers, quality improvements, etc. The move is a mixture of both good and bad, as is typically the case when companies of this size join forces, but the general sentiment is that it's more positive than negative for most whom it directly impacts. In actuality, as Logan of @LogansLeague pointed out to me in conversation, "it really falls on what Fanatics does [from this point forward]…will they listen to what the consumer has to say?"
Jared Diamond and Andrew Deaton of the WSJ put out an excellent piece Tuesday morning detailing the acquisition, so I won't bore you by rehashing it all. In sum, Michael Eisner's Tornante Co. LLC and the private-equity firm Madison Dearborn Partners have agreed to sell the trading-card division of Topps Co. to Fanatics Inc. for an estimated $500 million. The price is in line with the $1 billion valuation from 2021, half of which included the confections and gift cards divisions of the company (which will from this point forward be known as The Bazooka Companies, Inc.).
So, what are some of the positives and negatives of this move, and of the Fanatics move into the space in general? Should card collectors breathe a collective sigh of relief now that Topps and its two subsidiaries (Bowman and Allen & Ginter) are still alive? I reached out to a few of the more prominent Twitter voices to get their reaction and gauge just how significant this move is.
The Positives
The most intriguing result of this move, at least in my opinion, is how quickly this inserts Fanatics into the space and makes them a player in the card market immediately. The three year waiting period that was a result of Topps owning the MLB license until 2025 has been reduced to zero. Fanatics now has the ability to start expanding its reach into the hobby with the brand cachet of Topps and its subsidiary Bowman, the two monumental players in the baseball card world.
As a result, the die-hard baseball collectors can now breathe a collective sigh of relief. The initial worry amongst many was that Topps and Bowman might become a thing of the past when they lost the license a few months ago. Not only can that fear be allayed but collectors who are fond of Topps and Bowman's proprietary design elements can look forward to seeing them again in both NFL and NBA product. I'm in agreement with Logan of @LogansLeague who expressed to me in conversation that "the possibility of Topps Chrome basketball and football coming back is very exciting."
Those of us who are primarily interested in the baseball side of card collecting simply couldn't imagine a future world without Bowman product. The hope now is that with Fanatics backing the manufacturing and distribution we might start to see an even better version of the product from a quality standpoint.
JB of @OldTownCards said as much when I reached out to him for comment, "Topps has let consumers down in a variety of ways from a quality and customer service standpoint," he said. "I think many are interested in a changing-of-the-guard but were nervous about what that would entail. The fact that we get to keep the rich history of Topps while infusing it with capital, should be a good thing, but time will tell."
The flip side to the above sentiment is that Fanatics is known to have quality issues throughout its other operations. What makes anyone think that they would make that a priority with their card business? I am of the opinion that Fanatics will make quality a central issue as its so crucial to the overall user experience, but, as JB said, time will tell.
An additional positive is that baseball card collectors won't have to worry about whether or not the market will suffer over the next few years. The general concern was that as Topps was nearing the 2025 cliff they would lose designer talent, stop innovating, overprint everything, etc., all of which would have a massively negative cumulative affect on the market. This will no longer be a concern, which is definitely a positive.
The Negatives
Fanatics CEO Michael Rubin has made it clear that he wants to bring every aspect of card buying/grading/selling into a singular experience; "no middlemen" is a phrase he has trotted out often. How all that plays out, no one really knows, but in all likelihood the vast majority of card buying will be done on Fanatics' website and the LCS as we know it may cease to exist. Now that Fanatics owns Topps and its manufacturing capabilities, something that they wouldn't have had the need to have until 2025, will we start to see the demise of the LCS a few years earlier than we initially had thought?
My initial thought is "no" and for one obvious reason, card shops still have other product to sell. However, the forecast is very dim and I would expect more and more to close their doors over the next 3-5 years. Drew of @DrewCards_ highlighted the need for card shops to think beyond just the re-selling of cards, "If I were operating a card shop today, I would focus on things like events and building up your local community – that seems to be the only thing Fanatics won't be able to touch." He's right, the local card shop needs to start thinking now about how it can introduce at least one alternative revenue stream that has at its core "community building." Creativity is the only thing that is going to keep these shops afloat in the coming years.
Outside of the demise of the local card shop, something we should all be bemoaning, an additional negative concerning this deal is the obvious impact it's going to have on Panini. While some of the purists are dismissive of Panini because they don't have the MLB license, they still produce some absolutely stunning cards for both the NFL and NBA. Now that Fanatics has the licenses to all three leagues, and the manufacturing capabilities of Topps Co., Panini will have to exist in a much more limited fashion in order to stay relevant. One option would be to make a strong play for the soccer entities which Topps owns the rights to (Bundesliga, MLS, and UEFA Champions League).
More positives and more negatives will emerge and I'm sure there are some of you who have some deeply seated beliefs as to what this means for the card market. I'd love to hear your thoughts below!