Analysis
Baseball Card Collecting: An Annotated Guide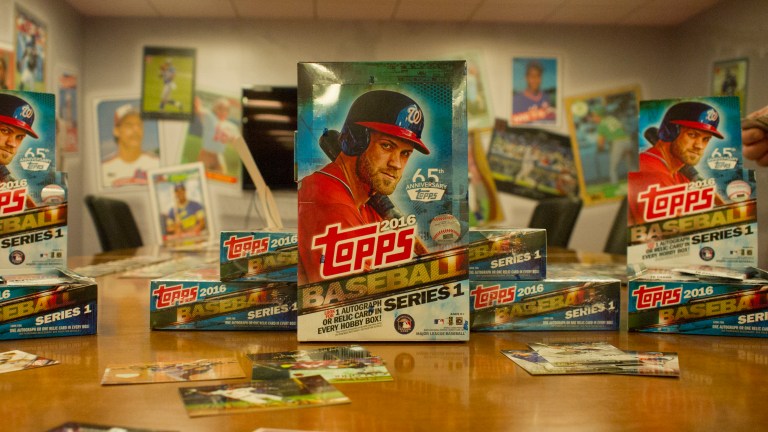 The recent surge in the value and popularity of sport cards has resulted in a number of new collectors, some returning to a pastime they once indulged in as a child, others new to the space altogether. What you quickly find out though, especially when re-entering the space after an extended period of time, is that things have changed.
Prices are higher, companies have consolidated, card variations are more numerous, exact values are harder to track down, buying cards can be difficult, and the list goes on. The good thing, however, is that there is a ton of information out there that can quickly close the knowledge gap and get you to a place where you feel comfortable navigating the space.
In this article, I have compiled a handful of different guides and helps to orientate you toward the world of modern card collecting. My hope is that these same voices, which helped me, will help you, and your affinity for the hobby will grow because of it. There is a ton of information out there, and this is intended to be only a sampling, so, when you find something other than what I have listed here that you lean on, reach out and let me know!
Learning the Landscape
Andrew Harner – Hobby Lark (hobbylark.com)
https://hobbylark.com/collecting/How-to-collect-baseball-cards-a-beginners-guide
An excellent place to start if you are ready to jump back into collecting baseball cards after a long layoff. Andrew walks you through just about every facet of collecting, from the different types of cards that are out there to how to focus your collection to how to buy cards. If I use a term in this article that you are unfamiliar with, Andrew likely explains it in his article. Give it a read, it's a great starting point.
Staff Article – Baseball Card Genius (https://ballcardgenius.com/)
This is a super helpful article that will quickly orientate you to the current card company landscape, at least when it comes to baseball cards. If you are coming back to the hobby after a significant hiatus you will learn that the major players have changed, or at least consolidated. So, card companies like Upper Deck, Leaf, Fleer, Score, Donruss, etc., do they still exist? This article will discuss which companies remain and which have folded; it will also discuss what a card company used to be like, what it is like now, and what it's signature card is.
Staff Article – Baseball Card Genius (https://ballcardgenius.com/)
Another article from ballcardgenius.com, this one helps you grasp the numerous ways there are to actually purchase cards, both singles and wax. The old option of walking into your LCS (local card shop) is fading and navigating the big box retail market can be an absolute nightmare. The author will point you in the right direction as you look to purchase your favorite player or type of card.
BaseballCardPedia (http://baseballcardpedia.com/index.php/Main_Page)
It's exactly what it sounds like, a wikipedia site for all things baseball cards. Of course, that means that it's open to editing by a collective of card collectors. That being said, if you are looking for information on just about anything that has to do with baseball cards, start here. It might be a little overwhelming at first, but it really is a fantastic site, and many will find it rather intuitive to use because of its similarity to wikipedia.
Sports Collector Daily (https://www.sportscollectorsdaily.com/)
The content this site puts out will help you obtain a greater awareness of all that is going on in the sports card world. Check out their "Sports Card News" section to get previews of sets that are about to hit the market, a calendar for when those cards are going to hit, and other relevant industry information. If you are into vintage cards they also have a "Vintage Sports Card News" section that will key you into all the happenings in that space. I also like to use their "ending soon on eBay" feature and their "bargain corner" feature for quick access to those sections of eBay's site.
Buying and Valuation
Cardboard Connection (https://www.cardboardconnection.com/)
I use this website almost daily, it is hands down one of my favorites. It has many different uses, but what I find to be most helpful is the quickness with which you can find exactly what is in a certain brand/type of card (within the past five years). Want to know the exact set checklist of 2017 Bowman? It will tell you which players are in the set, how the parallels are numbered, which inserts are in the set, which autos, etc. You can search by sport and year and they will also show you the same stock image that is found on the box so you can easily identify what you are looking for. It's an incredibly easy way to look at all the cards in a particular set and find out what it has to offer. It can also help you decide which teams to possibly buy if you are into box breaks (Andrew's article explains those as well). 
eBay (https://www.ebay.com/)
I know, shocking, but using eBay correctly will quickly cut down on the time it takes to find the going rate for the card in your hand or that box of cards you want to buy. I use it frequently when I'm pricing out individual cards, but you need to refine your search. Scroll down until you see "Show Only" on the left-hand side and make sure that you select "Sold Items." Look then at the prices paid for the card within the past week or so and then price accordingly if you are trying to sell. eBay is also an option for those looking to buy wax or buy into breaks, though you might be able to find better pricing elsewhere (Facebook Groups, card shows, etc.).
Blowout Cards (https://www.blowoutcards.com/)
If you are looking for a specific type of wax this site is likely to have it. Are you in the market for a 2001 Bowman Chrome Hobby Box? They have it. Overall, their prices are fairly reasonable, especially if you don't want to go hunting and have to deal with boxes potentially getting dinged up in shipping or someone scamming you. A secondary benefit of using this site is that they have good information on when new cards are going to be released. I advise you to make use of their Pre-Order and New Release sections as they will let you know what's just been released and/or what's going to be released in the near future.
Check Out My Cards – COMC (https://www.comc.com/)
This is probably one of the easiest ways to check the value of your cards. It's relatively intuitive, just type in the player's name (make sure you spell it correctly) and the number of the card and the site will show you both pictures and values of the card, and parallels of the card as well. If you create an account, you can actually buy/sell cards on the site. It's an easy way to build out your collection of a certain player and narrow your search for a specific card.
Beckett (https://www.beckett.com/)
Yes, Beckett is still in existence, and the company has a website, a grading service, an app, and still produces print materials. Expect to pay if you want to use their online pricing guide, or really to use their site in general. They have some good tools but I have found their site layout to be busy and somewhat cumbersome to use. Still, their information is solid, their articles are well written, and you will benefit from perusing it from time to time.
There are a significant number of other sites and articles that I can link to, but these should get you to a place where you better understand the current state of the market. As always, if you have a site that you've learned to lean on, don't hesitate to reach out and send it my way!