Analysis
Aram's Investments: Three Baseball Prospect Cards for September
Three baseball prospect cards I'm investing in.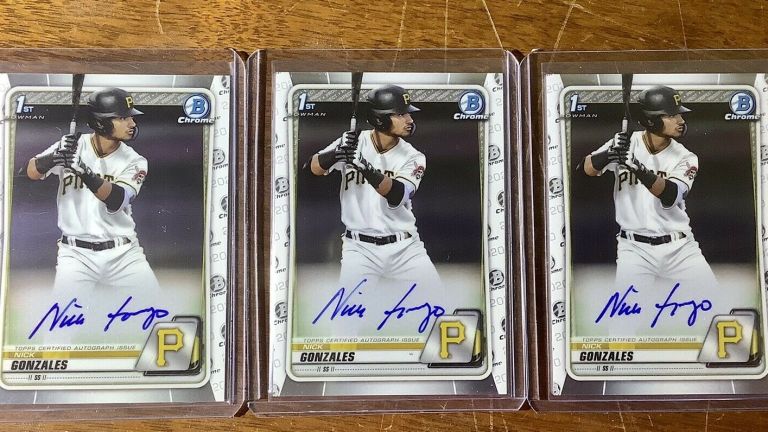 Another day, another new series here at Just Baseball! As some of you may know, I have long been a card collector, from vintage to prospects, and everything in between. With the ridiculous amount of prospect coverage I do, and takes I make, I decided to start putting my money where my mouth is. I will keep you in the loop on which prospects I am buying or selling, but remember…it's not investment advice.
Nick Gonzales 2020 Bowman Draft Auto (Pirates)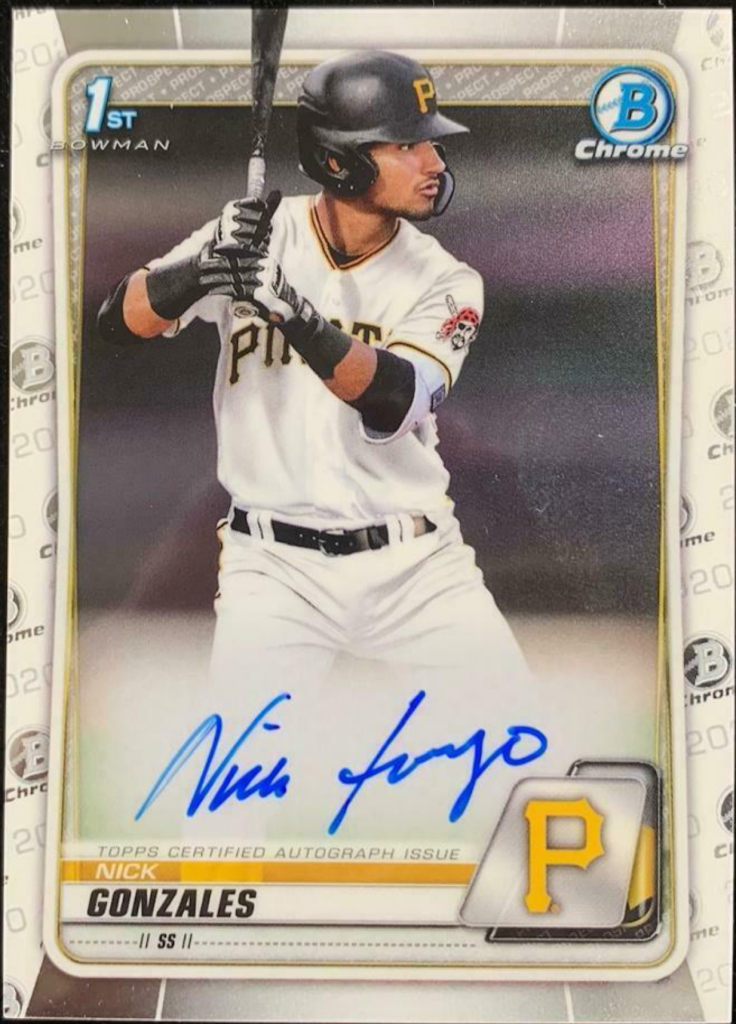 Yes, I am investing in a second baseman. Frankly, I believe in Gonzales' bat so much that I don't care where he plays or what his defense looks like (he is a fine defensive second baseman). Gonzales has missed some time early this year due to a shoulder injury, but has been the same hitter we have become accustomed to seeing since returning in late June. Since August 1st, Gonzales is slashing .355/.416/.750, with 11 home runs, 25 XBH, and a 198 wRC+ in 29 High-A games.
There's going to be some person out there who says "Lets see him do it in Double-A" or something like that. Gonzales has heard that narrative his whole career. A walk-on at New Mexico State, Gonzales just hit his way into the lineup, then carried that lineup by hitting .399/.502/.747 in his collegiate career.
"Let's see him do it against better competition," the doubters said. Well, he did that too by winning Pro Prospect of the Year in the Cape Cod League with his .351 batting average and seven homers. If you can't tell, I am as sold as sold can be on Nick Gonzales. After seeing him play for an entire summer in Cotuit, where I served as their play by play announcer, the guy has the things you can't teach: otherworldly bat speed, a great makeup, an innate feel to hit, and an elite approach. The sound off of his bat is just different. I'll bet on that translating.
Corbin Carroll 2019 Bowman Draft Auto (Dbacks)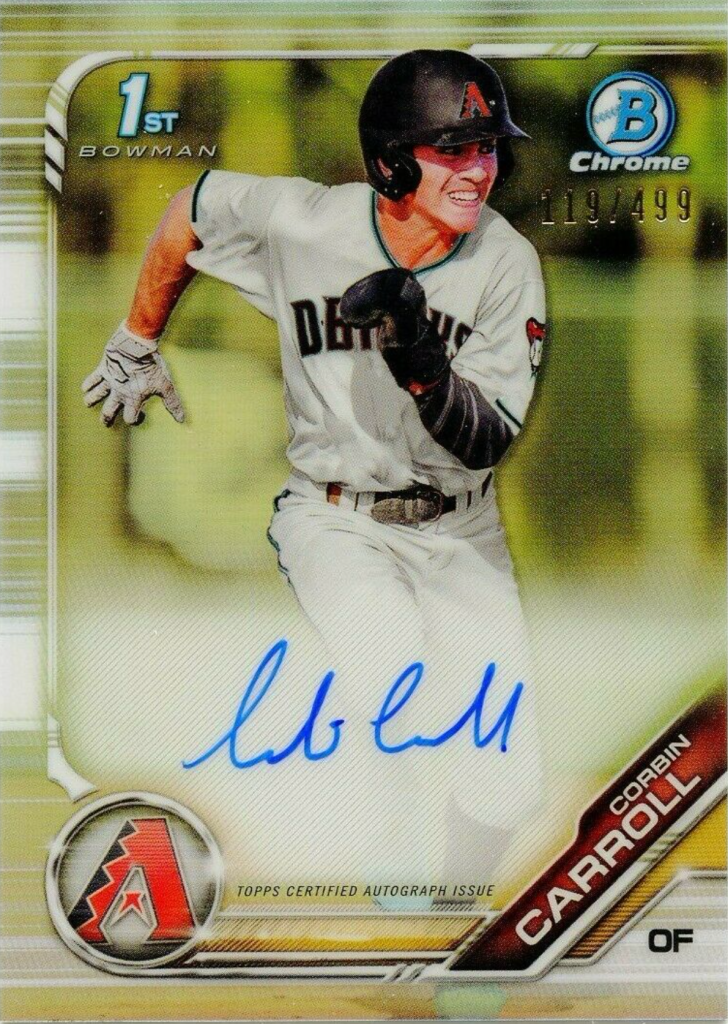 Carroll missed nearly the entire 2021 season due to shoulder surgery, but I expect him to come back in 2022 just fine. The 2019 first round selection was one of my breakout picks for this year and had as good of a seven game start to the season as possible before going down.
The 20-year-old has 70-grade speed and a 60-grade hit tool. A player with those two qualities is a pretty safe bet to be a guy who hits for average. The thing with Carroll is that he has some sneaky pop too. Despite his 5-10, 170 pound frame, Carroll has shown above average power to the pull side and leverages his hitter's counts well to do damage.
Similarly to Nick Gonzales, Carroll has one of the better approaches you'll see in the minors. He makes adjustments from pitch to pitch, rarely expands the zone, and is comfortable spraying the ball to all fields. The Seattle, WA native is someone who I think can easily make up for lost time because of his maturity and polish. A great defender in center, I don't imagine Carroll will be moving from there, and assuming that his makes his big league debut in Arizona, Chase Field may give him a chance to lead the league in triples. This year's MLB leader is 34-year-old Diamondback, David Peralta
I am still expecting Carroll to make his debut by 2023 and expect him to compete for batting titles. I know that may sound a bit crazy, but I am putting my money where my mouth is on this one.
Mark Vientos 2017 Bowman Draft Auto (Mets)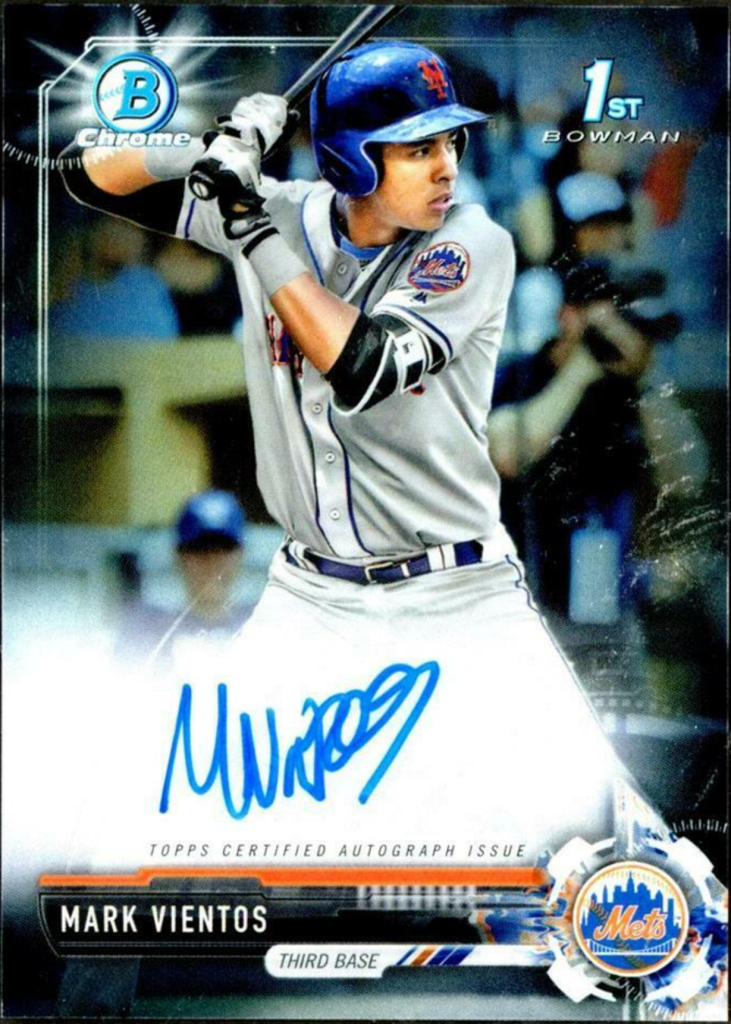 Vientos is no doubt the riskiest of the three investments, but could pay off the biggest. An addition to Just Baseball's soon-to-be-released Top 100 Prospect list, Vientos has finally put his 70-grade raw power on display this year. The 21-year-old has hit 22 bombs in just 72 Double-A games while nearly doubling his walk rate.
Vientos had long put up some of the best exit velocities in the minor leagues, but could not fully translate the hard hit baseballs into homers due to some swing and approach inconsistencies. This year, Vientos tripled his HR/FB rate from 10% to 30% and is hitting balls out foul pole to foul pole.
As you can see in the video above, the second round pick in 2017 has the kind of power where he can miss baseball's that still leave the yard. Now that Vientos has made improvements with his lower half and approach, I am willing to take a chance on his power. Sure, the 28% K-rate is not ideal, but he is 21-years-old in Double-A and the walk rate is rising. If he continues to hit, Vientos could see a call up next year. The Mets have already started getting him reps in left field on top of his natural third base position. Big power in a big market? Sign me up.