Rankings
2023 Bowman Baseball: Top Prospect Autographs to Chase
A loaded checklist of talented prospects at all levels, here are the top names to go after!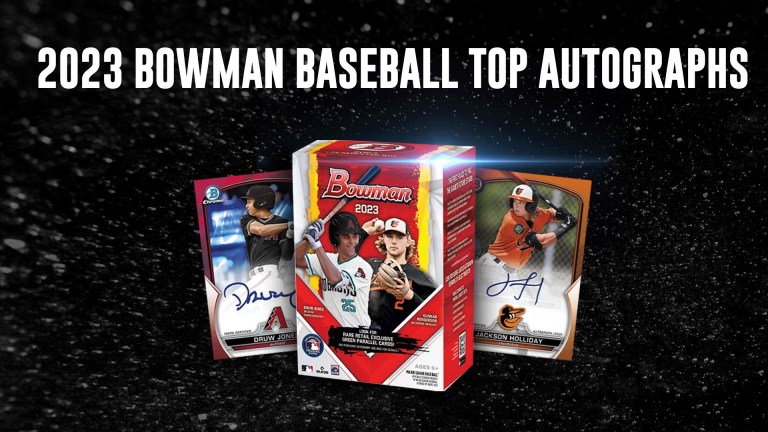 Each year, Bowman Baseball typically features a mixture of exciting prospects who were not included in the previous year's Bowman Draft pack, as well as international free agent prospects who have played their way onto radars.
2023 Bowman Baseball may be one of the best examples of this in recent memory, with some of the highest upside 2022 draftees featured with their first cards, as well as a few big name international free agents who many within the hobby felt were long overdue to be included in the product. Let's take a look at some of the prospects you should be chasing!
To chase some of these prospects and rip more awesome baseball card product beyond 2023 Bowman Baseball, check out our box breaking arm Just Breaks.
Tier 1
The prospects in Tier 1 will be comprised of hitters included on Just Baseball's top 100 prospect list. Tier 2 will mostly feature prospects who just missed the top 100 list or have enough upside to be candidates to reach such status by the end of the year. Tier 3 players are more long shot prospects who are still intriguing and relevant enough to collect. You can read the more detailed write-ups on these players by clicking on the "Top 100 Rank" hyperlink.
Junior Caminero – 3B – Rays
Though Caminero is ranked towards the back of our top 100 list, he has as much upside as any prospect in this product not names Spencer Jones. The Rays farmhand has big time power and has started to tap into it more consistently in the early goings of 2023. Though he is only 19 years old, Caminero is a candidate to be promoted to Double-A before the All-Star break. With his age, power, and organization, Caminero could create the kind of buzz that makes him one of the more popular chases in the hobby this year.
Spencer Jones – OF – Yankees
I won't hide it, I am as high on Spencer Jones as anyone you will find. He is 6-foot-7, but moves well enough to stick in center field and boasts monstrous power…sound familiar? Of course, Jones is going to have to prove that he can make enough contact to fulfill his star potential, but that potential is just too immense to pass on. I have a feeling that many of the 21 teams who passed on Jones in the first round of last year's draft already feel the same way.
Druw Jones – OF – Diamondbacks
Son of legendary centerfielder Andruw Jones and the No. 2 selection in the 2022 draft, Druw is poised to be one of the biggest chases in the product. With elite speed and defense in center field as well as power to dream on, many evaluators are already imagining the reincarnation of his father. While that is possible, Jones is an extremely raw bat whose prospect allure is largely buoyed by his elite center field ability and blood lines.
I'm not sure Jones' price will ever be higher than what it will be in the early months after the product is released. That is not an indictment on his longterm outlook–he is our No. 40 prospect, after all–but it is a reminder that Jones may not crush baseballs right away and it's hard to imagine much more hype around him than there is right now.
Cam Collier – 3B – Reds
The 18th overall selection in the 2022 draft, Collier was expected to go top 10 by many and was still given that kind of signing bonus with an overslot deal of over $5 million. The son of former big leaguer Lou Collier, Cam secured his GED early in order to enroll at JuCo powerhouse Chipola College at just 17 years old.
Collier earns high marks for his approach at the plate, power potential and makeup. Though it will be several years before he plays at Great American ballpark, Collier has the upside to be one of the better prospects in baseball.
Matt Mervis – 1B – Cubs
Endearingly nicknamed "Mash Mervis" by the Cubs faithful, Mervis was a casualty of the 2020 shortened five round draft and signed as an undrafted free agent with the team. After a rocky first pro season, Mervis put it all together in 2022, hitting .309/.379/.606 with 36 home runs and 78 extra base hits between High-A, Double-A, and Triple-A last season.
It's been more of the same in 2023 for the power-hitting first baseman, and it is really only a matter of time before he takes over the first base duties at Wrigley Field. Mervis could be a popular pickup as a middle-of-the-order run producer for one of baseball's most popular ball clubs that happens to be off to a strong start in 2023.
Josue De Paula – OF – Dodgers
Much further away than any of the other names you'll see in Tier 1, De Paula has yet to make his debut stateside, but put up fantastic numbers in 54 Dominican Summer League games last year: he hit .350/.448/.522 with more walks than strikeouts.
At 17 years old, De Paula is the second youngest player to crack our top 100 list despite his limited experience because of how advanced his swing and approach are. He has the goods to climb quickly and is already posting strong exit velocities.
Edouard Julien – 2B – Twins
A heist in the 18th round of the 2019 MLB Draft, a lack of defensive home and "only" solid college stats led many teams to pass on Julien. The power-hitting lefty looked like a different hitter in pro ball, walking at a 20% clip while hitting 37 homers through his 236 Minor League games. A rare instance where you can collect a player's first Bowman autograph after his big league debut, Julien has held his own for the Twins after his April call up.
Tier 2
Kyle Harrison – LHP – Giants
One of the most electric left-handed pitchers in the minors, Harrison has a high-spin fastball that can touch the upper 90s along with a plus slider and above average changeup. A third rounder out of high school in the 2020 Draft, Harrison overpowered lower level hitters with his big stuff in his first two pro seasons.
He has faced command issues as a pro, but Harrison has already reached Triple-A as a 21-year-old. He will need to throw more strikes and go deeper into games in order to achieve his frontline ceiling and still remains a somewhat high variance pitching prospect despite his prospect pedigree.
Alex Ramirez – OF – Mets
Ramirez is considered a top 100 prospect by some and just missed our list here at Just Baseball. The Mets prospect has exciting tools across the board with his elite bat speed leading the way. At 6-foot-3 with plenty of room to add muscle, Ramirez has the potential for plus power and is a good athlete in the outfield. Though it is not Ramirez's first Bowman card, his first autograph will be released in this set.
Justin Crawford – OF – Phillies
The son of former all-star Carl Crawford, Justin boasts similar game-changing speed and defensive potential in center. Selected 17th overall in the 2022 Draft out of high school, the 19-year-old Crawford is raw at the plate but there is plenty to dream on. He has a pretty good feel to hit and at 6-foot-3, 175 pounds, there is potential for more strength and power which is below average at this point.
Jacob Berry – 1B/3B – Marlins
Though he was a high draft pick in 2022 (6th overall), Berry underwhelmed in 33 Low-A games last season and is off to a slow start at High-A in 2023. He has a feel to hit from both sides of the plate that helped him put up fantastic collegiate numbers at LSU, but there is a question about how much power he will hit for. A fringy defender at third, Berry is also a candidate to move to first.
In his draft year at LSU, Berry hit .370 with 15 homers and only 22 strikeouts in 53 games. There's a chance things can click for Berry in pro ball, allowing him to hit for a strong average and at least decent power.
Roman Anthony – OF – Red Sox
A big teenage prospect with the ability to drive the ball with authority to all fields, the Red Sox took Anthony in the 2nd round of the 2022 Draft, signing him away from Mississippi with a $2.5 million bonus. Anthony plays center field now, but likely will shift to a corner where his power profile will play well.
Carlos Jorge – 2B – Reds
An underrated second base prospect with some thump, Jorge turned heads with fantastic numbers at both the Dominican Summer League and complex over the last two seasons. Now in Low-A at 19 years old, Jorge has continued to look strong offensively. Jorge has above average power potential with a sweet swing from the left side along with good on base skills.
Ben Brown – RHP – Cubs
Traded from the Phillies to the Cubs for David Robertson last season, Brown has continued to see his stuff tick up since changing orgs. Brown's fastball now averages 96 mph with a ton of ride while both of his breaking balls have been big swing and miss pitches this season. Command has been a concern for Brown, but the 23-year-old has improved in that regard. With his stuff and early success in 2023, it would not be crazy to call Brown the best pitching prospect in the system.
Tier 3
Kumar Rocker – RHP – Rangers
A surprise underslot pick at No. 3 overall in last year's draft, Rocker was long considered one of the best arms in college baseball and was infamously selected and not signed by the Mets at No. 10 overall in the 2021 Draft due to iffy medicals.
Having to wait an extra year to start his pro career, Rocker is already 23 years old, but is off to a fantastic start to his first full season. His fastball still sits mid-90s and there are stretches where his slider looks wipeout. Though health concerns and fluctuation in quality of stuff/command hold Rocker back from being considered an elite prospect, he is still extremely talented with plenty of name recognition.
Vaun Brown – OF – Giants
A dynamic prospect who hit 23 home runs and stole 44 bags between Low-A and High-A last year, Brown feasted on younger competition as a 24-year-old prospect. That said, that kind of combination of power and speed is eye-catching for any player at any level. Now at Double-A, Brown could start to turn heads with upper-level success.
Xavier Isaac – 1B – Rays
The Rays first round pick last year, little was known of Isaac relative to other players taken that early due to a foot injury that limited him in his senior season at East Forsyth High School in North Carolina. Isaac is a big dude at 6-foot-3, 240 pounds with a feel to hit that is ahead of his years. A 1B/DH profile puts a lot of pressure on Isaac's bat, but the Rays are optimistic that he can be a masher at the position.
Ronny Simon – 2B/SS – Rays
A switch-hitter with good speed and frame-defying power, Simon has a fun skillset and finished strong last season at the Double-A level. Simon hit 22 homers while stealing 34 bases between High-A and Double-A last season and followed that up with a .925 OPS in the Arizona Fall League. Though he's an aggressive hitter, Simon has the tools to be an exciting player.
Brock Jones – OF – Rays
Yet another relevant Rays prospect on this checklist, Jones was selected in the 2nd round of the 2022 Draft, but was considered a first round candidate by many going into his junior season. Jones battled whiff issues through the first half the season last year and struck out 27 times in 19 games (Complex and Low-A) during his pro cameo.
There are major hit tool concerns, but the former Stanford safety is a premium athlete with exciting tools.
Manuel Beltre – SS – Mariners
A really solid defensive shortstop with decent tools, Beltre plays hard and makes plenty of contact. There's a question of how much power he will hit for, but there's an outside shot at an everyday shortstop here.
Lazaro Montes – OF – Mariners
A $2.5 million signee by the Mariners in the 2022 IFA class, Montes impressed scouts with his big power potential from the left side. Like many teenage, power hitting prospects, Montes will need to prove that he can make enough contact, but his size, age and pop make him an intriguing follow.