Analysis
2022 Bowman Baseball Top Prospect Prices Are Off the Charts
Some of the top prospects in 2022 Bowman Baseball are selling for crazy amounts.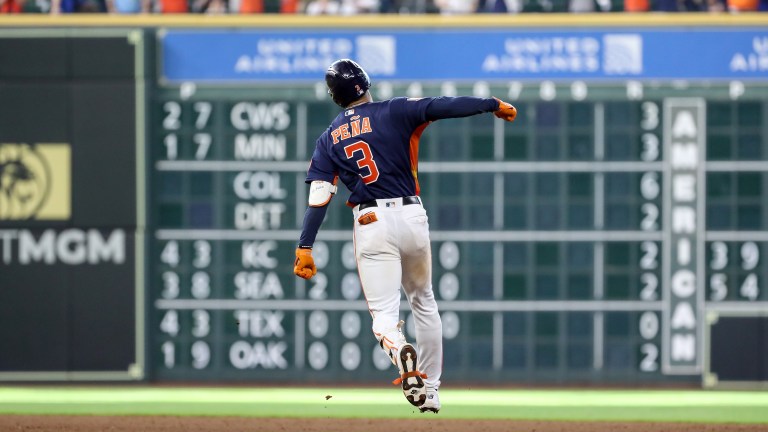 As we know, there's always certain prospects who collectors will chase more than others when a new bowman product releases and 2022 Bowman Baseball's loaded checklist has provided as many exciting names out of a non-draft product in recent memory.
In the early going, the demand often outpaces the supply as many of the most sought-after cards are still wrapped in plastic, but as people continue to rip open product, more cards will flood the marketplace. Right now, we are in that in-between range where the demand is high and there is still plenty of 2022 Bowman Baseball product to be opened.
As a result, we get inflated prices on the most exciting prospects, but just how inflated are they?
On our last episode of Cardboard Consultants, we compared some of baseball's most exciting prospect's card prices with the top names in 2022 and… I'll let you decide which prospect's bowman chrome first auto you would prefer.
James Wood ($180) vs. Corbin Carroll ($210)
James Wood has understandably become one of the players in 2022 Bowman Baseball who everyone is hoping to pull because of his sheer potential. Athletic, 6-foot-7 outfielders who are capable of playing centerfield don't come around very often, and with the strong start that Wood is off to in his professional career, it's no surprise that collectors want to invest in one of the Padres' top prospects.
Wood's price has dipped under the $200 mark since we recorded our episode which can be seen on the embedded YouTube video above, but at about $30-$40 less than Corbin Carroll–whose card is continuously rising–the comparison is close enough.
The Arizona Diamondbacks selected Carroll 16th overall in 2022's MLB Draft and the speedy centerfielder has done nothing but rake since he debuted.
The 21-year-old has added power to his game as well at the Double-A level, already slugging a career-high 12 homers along with a ridiculous .328/.462/.694 slash line. Given Carroll's upside as a top flight speedster with burgeoning power and proximity to the big leagues, the Diamondbacks' top prospect is the no-brainer choice for me, but as you can tell, many collectors are still rolling the dice with the very exciting James Wood.
Elly De La Cruz ($250) vs. Jeremy Peña ($200)
This is another situation where I absolutely love the 2022 Bowman Baseball prospect being compared to a more established prospect, but even so, $250 for De La Cruz right now is hard to justify. That said, De La Cruz is our 52nd ranked prospect for good reason, I love De La Cruz's upside as a top-of-the-scale athlete with insane power potential.
Yes, De La Cruz could wind up being more valuable than Peña when it's all said and done, but we're talking about the AL Rookie of the Year favorite being more than 20% cheaper than a player in High-A with a 32% strikeout rate. De La Cruz is having a good year overall and continues to mature at the plate, so if you're not risk averse like myself, I guess a De La Cruz purchase is justifiable given his limitless ceiling, but I'll take the AL Rookie of the Year on a World Series contender.
Kahlil Watson ($330) vs. BCGS 9.5 CJ Abrams ($330)
This is without a doubt the most absurd comparison on in this article. Like many of the Bowman newcomers, Kahlil Watson has big time upside and is one of the top prospects in a strong Miami Marlins farm system. That said, Watson has swing-and-miss concerns (42 K% in Low-A) and slipped in the draft due to make-up and signability concerns.
CJ Abrams is a consensus top 20 prospect in baseball and despite being rushed to the big leagues in 2022, still has perennial All Star potential. Abrams is one of the fastest players in professional baseball with a plus hit tool and sneaky power that could very well turn into 20+ home run pop as he matures.
The most important detail here is that Abrams is so advanced that he was able to skip almost straight to Double-A, where he was hitting .296 with 13 stolen bases through 42 games before going down with an injury in 2021. Abrams clearly wasn't big league ready yet, but the fact that the Padres forced him up there after the Fernando Tatis Jr. injury is a testament to how much confidence the team has in their top prospect.
I'll take the graded card of a freakishly athletic player who is looking to get his footing in Triple-A at 21 years old over a raw card of a freakishly athletic player who is looking to get any footing at the Low-A level.
James Triantos ($170) Vs. Brett Baty ($80) AND Josh Jung ($90)
This one is another no-brainer that is more of a rhetorical comparison than anything. James Triantos has been fantastic since the Chicago Cubs selected him in the second round of last year's draft, riding his high-end hit tool to success a the Low-A level.
Triantos has a high floor thanks to the aforementioned hit-tool, but his upside is limited by a lack of raw power or a plus tool. Both Brett Baty and Josh Jung offer a higher ceiling than Triantos with Jung already proving to be one of the best all-around hitters in Triple-A last year.
Baty has put up good numbers in Double-A, though he continues to fight his inability to consistently hit the ball in the air. The encouraging thing with Baty is that he puts up top-of-the-scale exit velocities and is still just 22 years old. Frankly, I would take either Jung or Baty over Triantos so both for the same value is a no-brainer.