Analysis
2022 Bowman Chrome: Top Prospect Autos To Hunt
One of the most popular products in the baseball card hobby, 2022 Bowman Chrome is loaded with prospects who have high upside. Which names should you be after?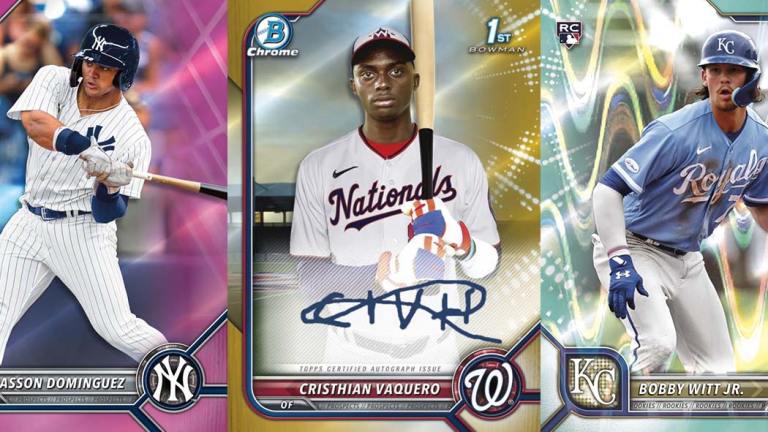 Every year, Bowman Chrome is one of the most highly-anticipated baseball card releases on the calendar and 2022 Bowman Chrome is expected to be no different. 2022 Bowman Chrome is typically loaded with high-upside prospects who may be a ways away from the big leagues.
For how expensive the product can tend to be, you might as well know what you're looking for. I am going to break down my 10 favorite prospects with an autograph in the product, but you can check out the complete checklist from Beckett.com.
If you enjoy this prospect and collectibles coverage, be sure to check out our prospect podcast "The Call Up".
Jackson Merrill – SS – Padres
While Merrill has already had his first Bowman card released in 2021 Bowman Draft, this will be his first autographed card. Our No. 61 ranked prospect in baseball, Merrill impressed with his advanced feel to hit, while showing flashes of plus power in his 45 Low-A games.
As Merrill mentioned on "The Call Up" the 19-year-old has worked hard on getting more physical and explosive (a growth spurt ahead of the draft helped as well). Already reaching exit velocities as high as 110 mph, there's a lot to dream on with Merrill's bat.
When I saw Merrill in the Arizona Fall League, it was clear how ahead of his years he was both at the plate and in the field. He's got a ways to go, but there's some shades of Corey Seager in his game.
Jackson Chourio – OF – Brewers
Another player who had his base cards precede his autograph in a prior release, this will be the first chance for collectors to scoop up the highly touted prospect's autograph.
Chourio was one of the biggest risers in the prospect industry last year, going from anonymous on every top 100 list preseason, to a consensus top 20 prospect in baseball. Just 17 years old at season's start, Chourio floored scouts with his ability to hit both Low-A and High-A pitching, even earning a promotion to Double-A for the final six games of the season.
Just 6-foot-1, 170 pounds Chourio is not the most imposing of figures, but generates plus bat speed and easy carry. Despite an aggressive approach, Chourio maintained a .288/.342/.538 slash line with a 27% strikeout rate across the three levels.
A big part of what makes Chourio such a highly-regarded prospect is his elite glove in center. There's true five-tool potential for the Brewers top prospect and I expect him to be one of the hottest names in the product.
Roderick Arias – SS – Yankees
There is little to work with in terms of looks on Roderick Arias. He just turned 18 years old and has played 31 games in the Dominican Summer League where he struck out 33% of the time. Signed for $4 million last January as MLB Pipeline's top international free agent, Arias is a switch-hitting shortstop with loud tools and a projectable frame.
I expect Arias to be one of the most expensive cards in the product from the jump. Not because he is the best investment, but because he is a multi-million dollar international free agent signed by the New York Yankees. Arias could very well become a star and has as much upside as anyone in 2022 Bowman Chrome, but international free agency is a total crapshoot no matter how expensive the investment. Arias is a great name to hunt, but if you are buying on the secondary market, tread lightly.
Mason Auer – OF – Rays
Maybe one of the most underrated names on the checklist, it was a fantastic season for Auer. The Rays fifth round pick in 2021 mashed to a .290/.372/.487 line with 15 homers and 48 stolen bases in 115 Low-A and High-A games. Auer is an athletic freak reminiscent of Tyler O'Neil with his combination of brute strength and plus speed.
A JuCo product from the pipeline that is San Jacinto CC in Houston, Auer's ridiculous tools were more than evident in the games I saw in the Arizona Fall League. Still just 21 years old, Auer should begin next season in Double-A and if he has a strong start to the season, I wouldn't be surprised to see him start cracking top 100 prospect lists.
Cristhian Vaquero – OF – Nationals
Another prized international free agent yet to play above the Dominican Summer League, Vaquero was the No. 2 ranked prospect in his international class behind only Arias, according to MLB Pipeline.
Signed for $4.9 million, the newly-turned 18-year-old fits the mold of the high-risk, high-reward international free agent to a tee. Vaquero is switch-hitting premium athlete with a big frame, but is very raw in the batter's box. A lot of the things said about Arias could be regurgitated with Vaquero. Fun card to pull and possibly hold, but investing in their secondary market is an expensive roll of the dice.
Ceddanne Rafaela – OF – Red Sox
Easily the highest floor prospect in the checklist, Rafaela enjoyed a massive 2022 season where he launched 21 homers while swiping 28 bags between High-A and Double-A. Rafaela is one of the best defenders in all of the minor leagues, playing elite defense in center, while also flashing the leather at shortstop.
The 22-year-old's defensive versatility and plus speed made him an intriguing prospect prior to last season, but his offensive breakout now has him at No. 81 on our top 100 prospect list. Rafaela has good bat-to-ball skills, though he has the tendency to be a bit too aggressive, posting a 38% chase rate last season.
The fact that Rafaela was able to put up such impressive numbers in Double-A despite his lack of patience is impressive and if he can reign in his approach a bit, he could be an above-average hitter with sneaky pop and plus speed to go with his highlight reel defense.
Brady House – SS – Nationals
Much has been made of House's power potential, but we have yet to see it translate professionally. The 6-foot-4, 220 pound shortstop was the 11th overall selection of the 2021 Draft out of the Georgia prep ranks.
After a strong showing at the complex in 2021, House put up a decent season in Low-A this year, hitting .278/.356/.375 with three homers in 45 games. Still 19 years old, there's big power to dream on still with House, though I would feel a bit better if he even gave us a couple flashes of that consensus plus raw power.
The good news is, there was less whiff that I expected in House's first pro stretch above the complex and he still has plenty of time to grow into his projectable pop.
Jorbit Vivas – 2B – Dodgers
A plus hitter with fringy power, Vivas walked more than he struck out last season as a 21-year-old in High-A. His smooth left-handed stroke and impressive approach should help him make the transition to Double-A smoother than most.
Vivas has flashed above-average exit velocities and could grow into average power. With a plus hit tool and a solid glove, the Dodgers prospect could blossom into a well-rounded player.
Enmanuel Valdez – UTIL – Red Sox
Acquired in the Christian Vazquez trade with the Astros at the trade deadline, Valdez enjoyed his second-consecutive 25+ homer season, smacking 28 between Double-A and Triple-A. The left-handed hitter has a solid approach, using the whole field well with above-average power.
Valdez can play all over the diamond, racking up starts at second base, third base and both outfield corners last season. He has a chance to debut with the Sox at some point next season.
Gavin Stone – RHP – Dodgers
I know, I know, nobody wants to invest in pitchers. Well, until they're elite. Gavin Stone has a chance to be elite. Our No. 36 prospect, Stone made a mockery of Minor League hitting last year, pitching to a 1.48 ERA with 168 strikeouts in 121 2/3 innings between Double-A and Triple-A.
Stone's mid 90s fastball sets up his 70-grade changeup extremely well and he will mix in an above-average slider that he commands on both sides of the plate. The right-hander struck out at least seven betters in 14 of his 19 starts and has little left to prove below the big league level.
A sneaky National League Rookie of the Year dark horse, I expect Stone to be a factor for the Dodgers next season and his nasty arsenal will be popular on Pitching Ninja and social media.
Are there cards that will sell for more from this checklist? Absolutely. But there may not be a more impactful big leaguer in the near future.