Analysis
NLCS Game 5: Phillies vs Diamondbacks Best Bets, Odds, Predictions for October 21, 2023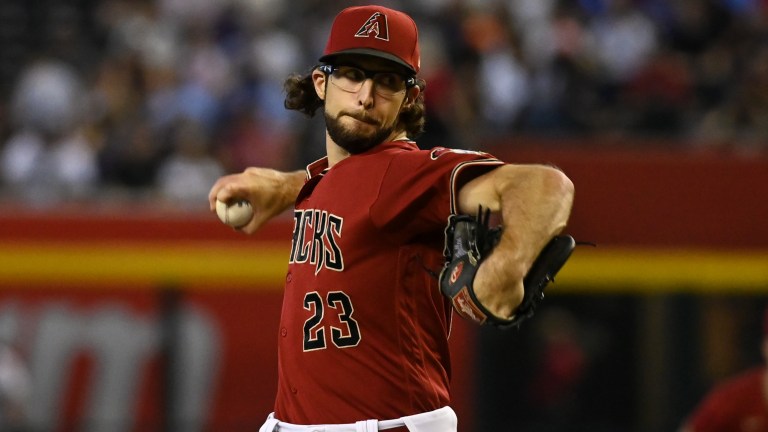 Baseball is the best.
We had two excellent games last night, and unfortunately, we were on the wrong end of one. We had the Phillies ML yesterday, and Craig Kimbrel blew a three-run lead in the bottom of the eighth. It felt like the right play, but that doesn't always win.
Truthfully, I'm not upset at all. Was it a bad beat? Sure. However, that's the risk we take in playoff baseball. This game is so fun to watch because anything can happen at any time. That's why we pace ourselves and don't place anything we can't afford to lose.
I'm back today with my favorite pick. We are getting a little risky, but it's worth the price.
2023 MLB Regular Season: 154-165 (-11.66 U)
2023 MLB Playoffs: 12-13 (+1.90 U)
Philadelphia Phillies vs. Arizona Diamondbacks @ 8:03 PM EST
Pitching Matchup:
Zac Gallen: 3.47 ERA, 4.18 xERA, 3.27 FIP, 3.49 xFIP, 3.67 SIERA
Zack Wheeler: 3.61 ERA, 3.21 xERA, 3.15 FIP, 3.54 xFIP, 3.53 SIERA
We may not be able to bet on a full game ever again in this series. While I still like the Phillies bullpen, there are too many high-stress arms to rely on. Serathony Dominguez throws balls into center field when trying to turn double plays, and we see what Kimbrel does. Gregory Soto is all over the place, and Kerkering looks less sharp. The Diamondbacks bullpen is not in a great spot in terms of rest, and it's not the best unit in the world.
When deciding on a pick last night, I kept going back and forth on a winner. A playoff series doesn't start until a team wins a game on the road, which the Phillies have failed to do. They look unstoppable in front of their fans, but so do the Diamondbacks in front of theirs.
Who wins? I don't know. I feel the most confident about these horses on the mound. We have Playoff Wheeler vs Chase Field Gallen.
I have been preaching the same thing all year. Gallen has proven that he can be vulnerable when he's pitching on the road. We've seen three straight road starts, so the market is down on him. He's also coming off a five-run outburst against the Phillies in Game 1 of the series. Props will tell you he's getting hit up again, but I beg to differ.
The difference between his home and road numbers this year is crazy. On the road, he's posted a 4.42 ERA, 4.15 FIP, and a 4.26 xFIP. Those are the numbers of an average number-three starter in this league.
Gallen was in the CY Young race because he was the best pitcher in baseball at home. He threw 102 IP at home, sporting a 2.47 ERA, a 2.32 FIP, and a 2.66 xFIP. His K-BB% was 10% higher at home.
If this were some random year, I wouldn't put nearly as much stock into it. However, this has been a theme his entire career. The only season he wasn't better at home was in the COVID-shortened 2020 season.
Is anyone super impressed with this road Phillies offense? They scored one run in game one after being shutout by a rookie, and it took an error from Emmanuel Rivera to break open the score for them in game two.
They beat up Gallen with the crowd behind them in a historically bad spot for him. Now they get Gallen, with time to correct his mistakes, in a must-win environment for both teams. If they get to him, good for the Phillies. I don't see him allowing more than two runs in five innings.
On the flip side, we have Zack Wheeler—one of the greatest postseason pitchers ever. I don't say that lightly; he is number one in WHIP among all pitchers EVER with at least 40 IP. In 54 innings, he's pitched to a 2.63 ERA and 2.61 FIP. Crazy enough, he's performed better on the road this season than at home.
Road Wheeler posted a 3.13 ERA and a 2.60 FIP compared to a 4.16 ERA and 3.78 FIP at Citizens Bank Park. He still strikes everyone out and doesn't walk anyone anywhere, but he has undoubtedly been better on the road. How can I doubt that he turns in another incredible performance in a game that can almost guarantee the Phillies the series win?
His one road start in the postseason ended with three runs in six innings against Atlanta. However, that was a five-inning no-hitter before the wheels fell off in the sixth.
Wheeler's numbers are also a bit skewed in these playoffs. He's been consistently throwing five-inning shutouts before giving up a home run in the sixth. That happened against the Diamondbacks, as Perdomo hit a two-run home run to get Arizona on the board.
Are we sure Arizona's offense is back? They got their first run early off Sanchez, but he could have been out of the inning earlier if he remembered how many outs there were. Marte reaches on an infield single, moves to second on a passed ball, moves to third on a ground-out, and then a single gets him home. That's how the Diamondbacks scored before Craig Kimbrel entered. Before that, they scored five runs in the first three games.
These two guys are the best of the best in a pivotal game five, facing offenses that I don't fully believe in. I took an alternate line; I'm betting on the upside of these two. I doubt they throw dueling shutouts, but I don't think both pitchers allow two runs. I think one is due for a five-inning shutout; I'm just not sure which one.
I would bet this down to +105. If all you can find is four, that's fine. I wouldn't play this under through the full game; I can't trust these bullpens right now. Give me both starters to show up for their teams in the biggest moment. We are betting on thin margins here; I'll take the risk in a great spot for two of our best pitchers.
The Pick: First 5 Innings Under 3.5 (+122) Risk 1 U