Analysis
MLB Picks Today, Best Bets, Odds, Predictions for May 29, 2023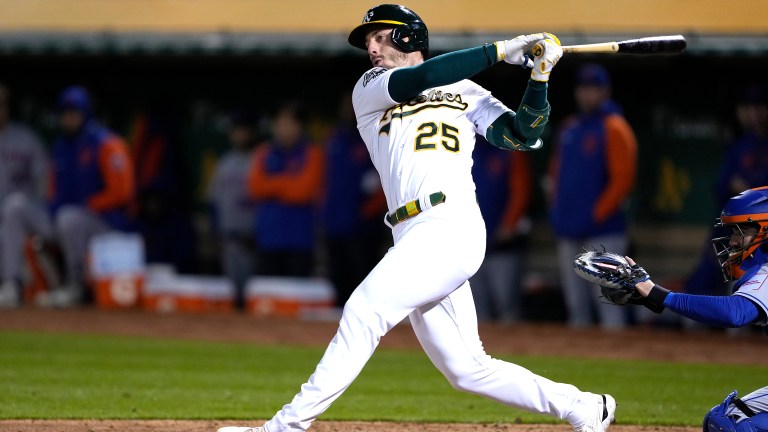 This weekend has been so rough. We were on an 0-5 streak, the worst of the season. I went 0-5 on a stretch in 2021 but never in 2022. I have never gone 0-6 in my career, capping publicly, and thankfully we cashed an easy over in Coors Field to get us back on track. We are still having a solid start to the season, and now it's time to start another heater.
Today, I have two MLB picks and a PrizePicks entry to start the week off right.
2023 Straight Plays Record: 74-61 (+8.63 U)
PrizePicks Record: -2.3 U
I'm using BetMGM lines only this year. Here's a link to get started with a risk-free $1000 bet. You can also use code "JBFANS" if you're betting on MLB. Wager $10 on any MLB moneyline and receive $100 once the bet is settled.
All prop entries will be on PrizePicks: Here's a link to get a 100% deposit match.
Colorado Rockies vs. Arizona Diamondbacks @ 4:10 PM EST
Pitching Matchup: Karl Kauffmann vs. Ryne Nelson
If you faded the Colorado Rockies after a homestand at Coors, you would be 90-42 (68%) with a 15% ROI. If you took the run line, you are 48-49 (49%) with a 19% ROI. The system isn't as strong on the run line, but we have some different circumstances.
I also don't like taking the run line for a home team. It's rarely a spot you'll see me on because the home team isn't guaranteed nine innings of hitting if they are up by one in the final inning. I'm breaking my rules today due to the circumstance. This would be different if the Rockies played just one series at home. After 6+ games at home, the ROI on the ML goes up to 23%, and the run line ROI climbs by 2%.
This season, after six games at home, they are 1-2 against the run line. The only time they didn't lose by 2+ runs was when they lost 1-0 to the Mets. They have played seven games at home on this home stand, the longest of the season.
Karl Kauffman is not a major league pitcher. In his debut, when we faded him with the Rangers, he threw three shutout innings with less-than-impressive stuff. I thought to myself, "How in the world are the Rangers not hitting this guy?" Luckily, it all unraveled in the fourth and fifth inning, and he allowed four earned runs in 4.1 innings. He then threw 4.1 innings against Miami and allowed five earned runs.
You won't last long when you don't have command of your below-average pitches. Kauffman's 8.63 xERA is so high because he's allowing some of the hardest contact in baseball combined with a low strikeout rate and high walk rate. He doesn't throw anything over 90 MPH and has nothing slow to throw off the hitter's timing. For example, Rich Hill doesn't throw very hard, but he'll be anywhere from 91 to 69 MPH with his curveball. Everything Kauffman throws is between 84-90 MPH, so hitters can sit on a speed window.
The Diamondbacks' better split is against right-handed pitching this season. They sit with the 8th best wRC+ against righties and the fifth-best OPS. In May, against righties, they rank fifth in wRC+ and fourth in OPS.
Following Kauffman will be a bullpen that's seen a lot of work in the past few days. Matt Carasiti might be the next guy to follow, who has a 12.46 ERA and throws only two pitches. Jake Bird and Justin Lawrence are over 33 pitches the past two days, so it's unlikely we see the Rockies' two best arms.
Ryne Nelson is on the other side and should fare well today. He already got smashed by the Rockies in Coors Field, which makes me feel better because he likely makes his adjustment. We've seen a much better May from him, rocking a 3.00 ERA. He's due for his ERA to come down; he's rocking 4.45 xERA, 4.52 FIP, and 4.59 xFIP. He faced them in Coors Field in his last start, but now it's time for him to perform at home.
The Diamondbacks bullpen has a larger rest advantage than the Rockies do, and the Diamondbacks get to stay at home. Diamondbacks should win this game by 2+ runs.
The Pick: Diamondbacks -1.5 (-105) 1.05 U to win 1 U
Atlanta Braves vs. Oakland A's @ 8:07 PM EST
Pitching Matchup: Michael Soroka vs. Paul Blackburn
System play! We are fading the team coming off Sunday Night Baseball. Yes, it's the Braves against the Oakland A's. I cannot trust this A's bullpen, no matter the system. Luckily, the Braves are so expensive on the ML that we can take the A's in any way we choose and still get a plus-money price.
If it were any other team besides the A's, this would be a dream spot for the Sunday Night Baseball system. We have a Braves team coming off an 11-run performance that has to travel across the country without an off-day to play a team that is amind a home stand. The A's are also coming off a 10-1 loss. It doesn't get better than that for taking teams in these spots.
We also have a Braves pitcher that hasn't pitched since 2020. Mike Soroka is an incredible story as this will be his return from multiple injuries, including an Achilles tear. He's thrown 35 innings in the minors this season, pitching to a 4.33 ERA and a 1.33 WHIP. I'd probably stay away if it were any other pitcher for the Braves. This is getting into the range of "rookie pitcher making his debut on the road". There will be nerves in his first start back in three years, and he hasn't performed well in the minors.
Oakland is horrendous. There isn't a baseball argument that has them coming close to the Braves, but crazier has happened. On the A's side, we have Paul Blackburn returning from injury, who was an All-Star last season. That's where the praise ends, as he's also been blown up in the minors on his rehab assignment.
The Braves arent quite as electric against righties as some may think. Against right-handed pitching, they have a 99 wRC+, which places them 17th in baseball. They destroy left-handers, but they can become susceptible against right-handers.
We need them to tie through five innings to win this bet. Maybe they can win through five, but it's the A's. I'm not asking for much, just don't get destroyed early on in the game when the Braves' bats should be tired, and Oakland is facing a pitcher that hasn't thrown in an MLB game since 2020. I'm not even going to flirt with the bullpens; give me the A's at plus money in the perfect spot for them and the worst spot for the Braves.
After reading this, you probably want to take the over instead of running in the mud with me on the A's. That's a fine play, but I would never take an over on a team with the Braves traveling. I do think their bats come out slow, so this is my favorite bet in the game.
The Pick: A's First 5 Innings +0.5 (+135) 1 U to win 1.35 U
PrizePicks Entry 0.2 U to win 0.4 U
First Leg: Kris Bryant Under 7.5 Fantasy Score
Ryne Nelson has been very tough on right-handed bats this season. He's holding them to a .642 OPS this season versus a .963 OPS for left-handed bats. Not only is travel involved with Kris Bryant, but he's never faced Nelson before. Nelson is going to attack Bryant with four-seamers, sliders, and cutters. Bryant can hit a fastball, but his worst pitch is the slider, and he hasn't seen many cutters this season. 7.5 implies a very good day; I don't see that happening.
Second Leg: Paul Blackburn Over 3.5 Strikeouts
This is -140 on BetMGM, so I expect this number to land on four by game time. Blackburn rocked a 19.1% strikeout rate last season, so putting him at 3.5 is disrespectful. He's not a big strikeout guy, but the Braves strike out at a 23.3% clip against right-handers this season. Nobody will take this against a Braves team that just put up 11 runs, but even if he has a bad day, four strikeouts are not that many.