Analysis
MLB Picks Today, Best Bets, Odds, Predictions for June 9, 2023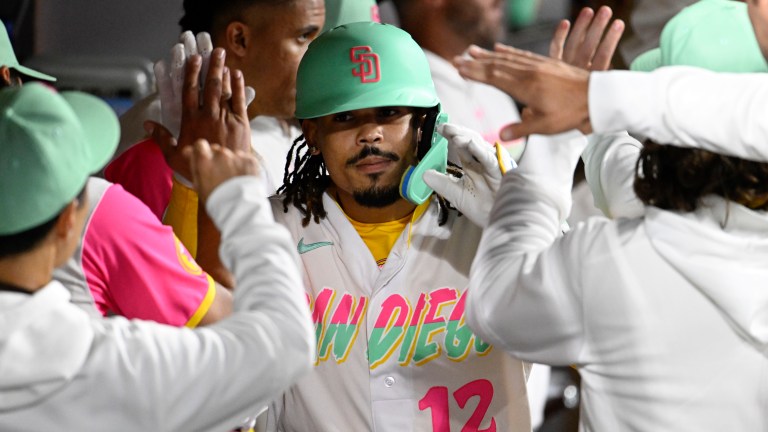 Short and sweet yesterday! The Diamondbacks/Nationals game was postponed due to unsafe air conditions, so we had one play to sweat out. Bottom of the fifth inning, we needed three runs out of the Blue Jays. We almost landed on four due to a ground-rule double, but Brandon Belt saved us in the end with a base hit. What a comeback, what a game. Zero runs were scored after that inning. Crazy!
Big fan of the board today with three picks. Let's end the week with a bang.
2023 Straight Plays Record: 88-65 (+18.59 U)
PrizePicks Record: -2.6 U
I'm using BetMGM lines only this year. Here's a link to get started with a risk-free $1000 bet.
All prop entries will be on PrizePicks: Here's a link to get a 100% deposit match.
Arizona Diamondbacks vs. Detroit Tigers @ 7:05 PM EST
Pitching Matchup: Merril Kelly vs. Michael Lorenzon
This is a similar bet and matchup to yesterday, but Michael Lorenzon is about the same as Josiah Gray, but the Tigers' bullpen is better. The Nationals' offense is also better than the Tigers. I had to play this under.
This Tigers offense is starting to fall back down to earth against right-handed pitching. They got off to a hot start against righties, which confused me about this lineup. It's plenty of right-handed bats or lefties with reverse splits. This same lineup had a clear better split last season against lefties and always struggled against righties. Those numbers are starting to normalize, putting up a 72 wRC+ this past month, which is the worst mark in baseball.
When we look at the past two weeks, that wRC+ drops to 61, the second worst in baseball during that period. The one thing the Tigers do well against righties is take their free passes. I wouldn't like this one if Kelly had a command issue.
Kelly did have trouble with the walks early on but was much better in May. He's typically hovering in the 7% walk rate range, which should normalize soon. He's a command-first guy who should have success against this Tigers team traveling back from Philadelphia.
Michael Lorenzon has been the definition of solid. He's rocking a 3.21 ERA and a 3.96 xERA and has cut his walk rate in half from the previous few seasons. He's throwing harder than ever before and has confidence in his stuff.
The Diamondbacks have had a great offense against righties this season, but they've been slowing down against righties especially. They sit with the seventh-best wRC+ against righties at 106 this year but dropped to 17th over the past two weeks at 95. It's still solid, and I have no doubt they'll be able to put up 2-3 runs against Lorenzon, but I don't think it'll be enough.
The Diamondbacks game was postponed yesterday, so now they have a full complement of rested bullpen arms available in this one. The Tiger's bullpen is not well rested, but the four best arms have the most rest, so that's a good sign.
Comerica Park is calling for wind blowing in which will affect the power output in this game. Ballparkpal calls for a -27% decrease in home runs; leaving the yard today will be hard. Both teams must stack base hits, which should be difficult against these pitchers. The Tigers are on the decline, as are the Arizona bats. Take the under all the way to 8 at -105.
The Pick: Tigers vs. Diamondbacks Under 8.5 (-120) 1.2 U to win 1 U
San Diego Padres vs. Colorado Rockies @ 8:40 PM EST
Pitching Matchup: Yu Darvish vs. Austin Gomber
Going to make this one simple. I have not seen the model give a team a run projection above seven this season. You see me jump on overs or ML whenever the model has a team in the mid-sixes, but seven is unheard of.
If we remember, the Cardinals played the Diamondbacks last season, and I gave out the over as my play of the year. The Cardinals were projected seven runs in that game, and the Diamondbacks were in the high fives. That game ended 16-7 in favor of the Cardinals, with the over hitting close to the fourth inning. I haven't seen a seven-run projection since, so instead of explaining why the Padres are the play, let me explain why it's not a game of the year.
It's the San Diego Padres. That's it; this team has been inconsistent all season, and relying on them to win with margin has been challenging this year. The Padres have also been historically bad in Coors Field, which doesn't matter, but it's not something that is working in our favor.
Here's why I'm playing it; Austin Gomber is pitching at home. This guy hasn't figured out how to pitch at his home ballpark. He's rocking an 8.64 ERA at home this year. He's currently arguing for the worst overall pitcher in baseball, swinging a 6.99 ERA with a 7.24 xERA.
I'll give the Padres some credit, they have a 109 wRC+ against lefties over the past month, and it has risen to 111 over the past two weeks. This offense has been near the top ten against lefties and will face the worst one in the league who can't pitch at home.
I'm also taking the run line for a reason. This Rockies bullpen has less rest right now than any team in major league baseball… I checked. Every Rockies bullpen arm has thrown at least 26 pitches in the last three days except Brent Suter, another lefty.

It's hard to say what we'll get from Yu Darvish. The last time he threw at Coors Field, he tossed six innings of two-run ball. He has a terrible road ERA, but it's really on the backs of two blow-ups in New York, where he allowed seven runs and five runs in two starts.
Luckily, the Padres had an off day yesterday. That helps them in two different areas. For one, they got to fly in early, which will help them adjust to the altitude. Two, the bullpen got the day off, so they'll have everyone of note available.
Expect the Padres to annihilate the Rockies today. I pick my spots; I have only taken one run line this year. The Rockies will either win this game or the Padres will win by 40.
The Pick: San Diego Padres -1.5 (-120) 1.2 U to win 1 U
Los Angeles Dodgers vs. Philadephia Phillies @ 7:05 PM EST
Pitching Matchup: Michael Grove vs. Ranger Suarez
Michael Grove has an 8.14 ERA. On the surface, you may look at a pitcher like that and expect some no-name garbage can of an arm. Michael Grove is anything but that, but there is a reason his ERA is 8.14.
Grove has five starts this season, but one was against the Arizona Diamondbacks. In his second start of the year, he allowed nine runs in 3.1 innings. He followed that by allowing three runs in his next two starts over 8.2 innings, then went to Yankee Stadium and allowed four runs in five innings. His xERA sits at 4.19, telling us that ERA will come down eventually. I don't think he's any better than a back-end rotation arm, but he's not nearly as bad as his ERA would indicate.
Grove is rocking an average strikeout rate and an above-average walk and hard-hit rate. His fastball has been his main issue, but the Phillies haven't been a tremendous fastball-hitting team this season, and he's throwing it less and less over every start.
This Phillies offense is starting to click, but it hasn't fully come around yet. They have a 117 wRC+ against lefties in June and a 109 wRC+ against righties. They've been improving, but it isn't at the Dodgers' level.
The Dodgers destroy every single left-handed pitcher they come into contact with. Since June began, the Dodgers have a 200 wRC+. In the last month, they have a 164 wRC+. Those all rank number one by a wide margin, and they'll get Ranger Suarez today.
Suarez looked rusty in the early goings but has put it together lately. He's gone back-to-back starts allowing two runs or less to the Mets and Nationals. He kept plenty of balls on the ground but still rocked a 3.87 FIP and 4.31 xFIP over those two starts.
I think he's a fine pitcher and will return to normal soon, but this is a terrible matchup for him today. If this were the best version of Ranger Suarez, I would still take the Dodgers with how well they are seeing left-handed pitching.
The Dodgers bullpen going into last night's game, was not well-rested. Thankfully, they got plenty of length from Kershaw, and no quality arms were forced into the game. The Phillies bullpen will be without Seranthony Dominguez and Craig Kimbrel, which gives the Dodgers a leg up, but it is expected that Jose Alvarado will rejoin the team today. That's a huge arm for the Phillies, but again, he's a lefty. The Phillies could go to Matt Straham, who is also a lefty. I'm not sure how the Phillies will be able to shut it down after Ranger comes out.
The model has the Dodgers capped as -146 favorites, so I'd play them up to -115.
The Pick: Dodgers ML (-105) 1.05 U to win 1 U