Analysis
MLB Picks Today, Best Bets, Odds, Predictions for June 2, 2023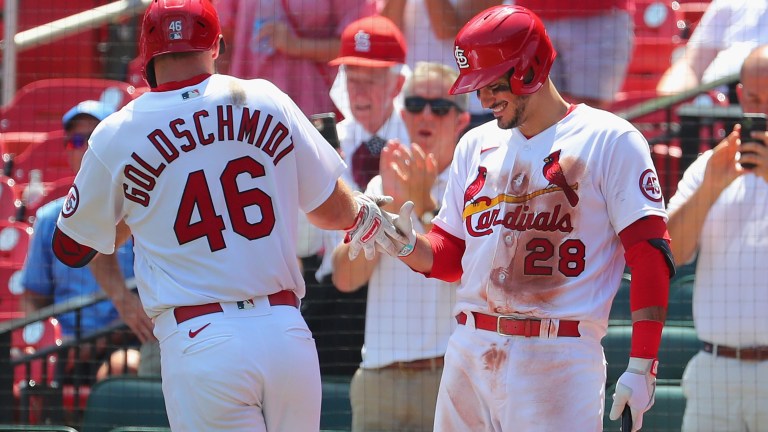 What a brutal loss yesterday. I spoke about how the Guardians would be without Sam Hentges and Trever Stephan due to the mileage on their arms the past few days. I knew we were in trouble when Stephan entered the game. He allowed three runs in the eighth to tie up the game, the Francona put in Eli Morgan, not his all-world closer Emmanuel Clase, in the bottom of the ninth, and the Twins won.
I still think I made the right read. The Twins hit up Lopez, as I thought, and Bibee performed better. If you told me the Guardians would score six, I would bet that ten out of ten times. That's baseball; I can't dwell on it for long. Situations like that happen ever so often. Luckily for us, there is always tomorrow.
We have two MLB Plays today, and I'll post some college baseball plays on my Twitter.
2023 Straight Plays Record: 78-63 (+10.98 U)
PrizePicks Record: -2.2 U
I'm using BetMGM lines only this year. Here's a link to get started with a risk-free $1000 bet. You can also use code "JBFANS" if you're betting on MLB. Wager $10 on any MLB moneyline and receive $100 once the bet is settled.
All prop entries will be on PrizePicks: Here's a link to get a 100% deposit match.
St. Louis Cardinals vs. Pittsburgh Pirates @ 7:05 PM EST
Pitching Matchup: Jack Flaherty vs. Roansy Contreras
If I were Roansy Contreras and knew my past history, I would not feel good knowing the Cardinals are on the schedule. The same goes for Jack Flaherty against Pittsburgh, but it's not the worst matchup in the world for him. Regardless, expect runs early. The full game over should hit, but I expect most of those runs to come in the first five innings.
If Jack Flaherty threw strikes consistently, I would feel much better about him moving forward. He's supporting a walk rate above 13% as we enter June. That's not going to get it done, especially against a patient Pirates team that's seventh in walk rate against right-handed bats this year.
Even when the offense was slow in May, they still walked at a 9.2% rate, an above-average rate even during their worst month offensively. They know the game plan against Flaherty; patience is key. This plan has resulted in consistent success against him. In 64 PA against the Pirates' current roster, Flaherty is rocking a .365 xwOBA, a .274 xBA, and a .445 xSLG. His strikeout rate at 18.8% against the Pirates is a full notch below his normal 23% strikeout rate.
Flaherty has had issues getting out lefties all year, posting a .898 OPS against them compared to a .650 OPS against righties. The Pirates' lineup is full of left-handed bats; Marcano, Suwinski, Reynolds, Castro, Bae, and Palacios. He should see at least six left-handers of the nine hitters in the lineup. Pittsburgh is also baseball's best offense in the past week against righties, rocking a 137 wRC+.
On the flip side, we have Roasny Contreras. I'm pretty disappointed in his production this year, as I thought this may be a real breakout season for him. His command has worsened, and his strikeout rate is the lowest ever. This has been cultivated in a 5.12 xERA compared to his 4.33 ERA.
The Cardinals love facing the 23-year-old right-hander. In 69 PA against the Cardinals' current roster, they are rocking a .366 xwOBA, a .267 xBA, and a .406 xSLG. His strikeout rate against them is 5.8%. That's unheard of in a sizeable sample like this one.
He faced the Cardinals three times last season, allowing 11 runs, eight of them earned, in 14.1 innings to give him a 5.02 ERA. Flaherty also faced the Pirates three times last season, allowing eight runs, seven earned, over 15 innings to give him a 4.20 ERA.
The weather is beautiful in Pittsburgh today. We have wind blowing out to right field with temperatures in the mid-80s. This weather will highly impact the game, as Ballparkpal has it tied for the second-highest run-scoring environment of the day.
The full game over should hit, but I respect these bullpens after an off-day, too much to go with it. The model is obsessed with this one, but many of those runs are coming early. This is easily playable at 5, as I think the first five over ends on six or seven runs.
The Pick: Cardinals vs. Pirates First 5 Over 4.5 (-130) 1.3 U to win 1 U
Philadelphia Phillies vs. Washington Nationals @ 7:05 PM EST
Pitching Matchup: Zack Wheeler vs. Josiah Gray
Taking an over with Zack Wheeler on the mound can be tricky, but he doesn't look as effective as in previous years. He's also a victim of fatigue. When his arm is healthy, he looks like one of the best pitchers on planet Earth. When he's feeling a bit tired, the command isn't as strong, and he's privy to runs being scored. He's now thrown four straight starts over 100 pitches; I have a feeling we won't get his best version today.
I was shocked to see how well the Nationals' offense has been doing lately against right-handers. I knew they could hit a left-hander and had a solid offense overall, but third in wRC+ in the last two weeks? I can't sleep on the Nationals' attack!
Wheeler has impressive numbers against this Nationals squad from a quality of contact lens, but with how they've been hitting and Wheeler's historical struggles in road starts, I think they can put up at least two runs through six innings of work with the possibility of more.
Conversely, I do not expect a good start from Josiah Gray. He's been skating by for far too long now, posting a 4.18 xERA compared to his 2.77 ERA. He's rocking the lowest strikeout rate of his career, his highest walk rate, and his highest Hard-Hit rate.
What's been helping him is keeping the ball in the park, but with today's weather conditions paired with plenty of power bats for the Phillies, it's a bad matchup. Considering his xFIP is 4.97, he has some negative home run regression coming his way. The Phillies love facing Josiah Gray. In 52 PA, they have a .404 xwOBA and a .657 xSLG. The power will be too much for Gray in this one.
The Phillies' bullpen is average at best. They rank around the league average in many advanced metrics, 14th in ERA and 25th in WHIP. The Nationals' bullpen has been a dumpster lately, vaulting them to 25th in ERA and 26th in WHIP. I want to believe in the back end, but they aren't doing the job.
The model has this game capped at 10.5. It's a widely high projection, which I have closer to 9.5. Regardless, 9 is totally playable, as I see the line has moved since I sent this play out to my subscribers yesterday. Here's a link for a two-day free trial.
The Pick: Phillies vs. Nationals Over 8.5 (-110) 1.1 U to win 1 U