Analysis
MLB Picks Today, Best Bets, Odds, Predictions for July 18th, 2023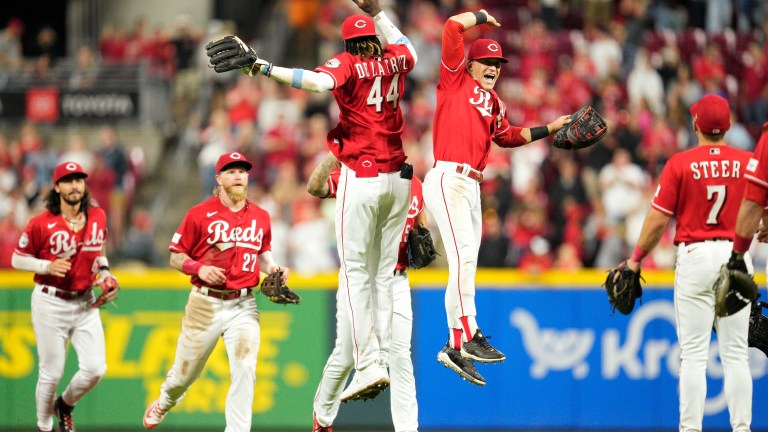 We won a bet! I almost forgot what that felt like.
Shane McClahanan looked fully rested instead of returning from an injury and held the Rangers scoreless for most of the game before a two-run home run tied it up. Credit to Dane Dunning for keeping us in the game; he looked shaky early but really settled in. The Rangers had multiple chances with RISP with no outs and finally got one home to walk it off for the win.
Today, we are back on the horse with another underdog and a total. Remember, just because I won yesterday doesn't mean I'm "back." We have a lot of work to do.
2023 Straight Plays Record: 107-113 (-5.57 U)
I'm using BetMGM lines only this year. Here's a link to get started with a risk-free $1000 bet.
All prop entries will be on PrizePicks: Here's a link to get a 100% deposit match.
All Bullpen Screenshots are courtesy of Rotowire.
San Francisco Giants vs. Cincinnati Reds @ 8:05 PM EST
Pitching Matchup: Anthony DeSclafani vs. Luke Weaver
We have another pitcher returning from injury today; Anthony DeSclafani. We don't simply fade every pitcher returning from injury, but it's another edge in our favor when we decide to pick a team to win.
I've written about DeSclafani several times this year; I don't think he's that good. He allows a lot of hard contact (17th percentile), doesn't strike anyone out (21st percentile), and doesn't keep the ball on the ground at an above-average rate. He's a back-end starter with below-average stuff who throws a lot of strikes to keep his team in the game. His Stuff+ is 93, and Pitching+ is 98, below average.
Before he went down with a shoulder injury after his start on July 1st, he didn't look anything close to what he was doing in April and May. In June, he was rocking a 6.65 ERA and allowed three runs to the Mets in three innings before being taken out. This season, he has a 4.92 xERA and 4.32 SIERA. He allows so much contact because he rarely walks anyone, and with a team as fast as the Reds, there should be plenty of infield hits on top of the normal hits. The more people on base for the Reds, the better.
Luke Weaver isn't good either, but he's not much worse than DeSclafani. His peripherals are worse, sitting with a 5.62 xERA and 4.87 SIERA. He does have a lower Hard-Hit rate, and he has a similar strikeout rate. Both are back-end starters, and I don't have much confidence in either of them. That said, there is no major edge here for either pitcher. Weaver does have a slight edge in Stuff+ (94) and Pitching+ (99).
Weaver has faced Giants hitters before, and it didn't go well for the Giants. Over 51 PA against the Giants' current roster, he's rocking a .167 opponent batting average, a .299 xwOBA, and a .332 xSLG. He kept the contact quality extremely low while striking out 31.4% of batters. Do I expect him to dominate? No, but he can be moderately effective against a subpar Giants offense.
The Reds offense is better. Since June 6th, when Elly De La Cruz was called up, the Reds have a 108 wRC+ against right-handed pitching, tied with the Red Sox for 12th in that span. The Giants, against right-handed pitching since that date, have a 94 wRC+, tied for 22nd with the Marlins. That date has no significance for the Giants, so looking back over the season, they have a 103 wRC+ against righties. They are pretty solid but aren't as good as the Reds' offense.
The bullpen advantage leans towards the Giants, but we'll have to see how they are managed after the rest of this 2-2 game is played. We are still only a few games out of the break, so that most arms will be available. In terms of production, these bullpens rank 10th and 11th in ERA. Regarding future projections, the Giants have a clear advantage by SIERA and FIP.
The model likes the Reds today, making them -118 favorites. That's a stretch; I would make them closer to +100 in this game. They just shouldn't be +120. I think that's an overreaction to the Reds getting swept by the Brewers, the Giants beating up on the Pirates, and Weaver having a 7.00 ERA. They are keeping it close with Logan Webb against Brandon Williamson.
I'm seeing solid betting splits on this game. When writing, 47% of tickets are on the Reds with 67% of the money, and the Reds ML has come down from +125 to +120. There is not much of an edge, but again, just piling small edges on each other. Give me the underdog at home.
Just a reminder, this is not betting on the end of the suspended game; this is for the game after.
The Pick: Reds ML (+120) 1 U to win 1.2 U
Minnesota Twins vs. Seattle Mariners @ 9:40 PM EST
Pitching Matchup: Bailey Ober vs. Bryan Woo
We are zig-zagging here on a total. I saw many people get burned on this exact total with Logan Gilbert facing off against Sonny Gray, and that game ended with 13 runs. Will it happen again with the same total with less notable pitchers? Totally possible, it's gambling, but I'll be attacking the under.
At this point, my opinion of Bryan Woo is borderline obsessive. I think he has one of the best fastballs in the game, and ever since the Rangers lighted him up in his first start, he's been one of the better pitchers in the game. We have Bailey Ober on the other side, who very well could be the most underrated pitcher in baseball.
Bryan Woo hasn't allowed more than two runs in a start since June 3rd against the Rangers. He's rocking a 2.78 xERA and a 3.27 SIERA to accompany his 3.63 ERA. He also has a great matchup against this Twins team.
While the Twins sit in their better split against right-handers, they struggle against high-velocity pitchers. The offense has been better against the A's, but they haven't faced someone with stuff like Bryan Woo in a while. Woo will spam the Twins with fastballs and sinkers with plenty of life, and the Twins rank in the bottom ten this season against both fastballs and sinkers.
The Twins have a 105 wRC+ this season against righties; very solid, but they have a major issue. They strike out a lot, rocking a 27% strikeout rate, the highest in the league against right-handed pitching. They are going up against a pitcher with a 30.5% strikeout rate, putting him in the 88th percentile, one of the best in the league. Don't tell anyone, but I prefer him to Logan Gilbert right now, who allowed two runs in five innings to the Twins yesterday.
I'm also a Bailey Ober guy. He's not nearly as exciting as Bryan Woo because he doesn't throw these frisbee four-seamers at everyone's neck, but he's been even more productive than Woo has.
Ober has always outperformed his peripherals because picking the ball out of his hand is tough. He's an enormous man, 6'9, and he's in the 99th percentile of extension and 93rd percentile in chase rate. His 3.61 xERA and 4.07 SIERA are above average, but his 4.71 xERA didn't agree with his 2022 ERA of 3.21 last year either. I think he's always going to outperform those numbers.
He's above average in all the important metrics to me. He's in the 88th percentile in walk rate, 60th percentile in strikeout rate, and 81st percentile in Hard-Hit rate. He's just a very solid pitcher.
The Mariners continue not to have a very good offense, which kills me as a Mariners truther. They have a 99 wRC+ against right-handed pitching and are only second to the Twins in strikeout rate against righties at 25.2%. Bailey Ober has faced the Mariners bats before, and it went well for the big righty. It's a small sample, but in 27 PA, he's held them to a .185 opponent average, a .253 xwOBA, and a .392 xSLG.
I LOVE both starting pitchers today, but I want to spread this bet out. Thinking back, I probably should have just stuck with the first five, but I'm willing to be hurt by these bullpens. One thing I know about Rocco Baldeli, the manager for the Twins, is he will throw his best arms only if the game is close.
The way these bullpens have been used, we will get the best of the best if the game is close. If it is close, our under is in good shape. If it's not, we would lose it anyway. That's how my brain believes the game will go.
We also have the luxury of watching this game at one of the best pitching parks in baseball. We also have 9-10 MPH wind blowing in from left field, which should help the pitchers even more. The model has this total at 3.8 through the first five and 6.5 through the full game. I agree with the first five, but the full game total I capped at 7. We have the hook on both sides, so I'm in.
At the time of writing, I see 44% of the tickets with 60% of the money on the under. Again, just another small edge to pile on as it appears some smart money is on the under. I'm also on the under. Am I smart money? Eh, Idk. But I'm in.
The Pick: Twins vs. Mariners First 5 Under 4.5 (-130) 0.65 U to win 0.5 U, Under 7.5 (-110) 0.55 U