Analysis
World Series Game 5 Best Bets, Rangers vs. Diamondbacks for November 1, 2023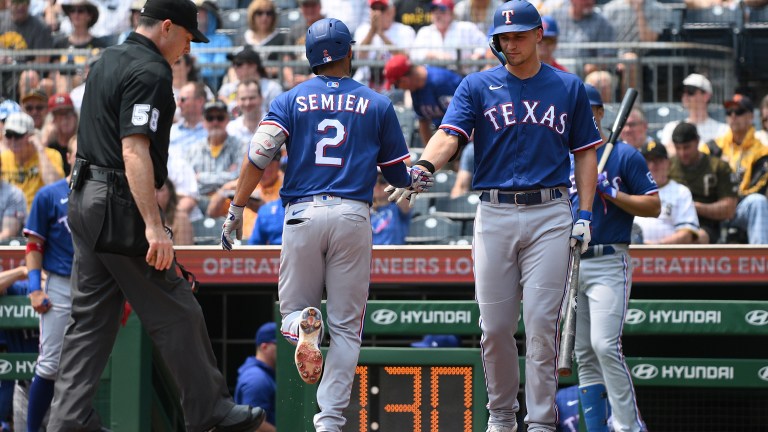 We won on the Rangers in game three and gave it all back in game four by tailing the Diamondbacks. It hasn't been a good World Series for me, but this might end up being the last game, so let's go for it with two game picks.
Also, apologies for this coming out late. I fully wrote this article, and my computer crashed. I had to rewrite the entire thing from scratch. Knowing this, it may be time to fade. Even my computer doesn't want these picks out. I'm kidding; I love these spots.
Check out our World Series preview for more data.
2023 MLB Regular Season: 154-165 (-11.66 U)
2023 MLB Playoffs: 17-20 (+0.86 U)
Arizona Diamondbacks vs. Texas Rangers @ 8:03 PM EST
Pitching Matchup:
Zac Gallen (ARI): 3.47 ERA, 4.18 xERA, 3.27 FIP, 3.49 xFIP, 3.67 SIERA
Nathan Eovaldi: 3.63 ERA, 4.01 xERA, 3.88 FIP, 3.96 xFIP, 4.18 SIERA
It's interesting to see how the market changes from one game to another. We are at the point where we can look back on how BetMGM priced this exact matchup and determine whether it's an overreaction based on what's happened.
We bet on the Diamondbacks because of the value in game one. They were +150 on the ML, and the total was 8.5. The Rangers opened as a slight underdog in game five before the market adjusted them to a pick-em. The total opened at the same number.
Game One was the best in this series by far. The Diamondbacks held the lead for most of the game after hitting up Nathan Eovaldi. Zac Gallen pitched okay; he had his normal first-inning troubles and allowed three runs in five innings. The score was 5-3 headed to the top of the ninth inning before Corey Seager hit a two-run home run to tie it, and then Adolis Garcia homered in extra innings to give Texas the win.
The Diamondbacks are now at home, where Gallen has excelled. I'm not surprised to see the total at the same number or the ML being adjusted. Arizona should have won that game, and now we get Gallen at Chase Field. However, the momentum swing has changed.
The Rangers smell blood. I was waiting for Marcus Semien to heat up, and now he seems to have found it again. I'm not sure how Gallen is going to limit runs here. It would take an epic performance to maneuver through this Rangers' lineup, even without Adolis Garcia. Travis Jankowski, his replacement, went 2-4 yesterday and is 3-9 against Gallen in his career.
Gallen has a 5.27 ERA in these playoffs so far. He's allowed at least two runs in every start, and I'm confused about what adjustments he could make. Every variation of his fastballs gets hit (four-seam and cutter), and the command for his secondary pitches isn't there.
The walks are the most concerning part, allowing at least two walks in each start. If he's allowing free passes, the Rangers will get that big hit to start the scoring; it's just a matter of when. He's -205 to go over 1.5 walks; that's absurd. Especially when his outs line is juiced towards the under at 15.5, and his earned run prop -135 towards the over at 2.5.
How will Nathan Eovaldi pitch? One adjustment he can make is throwing his curveball less. The pitch had an in-zone contact rate of 100% in game one. His other pitches (four-seam, splitter, and cutter) performed much better. This Diamondbacks team has had troubles with elevated heat, and they struggled to time up the splitter off of that. We could see a simplified arsenal today, which should produce better results.
It's Nathan Eovaldi. This man has earned so much in his postseason career that I could never be on the other side of him in an elimination game. While Gallen is the ace, he hasn't been pitching like one.
The bullpens are where this game should get interesting. While I still like the Diamondbacks bullpen, the Rangers have seen them. As we saw yesterday, when these players know what you're trying to do, it's hard to beat them consecutive times.
Kevin Ginkel should have his scoreless inning, but everyone else is up for grabs. Sewald came over from the Mariners, so the Rangers know him. I like Ryan Thompson, but his inning against Texas wasn't pretty.
The Rangers bullpen is an interesting unit. They should have Jon Gray ready to go if Eovaldi gets into trouble, and they'll also have Sborz, Chapman, and LeClerc. I fully believe Chapman will allow a run or two in this one, but other than that, it should be relatively smooth sailing.
I think the game will be 3-2 after five innings with the Rangers in the lead. Gallen exits, and the Rangers tack on two more against this Diamondbacks bullpen. The Snakes battle back, and the game ends 5-4 in favor of the Rangers, and they win the World Series. After last night's game, all I could feel was that this series was over.
If the Diamondbacks win this game, I can't see it being low-scoring. They will have to out-hit the Rangers, which means the over should be in play regardless of a winner. If the Diamondbacks win in a low-scoring game, so be it. I think that's a very unlikely outcome. I've learned that when the Rangers bats heat up, you take them. Could they randomly cool down today? Of course, it's playoff baseball! Do I believe it's likely? No.
The Rangers have yet to lose a road playoff game. On the road, they have outscored their opponents 66-29. The road environment does not phase the Rangers.
Markets have moved since I bet these when the market opened last night. Instead of paying -115 juice for the over, consider betting an alternate total at nine at +110 on BetMGM. I would bet the Rangers up to -110.
The Pick: Rangers ML (+100) Risk 1 U, Over 8.5 (-110) Risk 1.1 U